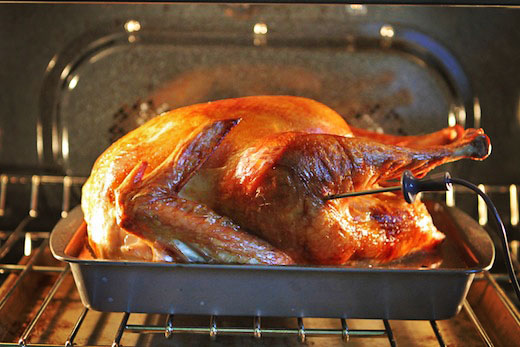 Hello, Kitchenthusiasts! I know Thanksgiving is still weeks away, but now is the time to start getting your game plan together! Before you know it, turkey day will be here and you're going to have to cook a perfect bird.
Does cooking the centerpiece of a Thanksgiving meal scare you a little bit? It used to scare me, but I've gotten over that fear because practice makes perfect…AND because if you have the right tools, you won't be able to mess it up. Promise!
Cooking the perfect turkey starts and ends with this gorgeous KitchenAid® Duel-Fuel Range. I've been cooking with this appliance for six months now and let me tell you, it gets the job done, no matter what you're cooking.
For cooking this turkey, I used the Steam Cook function. All this means is while the meat cooks, the oven creates steam to keep your bird tender and juicy!
I selected the auto steam function because the less I have to think about, the easier and less stressful cooking becomes.
Another function I was really excited to use was the probe program. All this means is the stove will chime once your meat has reached whatever internal temperature you set it at. For this turkey, I set the oven to chime once the thigh meat reached 165 degrees. Also, if you look at the bottom right of the screen, you can select browning levels. I chose to keep it in the middle. Not too light and not too brown.
The last thing to do was set the temperature and time! My bird wasn't stuffed and was on the smaller side, so I set the timer for 2 hours.  The neat thing about this whole set up is if the turkey got to 165 degrees before the 2 hours was up, the oven would let me know with a chime so I could take the turkey out immediately so it wouldn't overcook or dry out. Brilliant!
Ok, so I got the probe into the turkey, smeared the whole thing with lots of salt and butter and let it cook.
Don't forget to plug the end of the probe into the oven!
After almost exactly 2 hours, my turkey was done and both alarms were ringing away! Is this not a gorgeous bird? I did end up covering the turkey with foil an hour into baking, but I didn't baste it or brush it with more butter.  I wanted to see how well the steam assist really worked, so I purposely didn't do a thing.
I let the turkey rest covered with foil for 20 minutes before carving. Look how pretty! I still can't get over how golden brown this turkey got from just smearing with butter and no basting.
The outside got pretty crispy, which I was a fan of.
And how about the inside?
Just as I suspected…juicy and perfectly cooked.
The steam-assist technology paired with the probe really helps make baking your Thanksgiving turkey fail-proof.
I'd highly recommend any KitchenAid® appliance that has steam-assist technology. Not only is it good for baking poultry, but also other roasts, breads and even cheesecake! Be sure to check the products with steam-assist technology here. Happy Thanksgiving!