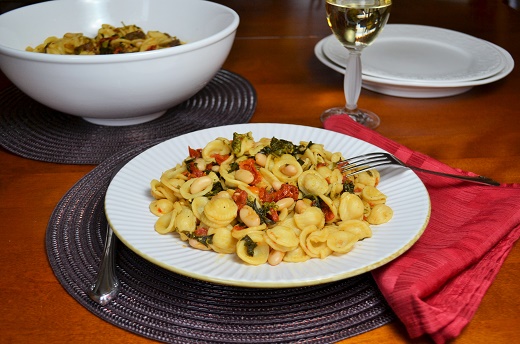 When it comes to dinner, everyone in my family likes different things. My husband prefers meat while my twelve year old son is picky about almost everything he eats. My teenage daughter has vegetarian tendencies and I, in turn will eat almost anything although I like to cook as healthy as I can. Today I will give you some cooking tips on making dinner so everyone will be happy. This Pasta, Beans and Greens With or Without Sausage recipe is one dish that is pleasing to everyone in the family.
Pasta is one of my favorite all time dishes to cook. It is an easy meal, can be made healthy and everyone in my family loves it. It can be made so many ways and it is not uncommon to be on our table once or twice a week. I usually make extra as it is the perfect meal to reheat in the microwave for lunch or before my son's baseball or soccer practice. There are plenty of nights when my family eats dinner in shifts. I always like to have something nourishing ready for them.
Not too long ago, my daughter declared that she had become a vegetarian. It didn't seem like it would be too difficult to cook some good vegetarian dishes however these dishes were not going to make my carnivore husband happy. So I found ways to improvise my cooking. These ways also work well when we are having both meat and non- meat eating guests over for dinner.
Here are some tips on cooking for different types of eaters:
Serve meat with a hearty side dish that can double as an entrée. For example, rice and beans, a whole grain salad or a vegetarian pasta dish are good choices.
Have a make your own taco bar night. Include different fillings such as beans, cheese, chicken or beef and veggies. Everyone can fill them with their favorite items.
Serve a vegetarian main course with meat on the side. For example, make a vegetable lasagna or cheese enchiladas but include meatballs, chicken or steak on the side.
Make a pasta dish but cook the meat separately, divide the dish in half and add the meat at the end just like my recipe below.
Cooking for both vegetarians and carnivores is not difficult at all. My KitchenAid® Freestanding Double Oven Range is very spacious and allows me to cook with several different pots and pans at once. I also love the cast iron griddle because it is the perfect size to cook some shrimp, chicken or a few burgers.
For this pasta dish, I used my new KitchenAid® Professional Cast Iron 6-Quart Casserole. I really like cooking with the lid that doubles as a grill pan. It was the perfect pan to cook the sausage in.  While this Cast Iron Casserole is my favorite pot to cook a hearty stew or chili in, it worked well for boiling pasta then finishing the pasta with the beans, greens and sausage. The pot cooks on one burner leaving four other burners to work with. The KitchenAid® Freestanding Double Oven Range is the ideal size to cook for my family.
This pasta is easy to make and a great week night meal solution especially when you need to cook for more than one taste. Don't be afraid to substitute other ingredients. Spinach or another green can be alternated for the broccoli rabe while you can always add chicken or shrimp instead of the sausage. I used orecchiette pasta because it soaks up the sauce perfectly but use any type or shape of pasta you like. Make it your own and be creative in the kitchen!
Pasta, Greens and Beans With or Without Sausage
Makes 6-8 servings
INGREDIENTS
1 pound pasta ( I used orecchiette pasta)
12 ounces spicy Italian sausage, sliced in half inch pieces (optional)
3 tablespoons olive oil
1 tablespoon chopped garlic
1/2 cup chopped sun dried tomatoes
1 large bunch of broccoli rabe greens, chopped and stalks removed (about 5 to 6 cups)
1 cup of white wine (vegetable broth can be substituted)
1 tablespoon balsamic vinegar
3 tablespoons tomato paste
1 tablespoon sugar
1 can (15 ounces) white cannellini beans, rinsed and drained
1 tablespoon dried basil
1 to 2 cups reserved pasta water
Salt and red crushed pepper to taste
Grated Italian cheese for serving
DIRECTIONS
Cook the pasta in a large pot of salted water al a dente according to package directions. Drain the pasta and keep warm. Reserve one to two cups of pasta water.
In the meantime, brown the sausage (if you want meat in your recipe) in a grill or frying pan and cook for about 10 minutes or until cooked through.  Set the sausage aside.
In a large pot, heat the olive oil on medium heat and add the garlic, sun dried tomatoes and broccoli rabe.  Cook for a few minutes or until the broccoli rabe is wilted. Add the wine, vinegar, tomato paste and sugar. Simmer on low for about 10 minutes until the veggies are cooked and the sauce thickens.
Add the pasta to the pot along with the beans and dried basil. Add one to two cups of the pasta water, stir and cook on low until everything is well blended.
Mix the cooked sausage into a big bowl with the desired amount of pasta depending on how many meat eaters you have.  Use another bowl for the pasta without sausage. Add salt and crushed red pepper to taste. Serve with grated Italian cheese.
Print
*The Contributor of this post has been compensated by KitchenAid for this post, but this post represents the Contributor's own opinion.*