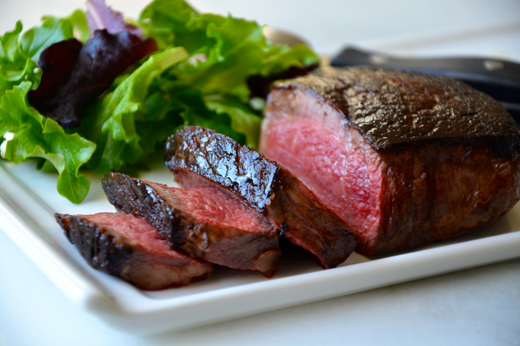 "How do you cook the perfect steak?"
It's an age-old question with as many answers as there are varieties on technique. Do you bake it? Do you broil it? Do you sear it? Do you grill it? The options are truly endless, but when it comes to cooking the perfect steak, I turn time and time again to a restaurant-tested technique
involving a quick sear and a hot oven. But before you set your sights on that medium-rare mark, read on for the step-by-step process that takes steak from a dine-out only dish to homemade meal perfection.

A Cut Above the Rest
Before you fire up the flames, select your cut of beef based on your personal taste preferences. If you prefer a steak with less fat marbling, and thus less flavor, opt for cuts such as the sirloin tip steak or classic filet mignon. For steaks with more fat and more flavor, opt for the New York
strip, T-bone or ribeye steak (pictured above, right).
'Tis the Season
Once you've selected your steak, pat it dry on all sides with a paper towel then season it liberally with salt. A good piece of meat will require little more than salt to draw out the flavors, however you can also season it with freshly ground black pepper for an added kick.
Preheated Pan Perfection
The secret to a steak with the characteristic outer crust and soft center relies on preheating your pan. My go-to pan for cooking a single steak is the KitchenAid® 8-inch stainless steel sauté pan. It's important to use a stainless steel pan, rather than nonstick, in order to achieve the crispy crust, as the meat will easily adhere to the pan and then eventually release.
Find the Best Fat
Place the pan over medium to medium-high heat and then add enough fat to thoroughly coat the bottom of the pan. When it comes to the best fats for cooking steak, choose an oil with a high smoke point so that the oil doesn't scorch or burn quickly. Vegetable and canola oil are both great options, but you should steer clear of extra virgin olive oil because it'll smoke and burn very quickly in a stainless steel pan set over medium to medium-high heat.
Sear and Step Away
After the oil has been heating in the pan for two minutes, add your steak. Once you set the steak down, do not touch it. If you move it around, you'll prevent a crust from forming and the exterior of the steak won't thoroughly sear. The steak will release from the pan at the exact time when it should be flipped, so do not rush the initial searing process.
Flip and Bake
Once the steak has released from the pan, flip it once to sear the other side and immediately transfer it to a 400ºF oven. Searing the steak and then finishing it in the oven guarantees the center of the steak will be cooked to your desired temperature and the crust will remain crisp. It's important to note that not all steaks will need to be finished in the oven, as it depends entirely on the thickness of your cut of beef. A 3-inch-thick filet will require additional cooking in the oven, whereas a 1-inch-thick ribeye may cook to your desired doneness a few minutes after you've flipped it from one side to the other on the stove.
Test, Then Rest
Test the degree of doneness of your steaks using a digital meat thermometer, keeping in mind that carryover cooking while the steak rests will cause it to increase in temperature by about 10 degrees.
Determine your desired degree of doneness by referring to the below estimations*:
Rare = 125ºF
Medium Rare = 130 – 135ºF
Medium = 135 – 140ºF
Medium Well = 140 – 150ºF
Well Done = 150ºF
*The above estimations are approximately 10 to 15 degrees less than the USDA recommended food-safe temperatures.
Allow the steak to rest for about 5 minutes before slicing into it. The resting period gives the juices time to gather and stay intact within the meat, which guarantees that first bite will be just as flavorful and juicy as the last.
*The Contributor of this post has been compensated by KitchenAid for this post, but this post represents the Contributor's own opinion.*