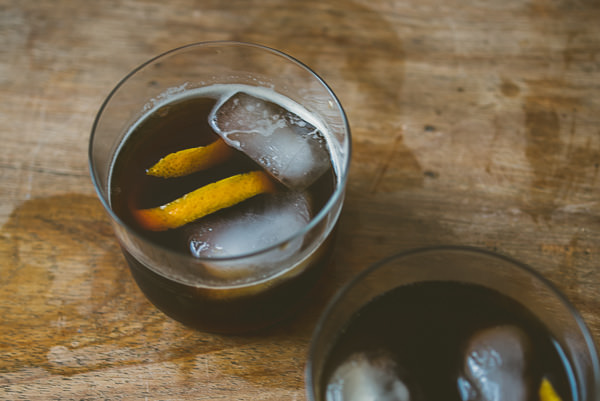 The weather has finally warmed up. With that, a blanket of humidity seems to have settled in as well. My morning routine has always been important to me. The simple acts of hand brewing coffee, sitting down with a bowl of hot porridge—repeating these motions every morning grounds me and sets me up for the day.
Like the seasons, I find my morning routines change and transition. Now that it's humid and in the 90s, I'm transitioning to simpler morning routines, like making iced coffee or iced tea, sitting down with a bowl of yogurt and fresh fruit.
I'm also working longer hours, and these days I'm usually rushing out the door early in the morning and there is no time to indulge in a slow hand-brew. My solution was incredibly simple, and fitting to both the season and my new schedule: make cold brew concentrate with the KitchenAid® Cold Brew Coffee Maker. I have coffee in my life again!
Every week, I make a batch of cold brew concentrate. It's quite easy to make: coarsely grind fresh beans, then brew with cold water. Let it sit overnight for 12-24 hours and you have a super smooth concentrate.
Now in the morning, I fill my to-go mug with some ice, concentrate, and water. The Cold Brew Coffee Maker has an ultra fine filter, so no residue grind makes its way into the concentrate. It comes in a container with a stainless steel spout, making it really easy to fill up a cup and go.
I do a 1:3 dilution of concentrate to water. However, it's really up to personal preference and there are many ways to customize the beverage. You can use milk instead of water, add sugar, honey or maple syrup. You can make a stronger coffee with a 1:2 dilution too.
Besides cold brew, I've used this concentrate in other ways, like in cakes, frosting, and cocktails! I'm so excited to share with you a recipe for a twist on the classic Old Fashioned: Cold Brew Maple Old Fashioned! It's SO good and it makes the perfect brunch cocktail for the summer.
A classic Old Fashioned involves orange bitters muddled with a sugar cube, bourbon, and orange peel. It seems simple, but the melding of smoky bourbon with orange bitters and aromatic oil of the orange peel is an art. And when it comes together correctly, the flavors are so smooth. It's one of my favorite drinks.
I normally wouldn't play with this classic combination, but this rich cold brew concentrate intrigued me and had me thinking about how it would play out in cocktails. I'm so glad I tried it! I first tried it with a sugar cube, honey, and maple syrup. I found that the maple syrup was the perfect complement for this cocktail.
The cold brew concentrate is smooth and doesn't dilute the whiskey either since it's so concentrated, and the maple provides a subtle sweetness without overwhelming the drink. I stuck with classic orange bitters and an orange peel for garnish.
Share your take on this Cold Brew Maple Old Fashioned on Instagram using #MadeWithKitchenAid for a chance to be featured.
Cold Brew Maple Old Fashioned
Makes 2 servings
INGREDIENTS
For the cold brew concentrate
250 grams coarsely ground coffee
42 ounces water
For the cocktail
1 1/2 tablespoons maple syrup
2-4 dashes bitters
3 ounces bourbon or whiskey
3 ounces cold brew concentrate
Ice
Orange peel twist
DIRECTIONS
For the cold brew concentrate
Coarsely grind 250 grams of coffee beans.
Add the coffee grounds to the Stainless Steel Steeper inside the KitchenAid® Cold Brew Coffee Maker.
Pour 34 ounces of cold water over the grounds in a circular motion. Allow the grounds to absorb the water and then add an additional 8 ounces of water. You'll end up with a total of 42 ounces of water.
Using a spoon, press the coffee grounds down so they're fully submerged in the water. Place the Cold Brew Coffee Maker in the refrigerator and allow the grounds to steep in the water for 12-24 hours. After 12-24 hours, remove the steeper from the coffee (allowing any coffee to drip out of the grounds) and toss the grounds (or compost them).
Dilute with water or your choice of milk before serving.
For the cocktail
Muddle the maple syrup with the bitters. Add in the bourbon and the cold brew concentrate using the recipe above.
Add the ice and shake in a cocktail shaker.
Strain out of the cocktail shaker into chilled glasses with ice. Garnish with an orange peel twist. Serve immediately.
Print
*The Contributor of this post has been compensated by KitchenAid for this post, but this post represents the Contributor's own opinion.*