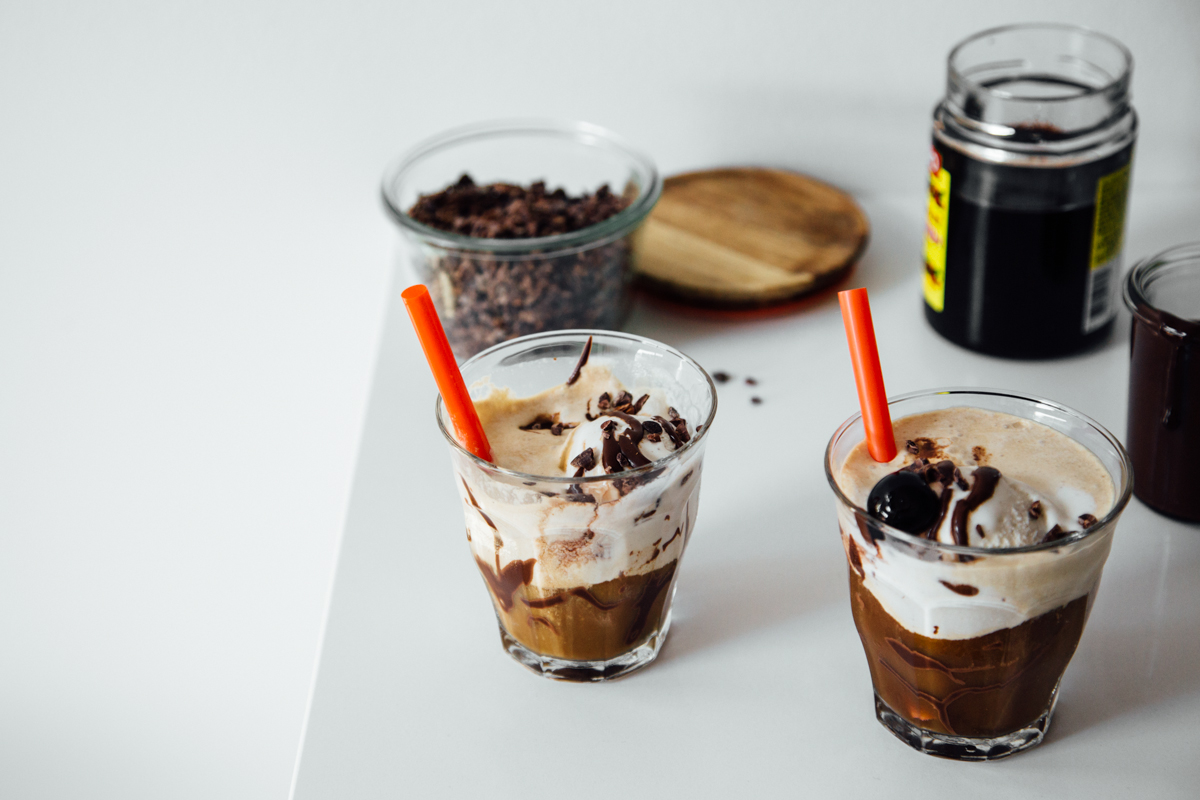 Cold brew coffee has been having a moment. And rightfully so, because cold brew coffee is delicious, refreshing, and – if you make it at home – it's a cost-effective way to enjoy a caffeinated cup of goodness.
Prior to getting my hands on the new KitchenAid® Cold Brew Coffee Maker, I'd only ever made cold brew coffee once before. While the coffee turned out just fine, I found the lack of a proper cold brew-making device to be more trouble than the coffee was worth.
What I'm trying to say is: if you're a lover of cold brew coffee and you're asking yourself if you need another single-use kitchen device, the answer is yes. Not only does this maker simplify the cold brewing method, it also makes it completely painless to make up to 14 serving sizes of cold brew concentrate. Oh, it makes a mean cup of cold brew too.
Before you get to making cold brew coffee, there are some things to keep in mind:
—Your beans don't have to be fresh. Cold brew coffee is super forgiving and that means you can get away with using beans that have been sitting in your cupboard a little too long.
—Speaking of beans, don't splurge on lighter roasts. The flavor profiles that come through in a hot brewed cup of coffee likely will not come through in a cup that's been cold brewed (and you spend a lot of money for those discernible flavors).
—The longer you let the coffee brew, the more rich and flavorful (and bitter) it will be. I prefer the full 24 hours, but the cold brew is also delightful after only 12.
—You might be tempted to dilute your concentrate immediately, but that will drastically reduce the shelf life. Undiluted concentrate will stay fresh for a solid two weeks before the flavor starts to go south. Diluted cold brew concentrate? It may only last a couple of days.
And what to do with all those spent coffee grounds:
—Believe it or not, they make for great fertilizer for your leafy green friends. I prefer to mix mine in with my soil before potting, but you can scatter the grounds on top of the soil as well.
—If you have a black thumb (or just don't like tending to plants), you can also use the grounds in a body scrub. Mix equal parts of used coffee grounds and sugar, and mix in 1/4 cup of melted (and cooled) coconut oil for every cup of coffee/sugar.
Oh, and for those of you who aren't fans of coffee (surprisingly those people do exist and I'm married to one of them), I hope you'll at least give the chocolate sauce a whirl because it goes great with ice cream, especially this Raspberry Ripple recipe. But something tells me it'd be delicious with this Chocolate Cherry Chip Ice Cream recipe too.
There are a lot of delicious things you can do with this concentrate (like bake it in a chocolate cake or use it to make coffee-flavored ice cream), but my favorite way to enjoy cold brew—especially in the summer—is in a cold brew coffee (ice cream) float. Once you've got the cold brew made, the floats come together in less than 10 minutes—and that includes the time it takes to whip up the homemade chocolate sauce. So let's get started, shall we?
To make the cold brew coffee, all you have to do is take 250 grams of coffee beans, grind them into coarse grounds, and add them to the stainless steel steeper of the Cold Brew Coffee Maker.
Cover the grounds with 1/2 liter of water and let them bloom for a good 30 seconds before adding the other 1/2 liter of water. Cover the Cold Brew Coffee Maker with the lid and transfer the container to the refrigerator to chill for 12-24 hours. The longer you let the coffee brew, the stronger the end result will be.
Once your coffee has completed the brewing time, remove the steeper and place the cold brew maker back in the refrigerator. Your cold brew coffee concentrate is ready!
Your next step is going to be to prepare the chocolate sauce. And, believe it or not, it's almost as easy as making the cold brew. Simply bring non-dairy milk to a boil, add the chopped chocolate, wait five minutes, then whisk in the golden syrup — it's as easy as that.
Now that you've got the cold brew coffee and chocolate sauce on hand, the floats come together in a matter of minutes.
Drizzle about 1 tablespoon of the chocolate sauce between four cups, followed by 3 tablespoons of cold brew concentrate, two scoops of ice cream, and 1/2 cup of sparkling water. Top with more chocolate, a maraschino cherry, and enjoy!
Click here for ice cream recipes on The Kitchenthusiast™.
Share your take on these Cold Brew Coffee Floats on Instagram using #MadeWithKitchenAid for a chance to be featured.
Cold Brew Coffee Floats
Makes 6 servings
INGREDIENTS
For the cold brew concentrate
250 grams French roast coffee beans, coarsely ground
1 liter filtered water
For the chocolate sauce
1/3 cup non-dairy milk
3 ounces good quality dark chocolate, roughly chopped
2 tablespoons golden syrup
For the floats
1 batch chocolate sauce
1 pint non-dairy vanilla ice cream
3/4 cup cold brew coffee concentrate
2 cups sparkling water
4 maraschino cherries
DIRECTIONS
To make the coffee concentrate, simply add the coarsely ground coffee beans to the steeper of the KitchenAid® Cold Brew Coffee Maker.
Cover with 1/2 liter of water, making sure to soak the grounds completely. Wait 30 seconds (this allows the coffee grounds to "bloom") then cover with the remaining water. Cover the container with the lid and transfer to the refrigerator for 12-24 hours, depending on how strong you like your concentrate.
When the coffee has finished brewing, remove the steeper and return the coffee maker to the refrigerator. Your cold brew is ready!
Prepare the chocolate sauce by bringing the non-dairy milk to a boil in a small saucepan set over medium heat. Once boiling, turn off the heat, and add the chocolate. Wait five minutes then add the golden syrup and whisk until smooth.
Transfer the chocolate to a small jar. To save for later, cover it with a lid and store it in the refrigerator. Melt in a hot water bath (or microwave).
To assemble the floats, drizzle about one tablespoon of chocolate sauce between four cups and add 3 tablespoons of cold brew concentrate to each cup.
Add two scoops of ice cream then fill with 1/2 cup (or more, depending on your preference) of sparkling water.
Drizzle the remaining chocolate between the floats and top with a maraschino cherry. Serve immediately.
Print
*The Contributor of this post has been compensated by KitchenAid for this post, but this post represents the Contributor's own opinion.*