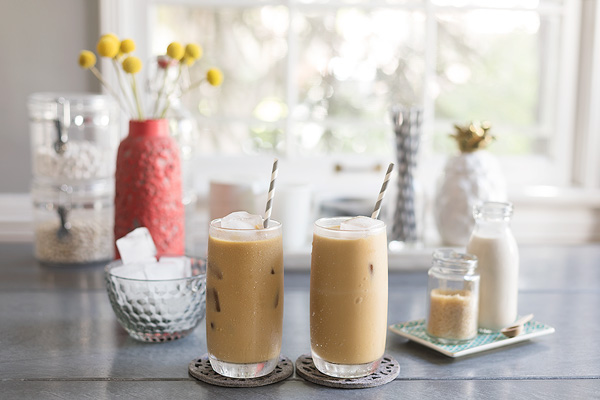 Hi, friends. Aida from Salt & Wind here to say Happy National Cold Brew Day! Take a look at Salt & Wind and one thing is immediately apparent: we adore coffee all day, every day. As such, no matter where we travel, we're always searching out the best local brew.
As long as it's great coffee, we'll take our coffee pretty much any way: espresso, siphon brewed, pour over, or as a press. In fact, one of our favorite things to do when we hit a new place is to try the local coffee specialties from Hong Kong Coffee Milk Tea to Irish Coffee.
The first time I ever sipped something beyond a cup of hot drip coffee was when I moved to New York for college. It feels like a law, as true as gravity, that when the temperature rises above 75° F in New York, it's time to drink iced coffee. All of a sudden, seemingly everyone walks down the street with an enormous iced coffee in hand. Frankly, I never got the appeal: I'd always found my iced coffee to be watery or with a stale, acidic, bitter flavor.
That all changed the first time I tried a cup of cold brew coffee. I'm not sure where I first had it, but I remember what I loved: a super smooth, but rich-flavored coffee. The key to cold brew is that there is no heat used when brewing the coffee, so you get all the good (rich, bold, smooth flavor) without the bad (buh-bye bitterness)! Now I channel my New York friends and go cold coffee the minute it gets hot. Even so, I've never made cold brew at home because it just felt too complicated, too time-consuming, just too, too.
Thankfully (just in time for National Cold Brew Day), the KitchenAid® Cold Brew Coffee Maker was released. This product couldn't be simpler to use and it results in a quality cold brew you'd pay top dollar for at your local coffee shop. Here's how to make the perfect cup of cold brew every time:
I'm adamant that a good cup of coffee comes down to three things: the right coffee maker, quality beans, and a great grinder. For getting a precise grind, the KitchenAid® Burr Grinder is a great choice. The various grind settings means you can go from fine (for espresso) to coarse (for French press) grounds. And want to know a nerdy detail? It grinds at low RPM so the beans get exposed to minimal heat and results in maximum flavor.
Speaking of grind, you want fresh, coarsely-ground beans for making cold brew coffee. To do that, set the Burr Grinder somewhere between setting 1 to 4 — I like the beans at setting 3 because it gives a balance of acidity and smoothness.
When you're making cold brew, you might as well go for it and make a full batch. The Cold Brew Coffee Maker allows you to make up to 28 ounces of coffee concentrate at once (which you then dilute to your preference). To brew a whole batch, you'll need 250 grams of coffee grounds.
If you use the KitchenAid® Digital Scale Jar Burr Grinder Accessory, you can place it under the Burr Grinder and both grind and measure at the same time!
Before you use the Cold Brew Coffee Maker, go ahead and assemble it by placing the stainless steel steeper inside the carafe. This part of the machine is key because it has etched fill level indicators, which means you take the guesswork out of brewing. And, because it's washable, you can make cold brew coffee one time and then iced tea the next!
Pour your perfectly ground coffee into the stainless steel steeper insert.
It's time to start brewing! Take 1 liter (about 4 cups) of filtered water and pour it over the grinds in a circular motion to help the coffee steeping process.
To get the grinds really doing their thing, you'll want to pour in the 1 liter of water and then let it bloom (basically puff up) for about 1 minute. This soaks all the grounds evenly and helps to bring out the maximum flavor.
Pour another 2 cups of filtered water over the grounds in the same circular motion and then use a spoon to push any remaining dry grounds under the water to make sure they're all moistened. 
Now you just sit back and wait! Put the top on the Cold Brew Coffee Maker then let it steep without heat. This step is key to brewing coffee that's low on acidity but big on flavor.
Leave it at room temperature or in the refrigerator for anywhere from 12 to 24 hours. I like the strength of the coffee when it steeps at room temperature for 24 hours, but it's totally a personal choice.
Once the coffee is steeped sufficiently, pull out the coffee strainer and tilt it so it sits on the edge of the maker and drains for 2 minutes. Then tilt the strainer the other directly and drain it for 1 additional minute. That's it! You now have cold brew coffee concentrate on tap!
At that point, if you haven't already, you can put the Cold Brew Coffee Maker in the refrigerator until you want to use it. Even in a narrow refrigerator like mine, the compact size easily fits, and, since the coffee concentrate lasts up to 2 weeks, you're set even in a high-consumption coffee household like mine.
Just like with the length of steeping the concentrate, you can make cold brew coffee to your own liking. A good place to start is to fill your glass partway with coffee concentrate and then dilute it with ice, water or dairy or non-dairy milk or a combination of ingredients.
I fill a large glass with ice then mix 1 part coffee concentrate with 3 parts almond milk. Because the coffee concentrate has really low acidity, I find you don't need sugar, but that's totally up to you! 
A few ways I like to mix it up is to serve it with my homemade creamer or add sparkling water for a fizzy twist on cold coffee. You can even throw it in a cocktail shaker with ice and shake for a twist on Italian shakerato. So, as the temperature warms up, go ahead and try your hand at some cold brew coffee. Who knows, you might even become a full-time cold brew convert!
*The Contributor of this post has been compensated by KitchenAid for this post, but this post represents the Contributor's own opinion.*