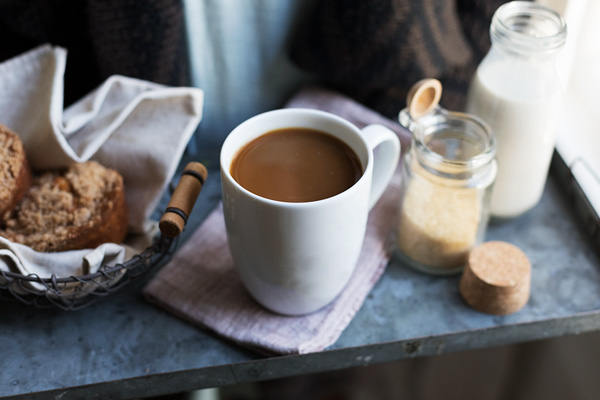 Happy International Coffee Day! The question isn't whether to take a coffee break, but how. Some people are tried and true latte lovers while others can't start their day without a bone dry cappuccino.
Me? My coffee changes with the season. An afternoon reading break demands a smooth cup of coffee while I don't dare get through summer without gallons of cold brew. Lucky for us coffee lovers, the KitchenAid® Coffee Collection has an option for pretty much any season, no matter the weather or the occasion.
If you've followed me on Salt & Wind or heard me say it here on The Kitchenthusiast™, you know that I'm all about having the perfect cup of coffee. And that perfect cup all comes down to high-quality beans, a great grinder, and the right coffee maker—be it the KitchenAid® Precision Press Coffee Maker, the Siphon Coffee Brewer, the Custom Pour Over Brewer or the Cold Brew Coffee Maker.
Here's how (and my personal thoughts on when) to use them.
THE PERFECT CUP
Before we go any further, let's circle back around to the beans and grinder for a quick moment, shall we?
Once you've splurged on high-quality beans, you'll want to treat them right by grinding them properly. The KitchenAid® Burr Grinder is an ace at grinding coffee because it grinds at a low RPM. This means the beans get exposed to minimal heat, which results in maximum flavor.
After you've chosen the best grind for the coffee maker you're using (head here for more on that, by the way), go ahead and grind away.
Oh, and when you do so, make sure to use the KitchenAid® Digital Scale Jar Burr Grinder Accessory with the Burr Grinder so you can grind and measure all at once.
Now on to the various styles of coffee!
FALL: Back-To-School Pour Over
As soon as September comes around, life just seems to get busier, which is why it's the perfect time of year to use the Custom Pour Over Brewer.
In our house, we used to start our morning boiling water and making a carafe of pour over, but that takes almost 30 minutes from start to finish. That's 30 minutes I'd much rather be getting my beauty sleep than prepping coffee.
The great thing about the Custom Pour Over Brewer is that it gives you that same smooth cup of coffee you'd get from the manual pour over process, but automates it all.
That means you can fill the Custom Pour Over Brewer with the grinds and schedule your coffee (using the delay program) the night before and wake up to coffee instead of having to make coffee once you wake up.
WINTER: French Press Coffee Break
As soon as the days start getting shorter, I can't help but want to get cozy. Be it in front of a fireplace or curled up under a blanket, the colder days demand some serious comfy time.
In the winter months, my lazy Sunday afternoon coffee break involves a great book and a cup from the Precision Press Coffee Maker.
The Precision Press Coffee Maker is so easy to use that any doubt of how to make a great cup of coffee goes out the door. The built-in scale and timer means you can measure both the grinds and water precisely and keep track of how long you want to brew it.
Oh, and it's not just good for coffee breaks! The sleek stainless steel design makes it chic enough to pull out for the dessert course at your next dinner party too.
SPRING: Sunday Brunch Siphon Coffee
Yes, yes, the Siphon Coffee Brewer makes a super smooth, complex cup of coffee which is more than enough reason to add it to your arsenal. But another reason?
The brewing process is totally captivating, which, by the way, means it's the ideal coffee accessory for entertaining. I love bringing it out to make coffee during a weekend brunch because it's a total conversation starter, which is always a plus when you're entertaining!
SUMMER: Backyard BBQ Cold Brew
If you're as into coffee as I am, you want it during any season and any weather. As in, when the weather hits triple digits you still want your coffee. And the iced coffee of the moment is most definitely cold brew.
This intense, full-flavored style of coffee has totally taken off as of late and it's easy to see why—it has way more flavor than your average iced coffee.
The Cold Brew Coffee Maker makes it super simple to use (click here for all the intel on how to use the Cold Brew Coffee Maker).
Just remember the Cold Brew Coffee Maker gives you coffee concentrate, so you'll want to find your favorite way (ice, water, milk, or all three) to dilute it to your liking.
What are your favorite coffee styles? Do they change with the seasons too?
Share your take on these different coffee styles on Instagram using #ForTheMaking for a chance to be featured.
*The Contributor of this post has been compensated by KitchenAid for this post, but this post represents the Contributor's own opinion.*