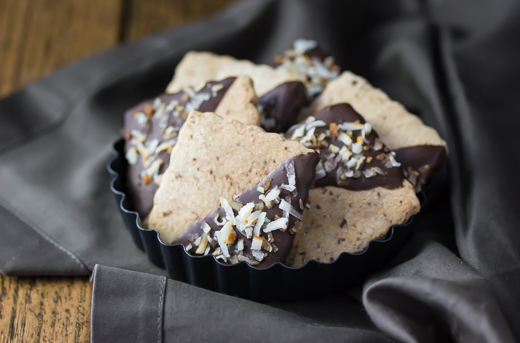 Nothing is more personal than a homemade holiday gift. I love to make edible gifts for my friends and family at this time of year. Spending time creating something handcrafted and delicious, while reflecting on that person and all the happy memories we've created together throughout the year- it's just so warm and special.
One of my favorite things to gift is cookies. There are so many different and delicious cookie recipes, but I've found that some travel better than others. As much as I adore soft and chewy drop cookies, they can be hard to package up securely. Many times, they arrive at their destination broken and crumbly, and the texture can be stale and dry.
Experience has taught me that flat, crunchy cookies are the way to go. They fit together tightly in the box, with minimal shifting. The less a cookie shifts in transit, the more likely it will arrive intact. Shortbread cookies are perfect for shipping, and this Coconut Straciatella recipe is beautifully unique and delicious!
It all starts with solid coconut oil. Coconut oil works beautifully as a substitute for butter or shortening. It's dairy-free, and it has a pleasant, subtle tropical flavor. In your KitchenAid® Stand Mixer, use the Flex Edge Beater to cream the coconut oil and sugar together until really fluffy. The standard beater that comes with your Stand Mixer will work, of course, but the Flex Edge Beater reduces the need to scrape ingredients down the side of the bowl. During holiday season, especially, I'll take any shortcut I can get.
This should take about 2 minutes on medium-high speed. Then, drop in the eggs, vanilla, and coconut extract, and mix on medium speed until combined.
Next, the flour, cornstarch, and salt go in. You may notice there is no leavening in this recipe. It's really not necessary for this type of cookie. Leavening causes baked goods to puff up in the oven, and in this case, we aren't looking for that kind of result. If you do a good job fluffing the dough during the creaming process, your cookies will still be light and tender. Baking powder will only cause the cookies to spread and lose their pretty shape while baking.
The "straciatella" component comes from mixing in finely chopped semisweet chocolate. Straciatella is an Italian word, meaning "rag," or "shred." Straciatella gelato is made by drizzling melted chocolate into plain ice cream toward the end of the churning process, producing evenly distributed, delicate, crunchy shards of chocolate throughout. We are chopping the chocolate as finely as possible, and mixing it into the coconut-flavored cookie dough in similar fashion.
Your friends will love getting chocolate in every bite! It's delightfully random, sometimes a lot and other times just a hint.
Roll the dough out, between two sheets of parchment, to a thickness of about 3/16-inch. This method is so clean and easy (no messy bench flour) and it keeps the cookies tender. Because you aren't adding any additional flour, you can re-roll the scraps and use up every last morsel of dough.
I love to use a 2-inch fluted square cookie cutter. It's the perfect size, and the shape packages up really neatly with little air space between cookies. This is so key to preventing in-transit shifting and breakage!
Once all of the dough has been portioned out, evenly space the cut-outs on your KitchenAid® Professional-Grade Nonstick Sheet Pan and bake for 10-12 minutes at 375 degrees F.
Dip a corner in melted chocolate to really amp up the flavor, then sprinkle with toasted coconut for added texture and a gorgeous wow-factor!
Line your gift boxes with grease-proof paper, and stack the cookies right in! You can even add a cute gift tag and some festive bakers twine to make the package as pretty as it is delicious. Who wouldn't love to receive a holiday gift like this?
Be sure to share your take on this Coconut Straciatella Shortbread recipe with us on Instagram using #MadeWithKitchenAid for a chance to be featured.
Coconut Straciatella Shortbread
Makes about 5 dozen cookies
INGREDIENTS
2 cups (448 grams) coconut oil (solid)
2 cups (400 grams) granulated sugar
2 large eggs (100 grams)
1 teaspoon vanilla extract
1/2 teaspoon coconut extract
3 1/2 cups (420 grams) all-purpose flour
6 tablespoons (54 grams) cornstarch
3 ounces (85 grams) semisweet chocolate, finely chopped
3/4 teaspoon kosher salt
For optional garnish
6 ounces (170 grams) semisweet chocolate, melted
1/4 cup (22 grams) shredded coconut, toasted
DIRECTIONS
Preheat the oven to 375 degrees F, and line a KitchenAid® Professional-Grade Nonstick Sheet Pan with parchment paper.
Place the coconut oil, and sugar in the bowl of your KitchenAid® Stand Mixer and using the Flex Edge Beater, cream on medium-high speed for about 2 minutes, or until very light and fluffy. Add the eggs and extracts, and stir together on medium-low until smooth and well-incorporated. Add the flour, cornstarch, chocolate, and salt, and mix on medium speed until the dough gathers itself into a ball and pulls cleanly away from the sides of the bowl.
Place the dough between two sheets of parchment paper, and use a rolling pin to roll to a thickness of about 3/16-inch. Cut shapes, using a 2-inch square fluted cookie cutter. Place on the prepared baking sheets, and bake for 10-12 minutes or until firm around the edges and set in the middle. Allow to cool on the baking sheets.
Optional: Dip the cookies partway in melted chocolate, and garnish with toasted coconut.
NOTE: To toast the coconut, place it in a dry pan over medium heat, stirring occasionally, until lightly browned.

Print
*The Contributor of this post has been compensated by KitchenAid for this post, but this post represents the Contributor's own opinion.*