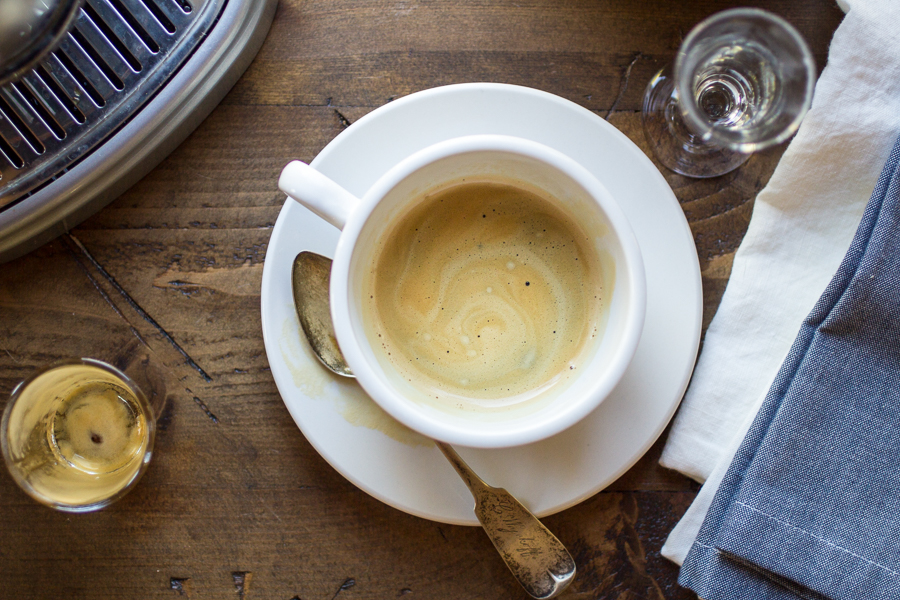 This past spring I had the opportunity of a lifetime—especially for a foodie such as myself. I spend a lot of time traveling, mostly to places that are known for having good food. Somehow or another, I completely neglected to visit Italy until just this year.
When I think of a quintessential food paradise, Italy is one of the first places to come to mind. I finally got my act together and arranged a trip to visit the land of pasta, pizza, wine, and espresso.
While visiting Rome I was introduced to the Caffé Corretto. From what I understand, the translation is something like "corrected coffee." It's essentially espresso that's been "corrected" to include a little nip of something delicious.
I tried it with both grappa and Sambuca while I was there, then came home and tried it with some Tuaca I had lying around. Grappa is an Italian brandy and may be the most traditional addition to a Caffé Corretto. Tuaca has a vanilla-citrus flavor, which adds warm, floral notes to the coffee. Sambuca is a sweetened anise-flavored liquor that I enjoyed quite a bit of while I was in Rome. Each variation is wonderful and different, but Sambuca is my favorite.
I adore anything anise-flavored (including Turkish Raki and Greek Ouzo!), so adding a bit of licorice to my coffee was a no brainer.
Start by pulling one short shot of espresso from your Nespresso® by KitchenAid®.
I used a ristretto capsule, but you can always use a decaf capsule if you're worried about caffeine sensitivity.
Isn't that just a thing of beauty? I never get tired of having espresso on-demand.
Next, pour the piping hot espresso into a small serving cup and top it off with the Sambuca.
Give it a good stir and immediately start sipping it. It's best when piping hot!
I love serving this to company as an after-dinner night cap or even as an aperitif to get the party going. It's also lovely with a savory brunch, or just on a Sunday afternoon when you need some Italian vacation vibes.
While non-traditional, a whipped cream and ground cinnamon topping wouldn't be out of place here. Make it your own!
Share your take on this Caffé Corretto on Instagram using #MadeWithKitchenAid for a chance to be featured.
Caffé Corretto
Makes 1 serving
INGREDIENTS
1 Nespresso capsule
1 ounce Sambuca
DIRECTIONS
Set your Nespresso® by KitchenAid® machine to setting 2 (espresso; 40ml). Insert a fresh Nespresso capsule into the machine and pull a shot into a small container. Pour the hot shot of espresso into a small serving cup.
Pour the Sambuca into the cup and stir well. Serve immediately.

Print
*The Contributor of this post has been compensated by KitchenAid for this post, but this post represents the Contributor's own opinion.*