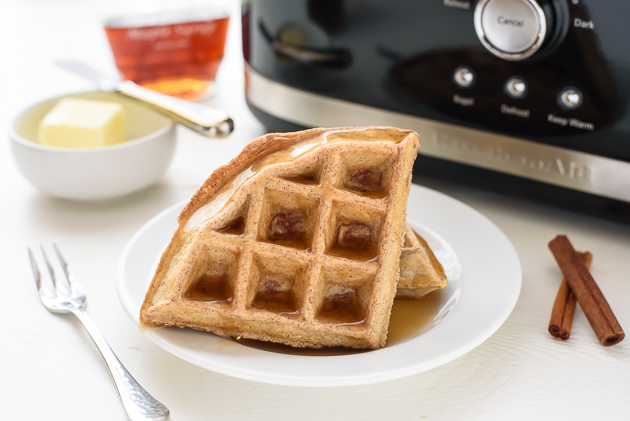 Frozen waffles were a staple school morning breakfast growing up. My mom typically purchased the plain, off-brand variety, but every now and then, a sale on the national brand would coincide with a time when my sisters and I were at the grocery store with my mom to plead our waffle preferences. On these trips, we'd convince her to buy the "cinnamon toast" waffle variety, then spend the next three days racing each other to the kitchen to eat our fill before the box ran out.
Frozen waffles, particularly the cinnamon kind, still have a nostalgic place in my heart. Though as an adult, I much prefer the taste and nutritional profile of homemade waffles. Since whipping up a batch of fresh waffles isn't something that's attainable for me on a busy weekday morning (and I suspect the same may be true for you), I've developed a method to make and freeze waffles ahead of time so that, when Monday rolls around, all I need to do is pop one into my toaster.
To make your own homemade freezer waffles, start with a batch of your favorite waffle batter. Mine uses a blend of white and whole wheat flours—the whole wheat flour makes the waffles extra nutritious and filling—along with a hefty dose of cinnamon and a touch of maple syrup to capture the cinnamon toast flavor of the childhood waffles that I loved.
When I'm making and freezing waffles ahead of time, I like to prepare a big batch, a task that my KitchenAid® Waffle Baker makes fast and easy. This super appliance cooks two golden, fluffy waffles at the same time, meaning you'll have more waffles on your plate more quickly. Just about the only thing I don't love about homemade waffles is the downtime between batches, and this Waffle Baker cuts that wait in half.
Once the waffles are baked, place them on a wire rack to cool completely. Cut the waffles into sections, arrange them in a single layer on a parchment-lined baking sheet, then pop them into your freezer.
Freeze the waffles until they are completely hard, about four to six hours. This guarantees that when you store them, they will maintain their shape and texture. Once solid, transfer the waffles to a ziptop bag.
At this point, you want to remove as much air from the bag as possible to deter freezer burn. I've found that creating a homemade "vacuum seal" works best. Poke one end of a straw into the bag, seal the bag up to the straw, then use the straw to suck out the excess air. The waffles can be frozen this way for up to two months.
Now, you have a homemade waffle breakfast on hand anytime you like! When you are ready to enjoy, simply reheat the waffles in your toaster. I love my KitchenAid® 4-Slice Long Slot Toaster. Because of the length of the slots, it can handle bread in a variety of shapes (including those wide slice, artisan-style loaves that I adore), and toasts four freezer waffle sections at the same time.
For a breakfast that offers the convenience of frozen waffles, combined with the superior flavor and nutritional profile of homemade waffles, these Cinnamon Freezer Waffles hit the spot!
Be sure to share your take on this Cinnamon Freezer Waffles recipe with us on Instagram using #MadeWithKitchenAid for a chance to be featured.
Cinnamon Freezer Waffles
Makes 6 large Belgian-style waffles (24 small waffle sections)
INGREDIENTS
2 cups whole wheat flour (or substitute all purpose flour)
2 cups all purpose flour
2 tablespoons cinnamon
2 1/2 teaspoons baking powder
1 1/2 teaspoons kosher salt
4 large eggs
4 cups milk (skim, whole, almond, or any kind you prefer)
2/3 cup melted butter, melted and cooled coconut oil, or canola oil
2 tablespoons maple syrup
DIRECTIONS
Preheat the KitchenAid® Waffle Baker. In a large mixing bowl, whisk together the whole wheat flour, all purpose flour, cinnamon, baking powder, and salt. In a separate bowl, whisk together the eggs, milk, butter or oil, and maple syrup.
Make a well in the center of the dry ingredients, pour in the wet, then stir with a fork or rubber spatula just until combined. The batter will be somewhat lumpy.
Bake the waffles until golden, then transfer to a wire rack to cool completely. Once cool, cut into sections, then arrange in a single layer on a parchment-lined baking sheet. If needed, lay a second piece of parchment paper on top, then add a second layer of waffles. Place in the freezer to harden completely, about 4-6 hours.
Once frozen, place the waffles in a ziptop bag, poke a straw half way into one end of the bag, then seal up to the straw. Use the straw to suck out any excess air, then quickly remove the straw and seal the bag the rest of the way. Place the bag in the freezer and store up to 2 months.
When ready to cook, toast in your KitchenAid® 4-Slice Long Slot Toaster. Depending upon your desired level of waffle color, you may want to microwave the waffle for 30-45 seconds first to heat the middle before using the toaster to crisp the outside. Enjoy warm.
Print
*The Contributor of this post has been compensated by KitchenAid for this post, but this post represents the Contributor's own opinion.*