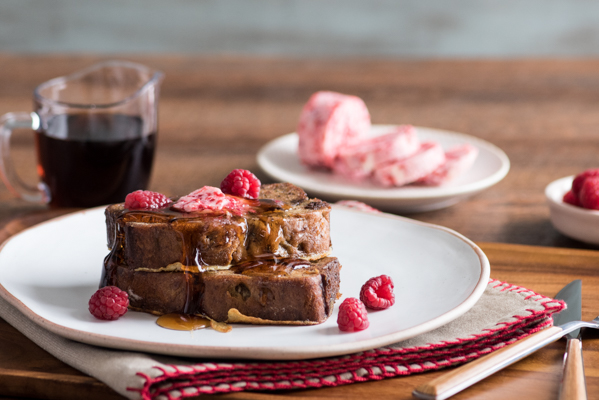 Mother's Day is one of my favorite holidays. I love showering my mother, who is my best friend, with more gifts and love than any other day of the year. Most times, my family makes reservations at a swanky restaurant for brunch but I've decided that more effort needs to be taken on my part, hence this challenge. For the countless homemade breakfasts my mother has made throughout my life, it might be a nice change of pace to make one just for her, particularly one that knocks her socks off.   Nothing says decadence and comfort like French toast, especially when made with cinnamon banana bread and topped with glorious raspberry honey compound butter. If you make this, your mother will beg you to give up reservations for good and make this every year instead.
For years, I have relied on challah bread for my french toast concoctions. Trying it with a homey scratch banana bread was a fantastic risk that paid off big time. I started by jazzing up my standard banana bread recipe with a cinnamon sugar swirl. It looks so lovely dancing through the center of the bread and doesn't take much effort at all.
I began my process by creaming my butter in my KitchenAid® Ceramic Bowl using my Stand Mixer on a high speed to whip in additional air.
Next I add in brown sugar and continue beating until light and fluffy. I then added my eggs, flour, leavening, spices, bananas, milk and vanilla until my batter was well combined and ready for baking. The KitchenAid® Stand Mixer is such a powerhouse that this process was done in minutes with little effort on my part.
After I finished mixing everything, I created a simple cinnamon sugar mix to add to the center of the bread. By alternating the batter with the cinnamon sugar, you will get a lovely ribbon of flavor swirled throughout every slice. It really adds a fantastic twist to this classic.
Baking the bread takes about an hour. The final result is a moist and perfectly flavored banana bread filled with cinnamon that is fantastic on its own but even better when made as French toast.
The French toast batter is quite simple. By whisking together eggs, milk, vanilla and cinnamon, you have a fantastic base.
You will want to heat your non-stick griddle or pan with a little oil or butter to properly coat it and brown the bread. Simply dip each side of your bread into the egg mixture for a few seconds then fry each side until golden brown.
The final step is the creation of the raspberry honey compound butter. It may sound difficult to make but it is about as easy as ever to create. Simply whip your butter in your KitchenAid® Stand Mixer then add in honey and raspberries until combined and store in your refrigerator until ready to serve.
That's it! This butter is wonderful served on French toast, pancakes, a slice of morning toast or even a bagel. The raspberries and honey brighten the flavor and add a touch of whimsy to any regular breakfast. When this entire breakfast of champions comes together in the end, it is the perfect meal to show your mother just how much you care.
Cinnamon Banana Bread French Toast with Raspberry Honey Compound Butter
Makes 3-4 servings
INGREDIENTS
For the banana bread
1/2 cup (118.3 mL) unsalted butter, room temperature
2/3 cup (160 mL) light brown sugar, packed
2 large eggs
2 cups (473.18 mL) all-purpose flour
1 teaspoon (4.93 mL) baking soda
1/2 teaspoon (2.46 mL) salt
1/4 teaspoon (1.23 mL) ground cinnamon
2 cups (473.18 mL) mashed ripe bananas
1/4 cup (59.15 mL) whole milk
1 tablespoon (14.79 mL) vanilla extract
For the cinnamon sugar
1/3 cup (80 mL) granulated sugar
1 tablespoon (14.79 mL) ground cinnamon
For the French toast
8 or 9 slices of pre-made banana bread
4 large eggs
1/3 cup (80 mL) milk
1 tablespoon (14.79 milliliters) vanilla extract
1/2 teaspoon (14.79 milliliters) ground cinnamon
For the raspberry honey compound butter
1 cup (236.59 mL) unsalted butter, room temperature
1 cup (236.59 mL) of fresh raspberries
2 tablespoons (29.57 mL) honey
Pinch of salt
DIRECTIONS
For the banana bread
Begin by preheating your oven to 350 degrees.
In the KitchenAid® Ceramic Bowl of your Stand Mixer, begin to cream butter on medium high speed. Slowly add in brown sugar and continue to mix for 5 minutes until light and fluffy.
Add in eggs, one at a time, incorporating after each addition.
Slow the speed of your KitchenAid® Stand Mixer to low and add in flour in 2 batches then add your baking soda, salt and cinnamon. Next add in banana, milk and vanilla extract and mix until just combined then turn off the Stand Mixer.
For the cinnamon sugar
Whisk together sugar and cinnamon a bowl until combined.
To assemble
Liberally spray a 9×5″ loaf pan with non-stick baking spray. Add half of bread batter to the pan then sprinkle the sugar mixture evenly over the batter.
Lastly pour the remaining batter over the cinnamon sugar and evenly spread out.
Bake for 55-65 minutes or until a toothpick inserted into the highly domed center comes out clean.
Allow bread to cool to room temperature.
For the French toast
Heat a non-stick pan or griddle over medium high heat and coat pan with a tablespoon of butter or oil.
In a deep pie dish, beat eggs then whisk in milk, vanilla extract and cinnamon until combined.
Dip each slice of banana bread into the batter for 3 seconds coating each side evenly.
Fry each slice of bread in the pan or griddle until golden brown on both sides.
For the compound butter
Add butter to the Ceramic Bowl of your KitchenAid® Stand Mixer and beat on medium high speed until incorporated.
Next add in raspberries, honey and pinch of salt and beat until incorporated and fluffy. Remove butter from ceramic bowl and place in a small bowl. Refrigerate until ready to use.

Print
*The Contributor of this post has been compensated by KitchenAid for this post, but this post represents the Contributor's own opinion.*