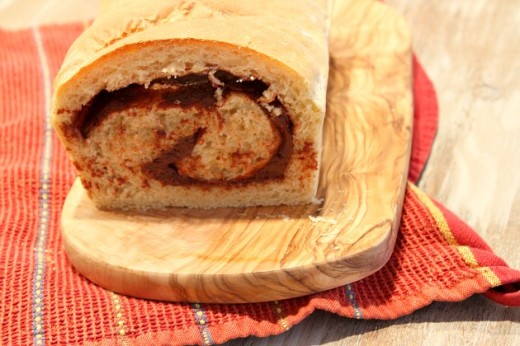 The toughest part about baking yeast breads in the colder months of the year is finding the optimal place for the bread to do its rising. I'll be sharing a little secret I've used over the years about a good place for yeast breads to rise in this post for my Chocolate Swirl Bread recipe.
First things first: This bread is a delicious snacking bread. It's slightly sweet, and it has a tender texture, and the chocolate swirl turns it into something special. Toast a slice of this bread with a little peanut butter spread on top… perfect.
It starts with a simple, easy-to-assemble yeast dough. You don't need anything fancy- just a bowl and a wooden spoon. You'll knead it lightly with your hands for a few minutes, and then you'll need to seek out a place for it to rise. Here's where my secret comes in handy:

I use my KitchenAid® Double Oven! Just turn it on BRIEFLY (20 to 30 seconds), and then turn it OFF. It'll warm up your oven just a little bit, making it a cozy place for your bread to rise in peace. Turn the oven light on too since the light will put off some heat and continue to make it a warm environment.
Place your bowl of yeast dough into the (slightly) warmed oven.
Cover the bowl with a clean dishtowel. This is safe because at this point your oven should be OFF!
After an hour of rising, the dough has been able to do it's thing and rise to the top of your bowl. Punch it down and roll it out on a floured surface.

Slather it with a chocolate mixture (check the recipe for details on that). Roll it up, and then snuggle it into a loaf pan.
With the next rising, you're going to utilize that oven space again.
This time it's much quicker. In 20 to 30 minutes, you should see a nice rise on your loaf.
Give it three slashes with a serrated knife, and bake it for about 35 minutes.

Here's the finished product… with that beautiful chocolate swirl tucked inside… ready to be warmed up and snacked on.
When I moved into my new house earlier this year, I was delighted to find that the previous owners had updated the kitchen with a beautiful set of KitchenAid double ovens. It is wonderful to be able to utilize two ovens at the same time, and I find myself using that second one often as the perfect rising place for my yeast breads and rolls. They turn out perfect every time!
Chocolate Swirl Bread
Makes 10-12 servings (1 loaf)
INGREDIENTS
For the bread
1 tablespoon butter
1/2 cup milk
1 teaspoon vanilla extract
2 tablespoons granulated white sugar
1/2 teaspoon salt
1 envelope (2 1/4 teaspoons) active dry yeast
3/4 cup warm water (105 to 115 degrees F)
3 cups all-purpose flour, divided + more for surface work
For the filling
1 cup semi-sweet chocolate chips
1/2 cup sweetened condensed milk
DIRECTIONS
In a microwavable cup, heat butter and warm milk in short bursts; stir together until butter is melted. The stir in the vanilla.
In a large bowl, stir sugar and salt. Pour warm butter/milk mixture into the bowl; stir.
In a glass measuring cup or small bowl, mix yeast and warm water until yeast is dissolved; pour into the bowl and stir.
Mix in 2 1/2 cups flour. Turn out dough onto a floured board (dough will be sticky). Sprinkle remaining 1/2 cup of flour onto the dough and knead until the dough is soft and smooth (4 to 5 minutes). Add additional sprinkles of flour, if needed.
Put dough into a greased bowl; turn the dough over so the top of the dough is greased too. Cover with a clean dish towel and let rise in a warm place for about 60 minutes, or until doubled in size.
Punch down the dough in the bowl with your fist. Turn dough onto a floured surface and knead for about 1 minute.
Roll dough out into a basic rectangular shape. In a microwavable bowl, mix chocolate chips and sweetened condensed milk. Heat for one minute, then stir until chips are melted and smooth.
Roll up dough and form into a loaf. Place into a buttered 5×9-inch bread pan, seam side down. Cover with a clean dish towel and let rise in a warm place until doubled in size, about 30 minutes.
Preheat oven to 375 degrees F.
Score risen dough in the pan by cutting 3 slashes diagonally across the top of the loaf with a sharp knife. Bake bread for 35 to 45 minutes, or until golden brown. Fully baked bread should sound hollow when tapped.
Turn out bread and let cool on a wire rack. Slice bread and serve warm. It's great with peanut butter smeared on top.

Print
*The Contributor of this post has been compensated by KitchenAid for this post, but this post represents the Contributor's own opinion.*