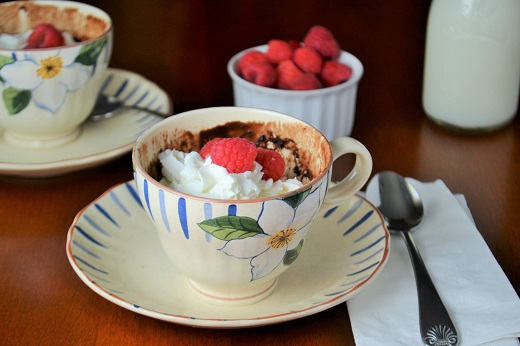 Have you ever had a late night sweet craving? It happens to me all the time. I could be watching my favorite TV show and all of a sudden a chocolate commercial comes on.  I look into my refrigerator to see vegetables, leftover chicken from dinner, a gallon of milk and some pickles.  None of these foods will curb my craving for sweets. So I gather some ingredients and make chocolate raspberry mug cake in my KitchenAid® Microwave Hood Combination Oven.  In less than 10 minutes, I am in chocolate raspberry heaven.  You don't have to be a baker to enjoy this decadent treat.
Recipes for microwave mug cakes have been all over the internet. When I saw a few recipes, I questioned how a cake cooked in the microwave could be so good. I feared the mug cakes would be dry or rubbery.  I decided to try a few recipes and was pleasantly surprised.  I am not going to lie to you. The little cakes are not the same as a fluffy homemade birthday cake with layers of creamy buttercream icing. But making one is a quick way to get a moist cake that is just the right size dessert. I topped my little chocolate cake with whipped cream and fresh raspberries.  Even though this is the perfect cake to make late night, it is pretty enough to serve to friends and family. If some unexpected company stops by, this cake goes well with a cup of coffee or tea.
My children are fans of the microwave mug cake too. The directions are simple enough for my twelve year old son to make one himself. I love that my KitchenAid® Microwave Hood Combination Oven is easy for my children to use.  While my family loves this chocolate raspberry mug cake, I gathered ten more recipes that are favorites for late night snacking and can be put together in minutes. The possibilities of these quick treats are endless!
Chocolate Fudge S'mores Mug Cake
Red Velvet Mug Cakes (low carb and gluten free)
Quick Molten Chocolate Cake For One
Chocolate Peanut Butter Mug Cake
Mug cakes can be made in a variety of mugs. They can also be made in other containers such as six or eight ounce mason jars, ramekin cups or small glasses. They are great to serve at a kids' party and the mugs can be adapted to a specific holiday. I can always find cute holiday mugs in my local dollar or variety store to make any type of festive mug cake I want. Basically, anything microwavable will work.
There are some simple tips to keep in mind so your mug cake comes out as delicious as possible. Never fill the mug with batter to the top. The cake will rise considerably and if the cup is filled too much, the batter will overflow. It is always a good idea to put a paper towel under the mug in case this does happen. A paper towel makes for very easy clean up.  Microwave times will vary based on your microwave and mug so start with the shortest time possible and add 30 second increments if the cake is not cooked. I like my cake fudgy, so this chocolate raspberry cake does not take very long to make. The cake will deflate after it is done cooking so garnish it with whipped cream, powdered sugar or fruit to make it as pretty as possible.
Raspberries have been plentiful at my grocery store lately and I thought they were a nice complement to the rich chocolate. But strawberries are in season and would also work well in this recipe. Try some new combinations and make a mug cake for your next late night snack. What could be better than whipping up a treat like this in under ten minutes?
Chocolate Raspberry Mug Cake
Makes 2 servings
INGREDIENTS
1/4 cup all-purpose flour (32 grams)
1 1/2 tablespoons unsweetened cocoa powder
1/4 teaspoon  baking powder
2 tablespoons granulated sugar
1/4 cup low fat buttermilk (60 ml)
2 tablespoons melted butter (salted)
2 tablespoons raspberry preserves
Whipped cream for garnish
Fresh raspberries for garnish
DIRECTIONS
In a medium sized bowl, whisk together flour, cocoa powder, baking powder and sugar. Mix in buttermilk, melted butter and raspberry preserves. Stir until there are no lumps.
Pour the batter into two small coffee or tea cups that are microwave safe.  Place a paper towel in your KitchenAid® Microwave Hood Combination Oven and set the cups on top.
Microwave the cups in your KitchenAid® Microwave Hood Combination Oven for about 60 to 90 seconds on high or until batter rises and cakes are cooked.
Let the cups cool for a few minute before serving. Cakes will deflate while they are cooling.
Garnish with whipped cream and raspberries. Enjoy!
Note: This recipe makes two small mug cakes. If you would like one large one, use a larger mug and adjust the cooking time. You can start at 90 seconds and add 30 second increments until the cake is done.
Print
*The Contributor of this post has been compensated by KitchenAid for this post, but this post represents the Contributor's own opinion.*