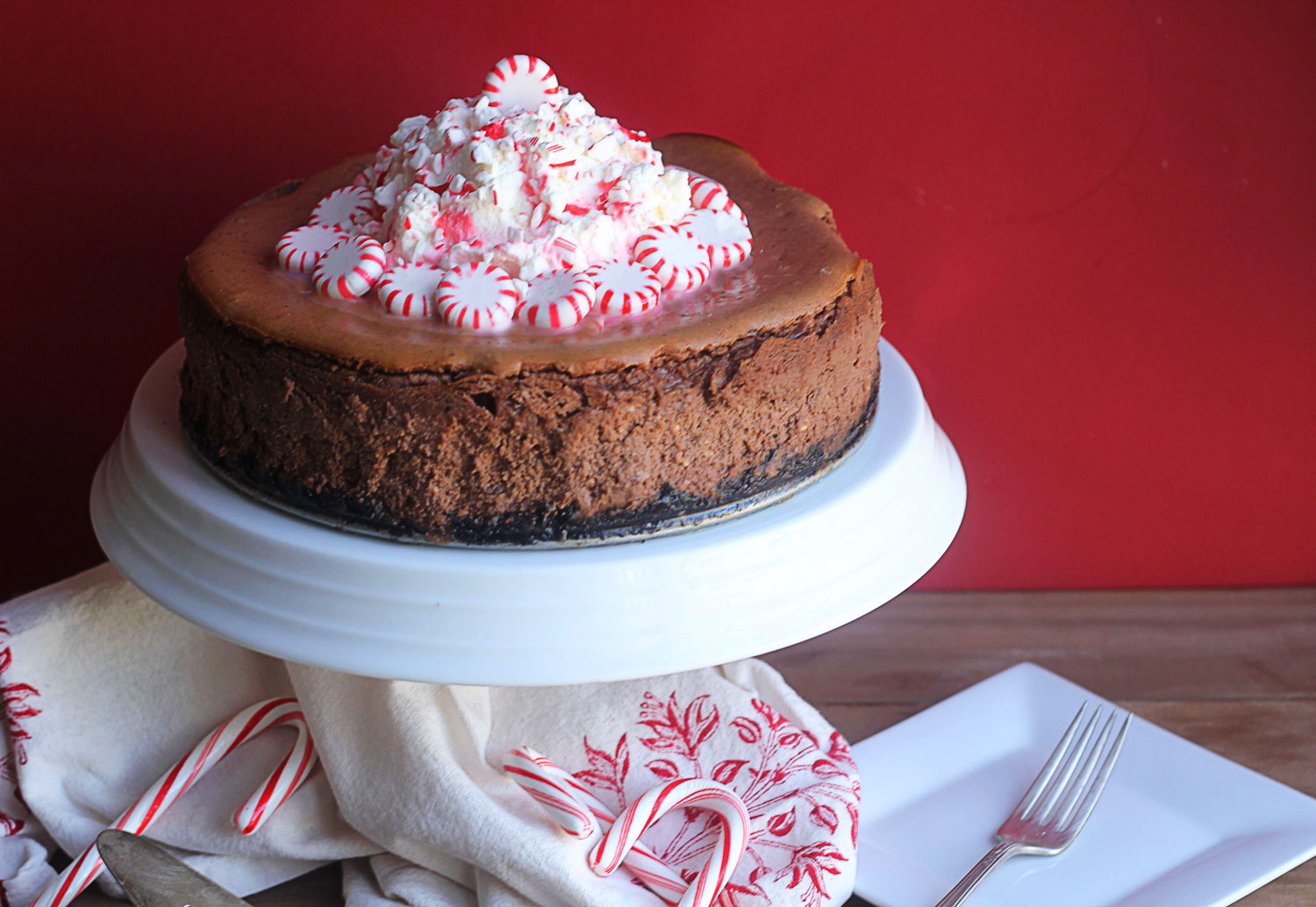 In my opinion, winter holidays always call for peppermint. There is something so special about its bright taste, especially when its paired with a deep chocolate in a creamy smooth cheesecake.
Cheesecake can seem quite intimidating to most because of the numerous steps that require a bit of patience and skill. However, this recipe can show you just how easily you can make delicious cheesecake at home for the holiday season. The flavor is rich and absolutely delicious, and the texture is smooth and creamy just like the best cheesecake you have ever tasted. It literally melts in your mouth.
The batter is ready in a snap and becomes light and airy with the use of the KitchenAid® Stand Mixer and new Ceramic Bowl. What I love most about using this bowl is how sturdy and large it is. I can evenly whip all of the batter required for this recipe without worrying about it spilling out of the bowl. It is also oven and microwave safe, and includes an easy pour spout to prevent messes which are usually inevitable in my kitchen.
To begin, you simply create the easiest cookie crumb crust ever by whisking together crushed chocolate cookies, sugar, and butter, and patting the mixture into the bottom of your lined springform pan. I also completely line my pan with at least 3 layers of foil for an additional water bath step (this step is totally optional).
For the cheesecake filling, you begin by beating together the cream cheese and sugar. It becomes a beautiful fluffy cloud of ingredients.
Additional ingredients like heavy whipping cream, eggs, and even sour cream lighten the cream cheese mixture but also add a richness of flavor to the cheesecake. It becomes so delicious once it bakes up. The major ingredients of cocoa powder and peppermint extract give that perfect holiday kick and make this cheesecake not only unique but also unforgettable.
The next part is the longest part. You will want to bake this cheesecake 24 hours before you plan to serve it. It requires one hour of baking, 4 hours of cooling in the oven with the door closed and an overnight chilling before it is ready for your guests. It might seem like a lot of work but it is completely worth it. The result is a perfectly smooth cheesecake with no cracks. Whether you decided to use a water bath for your cheesecake or not, I can guarantee that you will have little to no cracks either way. The water bath is just extra insurance just in case you want to serve your cheesecake plain in all its glory.
However, the last accent I added to this cheesecake is a beautiful red swirled whipped cream piled right on top. Garnish with crushed peppermint and get ready for the perfect holiday cheesecake.
Chocolate Peppermint Cheesecake
Makes 12 servings
INGREDIENTS
For the Crust
1 1/2 cups chocolate sandwich cookies, crushed
3 tablespoons granulated sugar
5 tablespoons unsalted butter, melted
For the Cheesecake Filling
4 (8 ounce) packages cream cheese, room temperature
1 1/2 cups granulated sugar
3/4 cup heavy cream, room temperature
4 large eggs, room temperature
1 cup sour cream, room temperature
1 1/2 tablespoons pure vanilla extract
1/2 teaspoon peppermint extract
2/3 cup cocoa powder
2 tablespoons all-purpose flour
For the Whipped Cream
1 cup heavy whipping cream, cold
1 tablespoon granulated sugar
1/4 teaspoon peppermint extract
1 drop red food coloring
For garnish: crushed and whole peppermint
DIRECTIONS
Preheat oven to 350 degrees F (175 degrees C). Thoroughly spray a 9-inch springform pan with non-stick baking spray. If attempting a water bath, make sure your springform pan is securely closed then triple wrap the sides of the pan with foil to prevent any water from seeping into the sides. It is crucial that the pan doesn't have any openings or water could seep in creating a soggy cheesecake.
For the Crust
Whisk together chocolate cookie crumbs and sugar with melted butter.
Press mixture into the bottom of the springform pan and bake in the oven for 10 minutes.
For the Cheesecake Filling
In the KitchenAid® Ceramic Bowl of your Stand Mixer, mix cream cheese and sugar at medium speed until completely blended and smooth.
Add in heavy cream, and then add in the eggs one at a time, mixing until incorporated.
Lastly, pour in sour cream, vanilla extract, peppermint extract, cocoa powder and flour and mix until entire batter is smooth, scraping down sides as needed. Carefully pour the batter into the prepared pan.
(Optional) Water bath: Place your cheesecake pan inside a larger pan and slowly fill the large pan with boiling water halfway up the sides of the springform pan.
Bake cheesecake for 1 hour. Turn the oven off and let the cake cool in oven with the door closed for 4 additional hours.
Remove cheesecake from oven after 4 hours and make sure the cheesecake is completely chilled before placing in the refrigerator (if it is still a bit warm, allow it to cool on the counter before refrigerating), then chill overnight until ready to serve.
For the Whipped Cream
Beat heavy cream in the bowl of your KitchenAid® Stand Mixer on high speed until soft peaks form.
Slowly add in sugar and mint extract and beat until stiff peaks form.
Pile the whipped cream in the center of the cheesecake.
Carefully dip a butter knife into the red food coloring and swirl through the pile of whipped cream creating a decorative pattern. Dip back in food coloring as needed.
Lastly sprinkle crushed peppermint over whipped cream and garnish with any additional peppermint and serve.
Print
*The Contributor of this post has been compensated by KitchenAid for this post, but this post represents the Contributor's own opinion.*