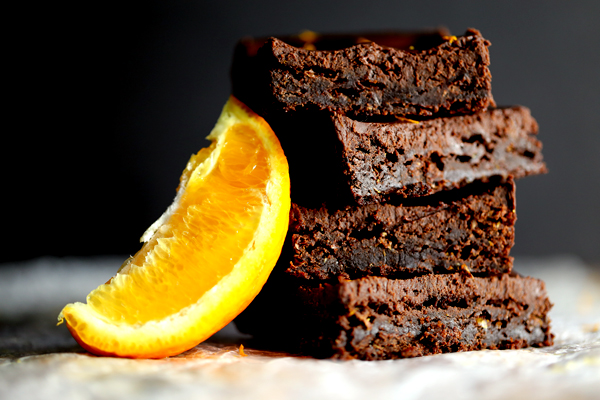 I don't know about you, but I hate to waste food. I heard recently that the average American household wastes $600 of food each year. That's over a month's grocery budget for most families. Just think of what you could buy with $600! So instead of wasting food, it's time to put on your thinking cap and figure out how to get the most bang out of your food dollar. Waste not, want not, right?
Although I absolutely love juicing – hello, fresh orange juice! – you're always left with a pile of pulp afterwards. Sure, if you compost, you can add it to your bin for gardening purposes but if you don't are you simply left with no option but to toss it in the garbage? Friends, I bear good news. The answer is no! With my new KitchenAid® Easy Clean Juicer, I'm able to use the pulp as egg replacement in baked goods, specifically, these decadent Chocolate Orange Brownies.
This brownie recipe uses every part of the orange – pulp, juice and zest – for maximum flavor. These rich, chocolatey brownies are spiked with fresh orange juice and use 1/2 cup of the remaining pulp as a replacement for eggs. The chocolate ganache frosting is studded with zest to bring even more orange flavor to the table. It's an amazing feeling to not only enjoy fresh juice in the morning, but to also use the remaining parts of the orange in a delicious dessert!
So what do you say? Ready to make a pan of these Chocolate Orange Brownies? You know, in the name of reducing your household's food waste. If that isn't the perfect excuse for dessert, I don't know what is!
Chocolate Orange Brownies
INGREDIENTS
3/4 cup butter
3/4 cup cocoa
3 tablespoons orange juice
1-2/3 cups sugar
1/2 cup orange pulp
2 teaspoons vanilla
1-1/3 cups flour
1 teaspoon baking powder
1/4 teaspoon salt
2 cups dark chocolate chips
2/3 cup whipping cream
1 tablespoon orange zest
DIRECTIONS
Preheat oven to 350 degrees.
In a large microwave safe bowl, melt butter in microwave. Stir in cocoa and orange juice.
Add sugar, orange pulp and vanilla to bowl and stir to combine.
Stir in flour, baking powder and salt.
Pour batter into greased 9×13 pan and bake 23-25 minutes or until a toothpick inserted into middle removes cleanly. Let cool completely.
In a small microwave safe bowl, add chocolate chips, whipping cream and orange zest and microwave on HIGH for 1 minute. Whisk together until smooth.
Spread ganache evenly over top of brownies and refrigerate until set. Return brownies to refrigerator after serving.

Print
For more Easy Clean Juicer recipes, click here for our eRecipe book.
*The Contributor of this post has been compensated by KitchenAid for this post, but this post represents the Contributor's own opinion.*