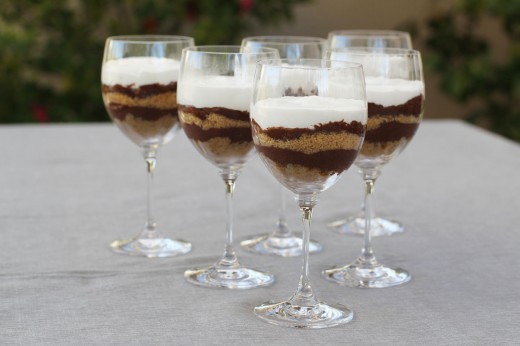 Ahhhh, parfaits. They are such a fun, pretty and delicious treat, perfect for breakfast, brunch or dessert! The two things I love most about parfaits is their versatility (the flavor combinations are endless!) and that I can make them ahead of time and leave the parfaits in the fridge to wait for the party to start.
When I was a little kid my favorite dessert was chocolate mousse. Once, when I was just three years old, my dad took me to a not-super-fancy restaurant and I ordered chocolate mousse for dessert, much to the surprise of the waitress. I blame my mother for the obsession as she made the most perfectly rich, delicious, wonderful chocolate mousse this side of anywhere.
I was thinking recently that a chocolate mousse parfait would be a fun dessert to make. Maybe I could even get my own kids obsessed with chocolate mousse while they are still young and impressionable. I decided to let chocolate mousse pie serve as the inspiration, layering buttery graham cracker crust with rich chocolate mousse and topping it all off with just-barely-sweet whipped cream.
I am happy to report the parfaits were a hit and my kids are sufficiently addicted to chocolate mousse. Glad I could keep it in the family.
This recipe is a great option for entertaining. It is impressive and elegant but not too hard to make. You need to make the parfaits a day in advance so the mousse can set, resulting in less work for you the day of the party.
Your fridge can just hold onto your elegant dessert until you're ready to serve your guests! And, if you have a beautiful fridge like my KitchenAid® Architect® Series II French Door Refrigerator your parfaits will be perfectly chilled thanks to the ExtendFresh™ temperature management system.
Be sure to check out 25 more perfect parfait recipes below from some of our favorite food bloggers!
Chocolate Mousse Pie Parfaits
Makes 8 servings
INGREDIENTS
8 eggs
12 ounces semi-sweet chocolate chips
10 tablespoons sweet or lightly-salted butter
1 cup graham cracker crumbs
1/8 cup granulated sugar
3 tablespoons melted butter
2 cups whipping cream
2 tablespoons powdered sugar
DIRECTIONS
Separate eggs, putting whites into a large bowl and the yolks in a small bowl. Let whites warm to room temperature about 1 hour.
In a double boiler, melt chocolate chips and butter until full melted. Remove from heat.
With a wooden spoon, beat in yolks, one a time, beating well after each addition. Let cool 10 minutes.
With a KitchenAid® hand mixer, beat egg whites until stiff, moist peaks form when beaters are slowly raised.
With wire whisk or rubber scraper, using an over-under motion, gently fold chocolate mixture into egg whites, just enough to combine thoroughly with no white streaks.
In a separate bowl, combine graham crackers, granulated sugar and butter with a fork until well mixed.
Using 8 wine glasses, place about 1 tablespoon of the graham cracker crumbs into the bottom of each wine glass, pressing down with your fingers into the glass. Scoop about 1/3 cup of mousse into each glass on top of the crumbs.
Place another tablespoon or so of graham cracker crumbs into each glass on top of the mousse, concentrating the crumbs to the edge of the glass so you can see the layers. Top each glass with more mousse, using the rest of the mousse divided evenly between the 8 glasses.
Whip 2 cups of cream with the powdered sugar until soft peaks form, so cream thickened but not too thick. Top each parfait with a nice helping of cream.
Cover each glass with a small piece of plastic wrap and refrigerate overnight until you are ready to serve.
You can also use 16 smaller glasses, adjusting amounts accordingly, for a smaller dessert for your guests.

Print
Check out these 25 perfect parfait recipes!
Pumpkin Spice Latte Tiramisu Parfaits from Baking a Moment
Chocolate Malt Brownie Parfait in a Jar from A Spicy Perspective
Pumpkin Parfaits from A Couple Cooks
Peach Parfaits from Table for Two
Greek Yogurt Parfait with Cranberry-Orange-Clove Sauce from Three Many Cooks
Biscoff Pudding Parfait from Tidy Mom
Avocado Basil Greek Yogurt Parfaits from La Fuji Mama
Gingersnap-Caramel Pear Parfaits from Katie's Cucina
White Chocolate Raspberry Yogurt Parfaits from Treats with a Twist
Chocolate Strawberry Greek Yogurt Parfait from Sarah's Cucina Bella
Berry and Pastry Cream Parfait from Sweet Lab
Vanilla Cupcakes, Blueberry and Whipped Topping Jar Parfaits from Eclectic Recipes
Lemon Curd Breakfast Parfait from Oh, Sweet Basil
Blackberry Lemon Ricotta Parfaits from All Day I Dream About Food
Honeyed Strawberry Shortcake Yogurt Parfaits from Picky Palate
Apple Maple Parfait from Nutmeg Nanny
Blueberry Granola Parfait from Katie's Cucina
Strawberry Fruit and Yogurt Granola Parfait from Kevin & Amanda
Cara Cara Orange & Blueberry Greek Yogurt Parfaits from La Fuji Mama
Rice Pudding and Mango Parfait from Leite's Culinaria
Roasted Strawberry Parfaits from In Sock Monkey Slippers
Pineapple-Macadamia Nut Parfait from Girl Versus Dough
Mini Peach Pie and Sweet Waffle Trifles from Doughmesstic
Cranberry Almond Granola Parfaits from Eclectic Recipes
Mango and Raspberry Mascarpone Whip Parfait from All Day I Dream About Food
*The Contributor of this post was provided with a free Refrigerator by KitchenAid for this post, but this post represents the Contributor's own opinion.*