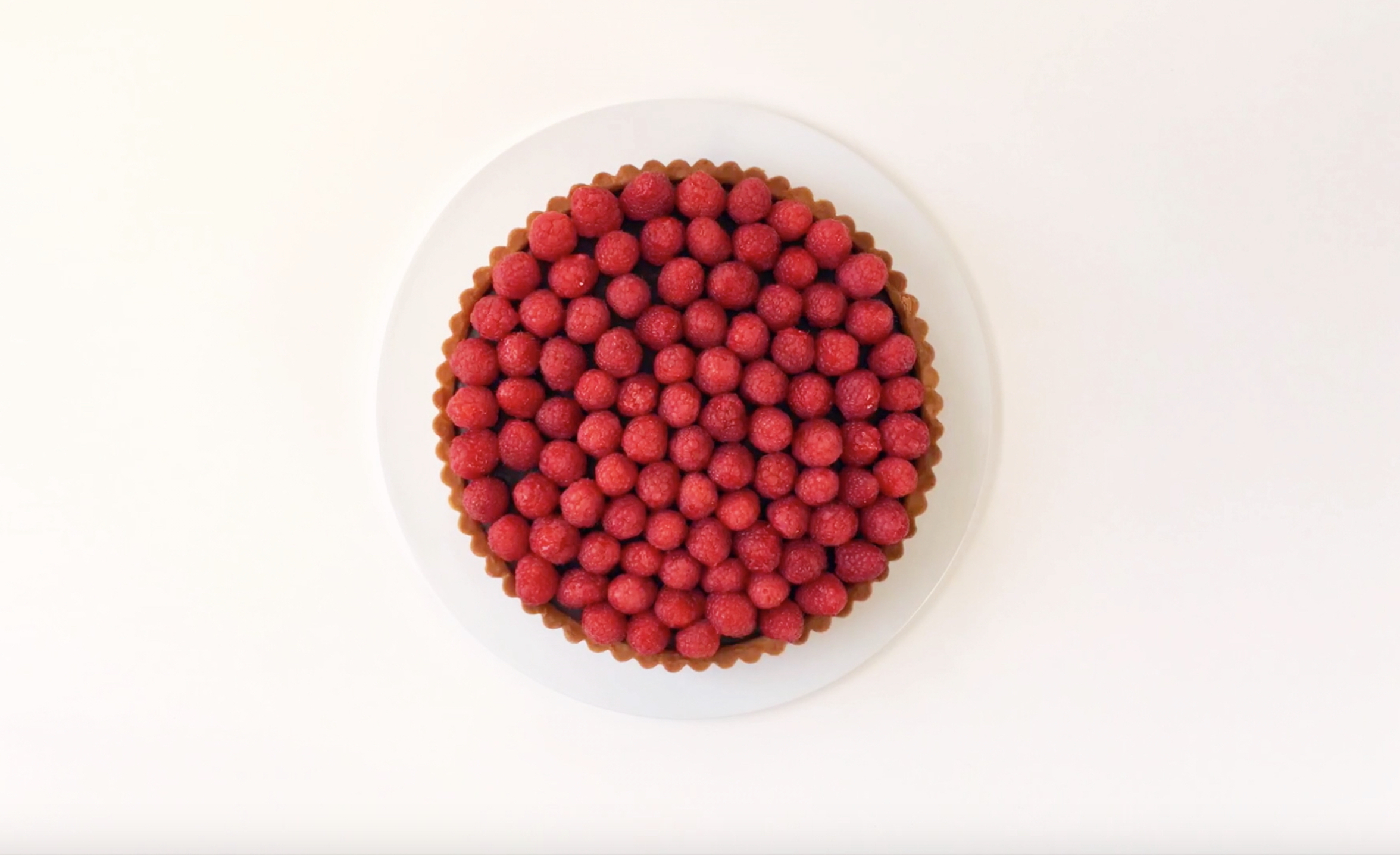 Chocolate Ganache Tart with Raspberries
INGREDIENTS
1 cup all-purpose flour
1/3 cup confectioners' sugar
1/4 teaspoon salt
1/2 cup (1 stick) cold unsalted butter, cubed
1 cup heavy cream
3 Tablespoons unsalted butter, at room temp
5 ounces semisweet chocolate, chopped
3 ounces bittersweet chocolate, chopped
1 pint raspberries, for decorating
DIRECTIONS
In the bowl of a KitchenAid® food processor, combine the flour, confectioners' sugar and salt and pulse several times. Add the butter and blend just until the dough comes together into a ball.
Spray a 9.5-inch fluted nonstick tart pan (with removable bottom) with cooking spray. Press the dough into the pan in an even layer on the bottom and up the sides of the pan. Prick it all over with a fork, cover it with plastic wrap and freeze it for 20 minutes.
Preheat the oven to 425°F.
Bake the crust for 13 to 15 minutes or until it's golden brown. Remove it from the oven and let it cool completely in the pan.
While the tart shell cools, prepare the ganache filling. Attach the KitchenAid® Precise Heat Mixing Bowl and beater blade to the KitchenAid® stand mixer. Adjust the heat setting to 220°F. Once the bowl is preheated, add the heavy cream. After 5 minutes, add the butter and let it sit an additional 2 minutes. Add the chopped chocolate and let it sit for 4 minutes. Turn on the stand mixer and mix the ganache for 20 to 30 seconds until it is smooth. Turn off the stand mixer and remove the mixing bowl.
Pour the ganache into the cooled tart shell, cover the tart with plastic wrap then transfer it to the fridge for a minimum of 2 hours until the chocolate is set.
Remove the tart from the fridge then lift it out of the pan by pushing to release the removable bottom. Place the tart on a serving plate then arrange the raspberries on top. Slice and serve immediately.
Print