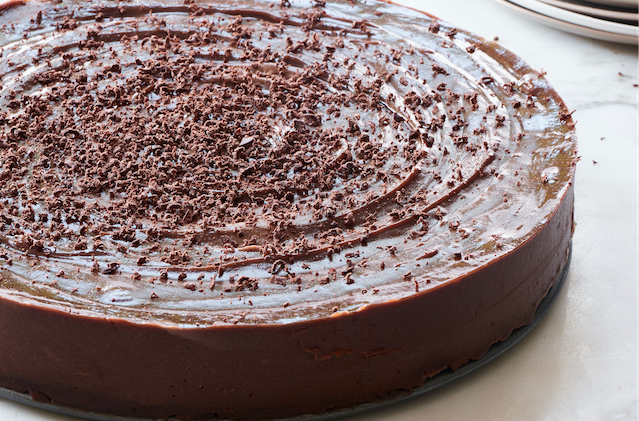 Chocolate Espresso Torte
Makes 10-12 servings
INGREDIENTS
For the crust
1 cup raw whole almonds
1 cup firmly packed chopped pitted dates, plus more as needed
1/4 cup raw cacao powder or unsweetened cocoa powder
For the filling
3/4 cup liquid coconut oil
2/3 cup pure maple syrup
1/2 cup full-fat canned coconut milk
1/3 cup brewed espresso or strong coffee
1/2 cup raw cacao powder or unsweetened cocoa powder
3 cups raw cashews, soaked
1 teaspoon natural vanilla extract
1/8 teaspoon natural salt
DIRECTIONS
For the crust
Grease a 9″ springform pan with coconut oil. Process the almonds and dates in a food processor until the mixture is well combined and begins to clump together.
Form the mixture into a ball; if it doesn't hold together, you may need to add more dates and process again.
Press the mixture into the bottom of the prepared pan and set aside.
For the filling
Place all the filling ingredients into the blender jar of the KitchenAid® Pro Line® Series Blender. Secure the lid and blend on Speed 8 or 10 for about 1 minute, using the Flex Edge tamper to guide the ingredients through the blade. Blend until smooth and creamy.
Pour the filling into the crust. Jiggle the pan lightly to get the mixture to settle evenly in the pan. Cover the pan with aluminum foil and freeze the torte for 6-8 hours until solidified.
To serve, transfer the pan from the freezer to the fridge to defrost for about half an hour. Gently release the sides of the springform pan and cut the torte into slices with a very sharp knife. Keeping the slices together, return the torte to the fridge to continue defrosting for another half an hour before serving. Serve with ice cream or cream.