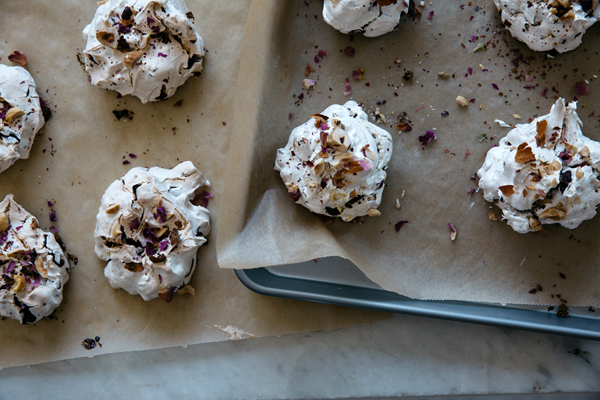 My grandparents owned and operated a pastry shop in the Basque Country where I grew up. I spent all my time there as a kid and watched them make meringues time after time. It is definitely one of my dessert staples that I turn to for last minute sweet treat creations. Assembling triffles, Eton messes, fools, and fruit desserts are always so much easier when meringues are handy.
There is a very specific texture of meringue that I look for. Not all meringues are created equal. They have to be crunchy, but also a bit chewy inside. That is my personal preference, so these meringues are both crunchy and chewy. The chocolate chunks melt inside and the hazelnuts add another level of crunch. Of course you could use any other crunchy bits you'd like: almonds, peanuts, even a little bit of brittle — though it does make for a moister interior. Let's get started!
There are two important tips for this recipe to be successful. The first one is that egg whites don't like any fat particles when they are going to be whipped. Fat will not let the egg whites whip fully, so make sure your bowl and whisk attachment are super clean before you start. Also when you separate the egg whites from the yolks, make sure none of the yolk made it into the egg whites or it will not work.
The second important tip for these meringues is that you need to start with a hot oven to set the exterior of the meringue and then keep the oven door slightly open (that's why I insert a wooden spoon to keep the door ajar), which will allow the steam to escape the oven and the meringues can dry, but keep a moist interior.
Start by roasting the hazelnuts in your KitchenAid® Single Wall Oven until fragrant. Chop the hazelnuts coarsely and also chop the chocolate at this time.
Whisk the egg whites and the sugar in the bowl of your KitchenAid® Stand Mixer. Then warm them up over a water bath to help dissolve the sugar and whip the meringue to stiff peaks by hand.
When the egg whites feel warm to the touch, attach the whisk and bowl to your Stand Mixer and whip until thick and stiff. The peaks should stand up on their own.
Fold in the hazelnuts and chocolate gently so you don't deflate the meringue too much. Then dollop mounds on a baking sheet lined with parchment paper. I top with some rose petals for color and texture, but this is an optional step. Bake them in your oven following the directions in the recipe below.
Watch for the meringues to crack. This adds to their crunch. It's also okay if they get a little bit of color. Meringues can be made ahead of time and keep well when they are stored tightly wrapped and away from humidity and moisture.
Share your take on this Chocolate Chunk Hazelnut Meringues recipe on Instagram using #MadeWithKitchenAid for a chance to be featured.
Chocolate Chunk Hazelnut Meringues
Makes 12 servings
INGREDIENTS
4 ounces hazelnuts
4 egg whites
8 ounces powdered sugar
1/4 teaspoon sea salt
1 vanilla bean, split lengthwise and seeds scraped
4 ounces bittersweet chocolate, coarsely chopped
1 teaspoon dried rose petals, optional
DIRECTIONS
Preheat the KitchenAid® Single Wall Oven to 350° F. Place hazelnuts on a baking sheet and toast in the ove for 5 minutes until fragrant. When they are cool enough to handle, chop them coarsely and set aside. Line two baking sheets with parchment paper and set aside.
Fill a medium pot with one inch of water and bring it to a simmer to make a water bath. Combine egg whites, powdered sugar, salt and vanilla seeds in the bowl of the KitchenAid® Stand Mixer. Place the bowl over the pot and whisk until the sugar dissolves. Continue whisking until the egg whites feel warm to the touch. Transfer the bowl to the Stand Mixer and whip until stiff peaks form.
Add the chopped hazelnuts and chopped chocolate and fold until combined. Spoon six equal mounds of meringue onto each baking sheet. Sprinkle tops with optional rose petals.
Place the baking sheets in the oven and leave the oven door slightly open with a wooden spoon so the steam can evaporate for 10 minutes. Close the door, reduce heat to 275° F. Bake for 15 to 20 minutes.
Turn the oven off and leave the meringues in the oven for another 10 minutes or until they feel slightly dry. Aim for a crispy exterior, but chewy interior. The meringues will keep at room temperature for a week, tightly wrapped.

Print
*The Contributor of this post has been compensated by KitchenAid for this post, but this post represents the Contributor's own opinion.*