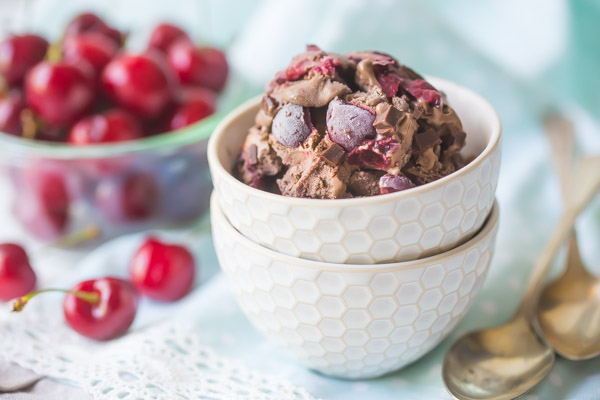 It's finally summer! At my house, we just love it when school lets out and we can spend lots of time outside enjoying the sunshine. And when the weather heats up, there's no better treat than homemade ice cream to cool you down. And it's even better when it includes fresh, seasonal fruit.
This Chocolate Cherry Chip Ice Cream certainly does cool you down, along with plenty of rich chocolate to boot. It will really satisfy your summer cravings. You'll love having a big batch in your freezer.
Making homemade ice cream has never been easier than with the KitchenAid® Ice Cream Maker Attachment. There's no big, bulky machine to lug out. The Ice Cream Maker Attachment hooks right on to the KitchenAid® Stand Mixer and that couldn't be more convenient.
Be sure to freeze the bowl ahead of time so it's good and cold. I like to start chilling mine the night before (for best results freeze for at least 15 hours).
While you're waiting for that, you can get started on the ice cream base. Start by scalding milk over medium-low heat, until it's just barely simmering. There should be a few bubbles forming around the edge of the pot, and wisps of steam rising from the surface.
Separate your eggs…
…and whisk sugar, cocoa powder, and salt into the yolks. I like to use natural, unsweetened cocoa powder along with dark Dutch cocoa, for an extra chocolaty flavor, and rich, deep color.
Slowly drizzle in the hot milk, while whisking, to temper the yolks and warm them slowly. Then place the mixture back over the heat, and cook, stirring until thickened. The base should be thick enough to coat the back of a spoon.
Next, strain the mixture into a heat safe bowl to remove any lumps that may have formed during the cooking process.
Stir in the cream…
…and add the extracts. Rodelle Organics Chocolate Extract and Almond Extract give an extra punch of flavor that really brings out the chocolate and cherry flavors.
Chill the base overnight, then fit the Ice Cream Maker Attachment to your Stand Mixer.
Attach the beater and start the Stand Mixer on low speed. The Ice Cream Maker Attachment freezes your ice cream while slow-churning it for a smooth, creamy, and delicious ice cream treat. Nothing can beat homemade!
Pour in the ice cream base, and allow it to churn for about 15 to 20 minutes.
When the ice cream resembles soft serve, it's ready. You'll notice that it's lighter in color and just about doubled in volume. So thick and creamy!
I like to freeze my homemade ice creams in a loaf pan. It makes them really easy to scoop! Layer the chocolate ice cream in a loaf pan, sprinkling in the cherries and chocolate as you go. This way you're sure to get chocolate chunks and fresh, sweet cherries in every scoop!
Place the loaf pan into the freezer for 2 hours or until hard and scoopable.
The Ice Cream Maker Attachment makes homemade ice cream so simple!
Share your take on this Chocolate Cherry Chip Ice Cream on Instagram using #MadeWithKitchenAid for a chance to be featured.
Chocolate Cherry Chip Ice Cream
Makes 8 servings
INGREDIENTS
3/4 cup (177 ml) milk
6 large egg yolks
3/4 cup (75 g) granulated sugar
3 teaspoons unsweetened cocoa powder
3 teaspoons Dutch-processed (dark) cocoa powder
1/4 teaspoon kosher salt
3 ounces semi-sweet chocolate, melted and cooled slightly
2 1/4 cups (531 ml) heavy cream
1 tablespoon vanilla extract
2 teaspoons chocolate extract
2 teaspoons almond extract
2 cups (320 g) pitted cherries, roughly chopped
2 ounces semisweet chocolate, chopped
DIRECTIONS
Freeze the bowl of the KitchenAid® Ice Cream Maker Attachment.
Place the milk in a small saucepan and heat over medium-low until barely simmering.
In a small bowl, whisk the yolks, sugar, cocoa powders, and salt together.
When the milk is very hot, pour it into the yolk mixture in a very slow stream, while whisking.
Transfer the mixture back to the saucepan and continue to cook over medium-low heat while whisking, until thickened slightly (about 3 to 5 minutes).
Pour the mixture through a fine-mesh strainer into a heat safe bowl. Whisk in the melted chocolate, cream, and extracts. Chill overnight.
Fit the frozen Ice Cream Maker Attachment onto the KitchenAid® Stand Mixer.
Pour the chilled ice cream base into the bowl and churn on medium-low speed until thick (about 20 minutes).
Transfer about 1/3 of the ice cream to a loaf pan.
Top with about 1/3 of the cherries. Sprinkle with about 1/3 of the chopped chocolate. Repeat with the remaining ingredients. Freeze overnight and serve.
Print
*The Contributor of this post has been compensated by KitchenAid for this post, but this post represents the Contributor's own opinion.*