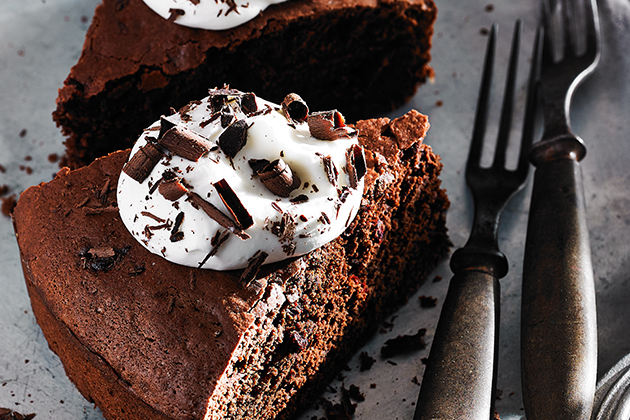 Chocolate Beet Cake
Makes 10 servings
INGREDIENTS
2 medium beets
1 1/4 cups all-purpose flour
3 tablespoons unsweetened cocoa powder
1 1/2 teaspoons baking powder
1/2 teaspoon salt
3 eggs, separated
1 cup sugar
8 ounces bittersweet chocolate, chopped
1/4 cup hot strong brewed coffee or espresso
Whipped cream and shaved chocolate (optional)
DIRECTIONS
Preheat oven to 375°F
Grease 8- or 9-inch springform pan.
Attach Spiralizer Attachment to KitchenAid® Stand Mixer. Center one beet on fruit and vegetable skewer; attach to Spiralizer. Attach peeling blade fine spiralizing blade and position at end of beet. Place medium bowl below blade to catch beet and peel. Turn stand mixer to speed 4 and process until blade reaches end of beet. Repeat with remaining beet.
Spread beets on large baking sheet. Bake 15 to 20 minutes or until beets are fork tender. Cool completely. Cut into 1/4-inch pieces.
Reduce oven temperature to 325°F. Sift flour, cocoa, baking powder and salt into small bowl. Remove Spiralizer from stand mixer; attach wire whip. Whip egg whites in mixer bowl until soft peaks form. Gradually add sugar, whipping until mixture is glossy and forms stiff peaks.
Melt chocolate in small heavy saucepan over low heat, stirring constantly until smooth. Stir in coffee until well blended. Transfer mixture to large bowl. Stir in egg yolks one at a time. Stir in beets. Fold in egg whites, then flour mixture. Spread batter in prepared pan; smooth top.
Bake 40 to 45 minutes or until toothpick inserted into center comes out with moist crumbs. Cool completely in pan on wire rack. Run knife around edge of pan to loosen cake. Remove side of pan. Serve with whipped cream and shaved chocolate, if desired.
NOTE This cake is best served the day it is made.

Print
*The Contributor of this post has been compensated by KitchenAid for this post, but this post represents the Contributor's own opinion.*