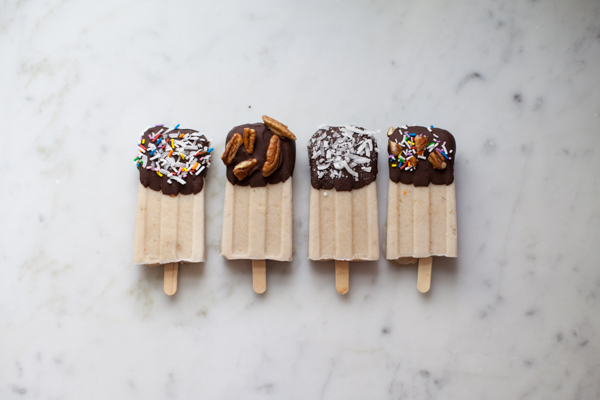 Popsicles are one of my favorite frozen treats to make and eat throughout the summer months. They are so simple to whip up, require minimal ingredients, and can even be quite healthy depending on what flavor you choose or what ingredients go into the mix! They're also the perfect snack to help cool you down in the blistering hot summer sun and the dog days of summer.
These Chocolate Dipped Banana Popsicles are a little twist on one of my favorite summer treats growing up; the classic frozen banana on a stick. But instead of just simply freezing a banana on a stick, I decided to get a little more creative with it.
I pureed the bananas and turned them into homemade banana popsicles. It's a similar idea, but with the options to add way more flavors into the mix. The popsicles feature fresh fruit, a natural sweetener, and low-fat milk. These popsicles are a much healthier alternative to a freezie, store bought popsicles or ice cream.
The KitchenAid® Artisan® Mini Stand Mixer is the perfect size to mix up a dozen of these treats in no time too. The Soft Start® feature also lets me avoid any sudden splashes by starting at a lower speed.
This recipe is also child-friendly so you can make them with the kids! They will have so much fun decorating the popsicles with various toppings. It's the perfect summer activity to help get them in the kitchen and keep them busy.
You can go simple by just decorating them with a few rainbow sprinkles or go the extra mile and add extra chocolate, shredded coconut, chopped nuts, and toffee bits. Whatever you have in your pantry works.
Simply start by adding all the popsicle ingredients into the Mini Stand Mixer and beat until smooth.
Divide the mixture amongst your favorite shaped popsicle molds and freeze them overnight. I like to make these right before bed time so I can wake up and have them ready to be decorated.
Plus, if you make them before bedtime you won't be peaking in the freezer any chance you get to see if they are ready to eat! Or is that just me?
Once the popsicles are frozen solid, melt the chocolate & dip them in. You can dip just the tips or dunk the whole popsicle in chocolate—it depends on how much you love indulging in chocolate.
Sprinkle them with desired toppings before the chocolate fully hardens. Place them back in the freezer for a minute or two to firm back up and they're ready to eat.
Enjoy these treats all summer long. You will love this healthy, frozen treat! It is the perfect dessert for any outdoor BBQ or a quick snack while lounging by the pool.
Get extra creative and add a little natural peanut butter to the banana base. The possibilities are endless when it comes to frozen treats.
A little tip; if you want to make the popsicles vegan or dairy-free, simply substitute the milk with equal parts almond or coconut milk. If you want to make the popsicles extra creamy, substitute the milk with equal parts full fat vanilla yogurt.
Share your take on these Chocolate Banana Popsicles on Instagram using #MadeWithKitchenAid for a chance to be featured.
Chocolate Dipped Banana Popsicles
Makes 10-12 servings
INGREDIENTS
4 ripe bananas, pureed
1/4 cup raw honey
1 teaspoon pure vanilla extract
1 pinch sea salt
1 1/4 cup milk
2 cups dark chocolate chips, melted & cooled
1/2 cup shredded coconut
1/2 cup crushed pecans
1/2 cup rainbow sprinkles
DIRECTIONS
In the bowl of the KitchenAid® Artisan® Mini Stand Mixer, fitted with the flat beater, add the pureed bananas, honey, vanilla extract, and sea salt. Beat until ingredients are well incorporated.
Pour in the milk and beat until smooth.
Divide the mixture evenly between twelve popsicle molds. Place the molds in the freezer and freeze overnight.
Once the popsicles are fully frozen, remove them from the molds. Dip the ends in melted chocolate and sprinkle with various toppings. I use a mix of shredded coconut, nuts, and sprinkles.
Place back in the freezer for a couple minutes to allow the chocolate to harden. Serve immediately.
Print
*The Contributor of this post has been compensated by KitchenAid for this post, but this post represents the Contributor's own opinion.*