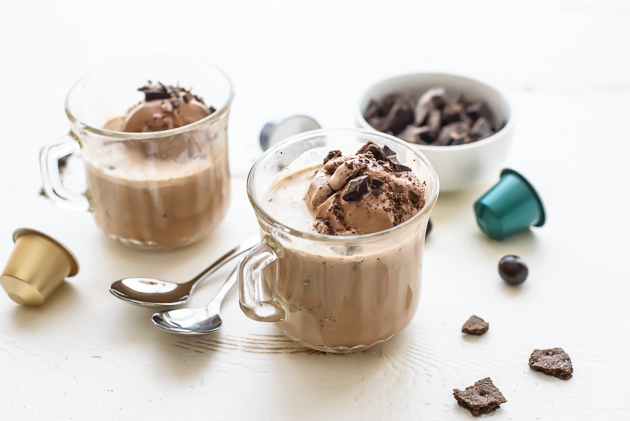 A few years ago, I was lucky enough to visit Italy, and one of the first things that struck me is how effortlessly chic all of the women appeared. Most wore little make up and jewelry, and their clothes were simple but well structured. Every Italian lady I saw appeared as if she had rolled out of bed looking fabulous. In comparison, even after meticulously blow drying and straightening my hair, I looked like an over-accessorized Gap ad. "How do they do it?" I wondered.
After a few more days of observation, I noticed a trend. Women wore few accessories, but the ones they chose were of the highest caliber. Their focus was quality, not quantity, and it was a refreshing reminder that more is not always better.
Affogato, a classic Italian dessert, exemplifies this idea. The word affogato means "drowned" in Italian, and is a reflection of the dessert itself: a scoop of creamy gelato "drowning" in espresso. Although classic affogato is only these two ingredients, the combination is much greater than either ingredient could be alone. The hot espresso is a playful pairing with the cold gelato, and the rich, creamy pool that forms at the bottom of the bowl when the two mingle reminds me of a grown up milkshake I never want to end.
Affogato is one of my favorite dinner party desserts, because it's effortless, elegant, and guests adore it every single time. I also love how easy it is to customize too. You can swap out classic vanilla for any gelato flavor you enjoy with coffee, let guests mix and match different flavors, and even toss in toppings too. Though the options are endless, my favorite by far is a little something I like to call Death By Chocolate.
While chocolate gelato with espresso is divine on its own, I take my chocolate affogato to the next level by smothering it in an array of chocolate-themed toppings. Crushed chocolate graham crackers, chocolate-covered espresso beans, and chopped dark chocolate add texture, interest, and transform an otherwise innocent dessert into something truly decadent. Envision the best mocha you've ever had combined with the best ice cream sundae you've ever had, then multiply that sensation by 20, and you'll be on the right track to understanding how divine this Chocolate Affogato tastes.
Because affogato is so few ingredients, the quality you choose is critical. Pick the best quality gelato or super premium ice cream you can find (Talenti and Haagen-Daz are both fantastic). For the espresso, I use my Nespresso® by KitchenAid®. It makes premium espresso that would please even the strictest of coffee purists in seconds. Other single-serve coffee makers I've tried take quite a while to preheat, but this beauty is ready to go almost immediately. I also love how easy the machine is to clean and maintain, and it looks stunning on my counter too.
The Nespresso® by KitchenAid® is also ideal for a party. Guests can have fun choosing and brewing their own coffee and then assembling their own personalized serving of affogato with their choice of ice cream and toppings. Mine will be the one with the extra chocolate on top.
Be sure to share your take on this Chocolate Affogato recipe with us on Instagram using #MadeWithKitchenAid for a chance to be featured.
Chocolate Affogato
Makes 1 serving
INGREDIENTS
For the affogato
1 freshly brewed shot Nespresso espresso (1.5 ounce espresso size)
2 small scoops chocolate gelato or premium chocolate ice cream
For optional toppings
Crushed chocolate graham crackers
Chopped dark chocolate
Chocolate sprinkles
Chopped chocolate-covered espresso beans
Chopped chocolate-covered almonds or pecans
Whipped cream
DIRECTIONS
Brew a shot of espresso using the Nespresso® by KitchenAid® machine. To brew, start by turning on the machine by touching the brew button. Lift the handle and insert your desired espresso capsule into the capsule door, and lower the handle to shut the capsule compartment. Place a cup on the cup holder. Turn the selection dial to the second setting (40 ml) for an espresso-sized brew. Press the brew button to brew your espresso.
To assemble the affogato, place the gelato in the bottom of a small coffee cup or bowl. Pour the hot espresso over the top of the gelato. Sprinkle with any desired toppings and enjoy immediately.

Print
*The Contributor of this post has been compensated by KitchenAid for this post, but this post represents the Contributor's own opinion.*