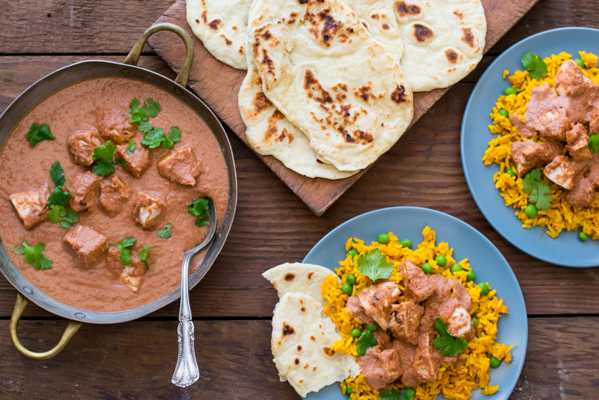 I absolutely adore Indian food. A good Indian dish is the perfect blend of multiple spices, just one bite and all of your senses are awakened. The aroma is intoxicating, the flavors are the perfect balance of warmth, spice, creaminess, nuttiness and interlaced with pops of herby freshness.  If you have ever had the privilege of having a great Indian meal, you will know that replicating those flavors is hard to do at home. I have learned that with a great, authentic recipe and a little patience you too can create delicious and authentic-tasting Indian food at home.
If Indian cuisine is completely foreign to you, Tikka Masala is a classic dish that is a great introduction into the flavorful world of Indian food. Most people are weary of Indian cuisine because the spice level can be intense. Chicken Tikka Masala is full of classic flavors but is milder than most Indian dishes, making it a total crowd pleaser.
The key to making a perfect Chicken Tikka Masala is to not over cook your chicken. Since this recipe uses chicken breast, it can be very easy to overcook it and end up with blocks of tough, hard meat. The chicken is marinated in yogurt and spices and then broiled; this is to char the outside which lends incredible flavor to your finished dish.
Once your sauce is finished cooking, cut the charred chicken breast into 1" chunks, and if your meat is cooked through, make sure to add it to the sauce right before you serve it. If it is still pink inside when you cut into it, add the chicken to the sauce and finish cooking it in the sauce.
Speaking of sauce, I like my Tikka Masala sauce to be nice and creamy and smooth. I used my KitchenAid® Pro Line® Series 5-Speed Cordless Hand Blender to quickly blend the sauce. It makes for a perfectly blended sauce quickly with out having to bust out your blender.
What I admire most about Indian cuisine is the expertise in layering flavor. When cooking Indian food you are encouraged to mix and match spices with in each layer of a dish. In a traditional recipe, Tikka Masala is served with rice that is usually cooked in water, and spices. I decided to add another layer and cook the rice in chicken stock instead of water.  The choice in using stock lends to subtle results, but I believe that subtleties are what make for truly spectacular complex tasting dishes.
Adding frozen peas adds a pop of color and texture to the dish, you can play around and try any vegetable that tickles your fancy.
Traditionally Indian food is served with naan; a delicious, chewy and crusty pita like flat bread. If you have read my blog you know that I am gluten free. I have tried at least a dozen recipes for gluten free naan and they just don't do it for me. My philosophy with gluten free baking is that if it doesn't work, don't force it. It's okay to skip it, the recipe is just as delicious with or with out it. If you can eat gluten and would like a great recipe for homemade naan I have included it below. You can buy pre packaged naan in most grocery stores as well.
Happy eating!
Chicken Tikka Masala with Homemade Naan

Chicken Tikka Masala recipe adapted from The Pioneer Woman
Naan recipe adapted from Aarti Sequeira – Food Network
INGREDIENTS
For the chicken
3 boneless skinless chicken breasts
Kosher salt
1-teaspoon ground coriander
1-teaspoon cumin
1/2 cup plain whole milk yogurt
For the sauce
2 tablespoons olive oil or ghee
1 whole large onion, diced
4-5 cloves garlic, minced
1 one inch piece of ginger, peeled and grated
3 tablespoons garam masala
2 cardamom pods, crushed
1/4 teaspoon cayenne pepper
1 can (28 ounces) diced tomatoes
2 teaspoons honey
1 1/2 cups half and half**
3/4  cup cilantro
1 tablespoon salt
For the rice
2 tablespoons butter
2 cups Basmati Rice
3 cups chicken stock
1 teaspoon salt
1 tablespoon turmeric
1 cup frozen peas
For the naan
1 teaspoon active dry yeast
2 teaspoons sugar, divided
2 cups all-purpose flour
1 teaspoon fine sea salt
1/8 teaspoon baking powder
3 tablespoons plain yogurt
2 tablespoons extra-virgin olive oil
1 teaspoon garlic powder
Melted butter and coarse sea salt for the finished naan
DIRECTIONS
For the Chicken Tikka Masala
Pre heat oven broiler.
Start by seasoning the chicken breasts with some kosher salt, next mix the cumin and ground coriander and sprinkle evenly over chicken. Next coat the chicken completely with the plain yogurt. Set the chicken on a metal cooling wrack over a foil lined baking sheet and place under broiler for about 5-7 minutes per side. The chicken should have charred edges but not be completely blackened.
Remove from oven and set aside.
Next, melt 2 tablespoons of oil or ghee over medium high heat. Add the diced onions and sauté until they are slightly browned. Add the minced garlic and grated ginger. Add tablespoon salt.
Next add Garam Masala spice, cardamom and cayenne pepper.
Then add the diced tomatoes and scrape the bottom of the pan to deglaze it. Add 2 teaspoons of honey.
With your KitchenAid® Pro Line® Series 5-Speed Cordless Hand Blender blend the mixture on medium high until smooth.
Let the sauce simmer for 20-25 minutes.
While sauce is simmering start cooking rice. Place rice into a colander and rinse well, until the water starts to run clear. In a medium saucepot, melt butter and add rice, salt, turmeric, and chicken stock. Put a lid on the pot and cook according to package directions. When done add frozen peas and fluff the rice. The heat from the rice will cook the peas through. Cover the rice; remove from stove and set-aside until ready to serve.
When sauce is done simmering, stir in half and half and add fresh chopped cilantro.
Chop cooked chicken into chunks and fold into your sauce.
To serve place a heaping helping of rice on a plate and spoon chicken tikka masala over the top. Garnish with more fresh cilantro and serve with naan bread.
** Traditional recipe calls for heavy cream instead of half and half. By using half and half you will cut calories and fat tremendously but will compromise some of the traditional texture and flavor in the traditional sauce recipe. Feel free to use which ever you prefer.
For the Homemade Naan
In your KitchenAid® Stand Mixer, dissolve the dry yeast and 1 teaspoon sugar with 3/4 cup warm water. Make sure water isn't too hot or you will kill your yeast. Let it sit for about 10 minutes, or until it's frothy.
While your yeast is blooming, sift the flour, salt, garlic powder, baking powder, and remaining 1 teaspoon of sugar into a large bowl.
Once yeast is frothy, add the yogurt, and olive oil into the stand mixer and turn on low for a few seconds combine.
With the mixer on low slowly add your dry ingredients into the stand mixer and mix until combined. Be careful not to over mix!
Cover the bowl with plastic wrap and or a damp tea towel and let it sit in a warm place for 2-4 hours.
When you are ready to roll out dough make sure you have two bowls out: one with extra flour in it and one with water.
Divide dough into 6 equal balls and lightly roll each one into the bowl of flour to keep them from sticking.
Shaping the naan: Using a rolling pin, roll each piece of dough into a teardrop shape. It should be 8-9 inches long, and ¼-inch thick. Once you've formed the general shape, you can also pick it up and wiggle it as the dough's own weight will stretch it our a little. Repeat this process.
Warm a large cast iron skillet over high heat until it's nearly smoking. Make sure you have a lid hat fits the skillet and also some melted butter ready.
Dampen your hands in the bowl of water and pick up one of your naans, flip flopping it from one hand to the other. Gently lay it in the skillet and cook for exactly one minute. The dough should start to bubble.
After 1 minute, flip the naan. It should be blistered and blackened a bit. Cover the skillet with the lid and cook for 30 seconds to 1 minute.
Remove the naan from the skillet, brush with a bit of butter and sprinkle with a bit of coarse sea salt. Place the cooked naan in a tea towel line dish. Repeat with the rest of the naan and serve.

Print
*The Contributor of this post has been compensated by KitchenAid for this post, but this post represents the Contributor's own opinion.*