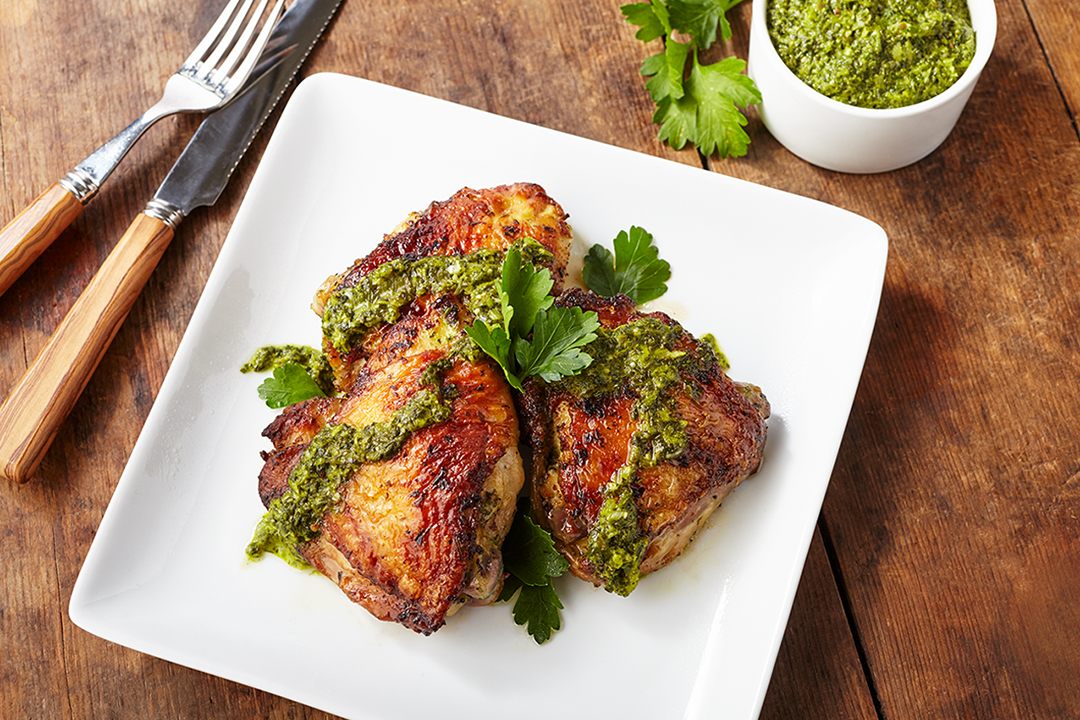 Chicken Thighs with Scrappy Green Sauce
Makes 4 servings
SCRAPS
Herb stems
INGREDIENTS
2 cups packed mixed greens, tender herb stems, and leaves (parsley, basil, cilantro, scallion, dill, spinach, arugula, etc.)
1 clove garlic
1 tablespoon capers in brine
1 tablespoon anchovy oil (reserved from a jar of anchovies)
1 lemon, juiced and zested
Extra virgin olive oil
Sea salt
Fresh black pepper
8 bone-in, skin-on chicken thighs
DIRECTIONS
In the bowl of the KitchenAid® Pro Line® Series Blender, pulse the greens, garlic, capers, anchovy oil, lemon juice, and zest. Stream in enough olive oil to create a smooth consistency. Season to taste with salt and pepper.
Place the chicken in a bowl or large resealable plastic bag and cover with 3/4 of the marinade (save the rest to use as sauce). Marinate at room temperature for one hour or in the refrigerator overnight. 
Preheat oven to 475° F. Remove the chicken from the marinade and pat dry. Season the chicken with salt and pepper. Heat a little olive oil in a 12″ cast-iron or heavy nonstick skillet over high heat. Nestle the chicken in the skillet, skin side down, and cook for about 3 minutes.
Reduce the heat to medium; continue cooking skin side down, occasionally rearranging chicken thighs and rotating the pan to evenly distribute heat, until fat renders and the skin is golden brown.
Transfer the skillet to the oven and cook 10-15 more minutes, flipping halfway through, until internal temperature reaches at least 165° F and the skin is golden and crispy.
Transfer to a plate and let rest 5 minutes. Drain and reserve pan drippings (schmaltz) for another use. Serve chicken with reserved green sauce.
Print