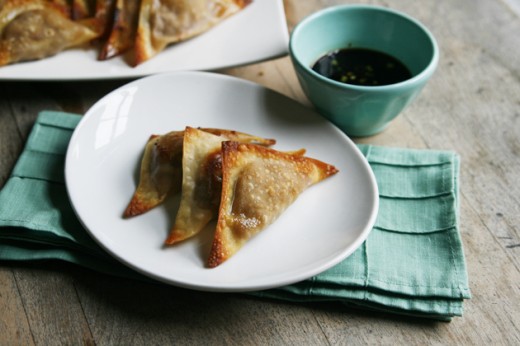 Wontons could be the world's most perfect finger food. The unforgettably crispy exterior conceals fillings of savory wonderfulness. Whether you love to dip your wontons or just revel in the wonderful fillings, a good wonton is perfect for just about any appetizer table.
These Chicken Teriyaki Wontons are definitely a good wonton. The trick to these is using a good, flavorful, thick teriyaki sauce with a flavor you love.
To make these, start by gathering your ingredients. You'll need to roast the chicken breast first. Season it well with salt and pepper.
Once the chicken breast is cooked and rested, cut it into four pieces. Combine it with a roughly chopped scallion and teriyaki sauce in the bowl of your food processor. The KitchenAid® 13-Cup Food Processor makes quick work of mixing up the unforgettable filling.
Now, it's time to fill your wontons. Place about a teaspoon of filling in the center of each wonton wrapper.
Then, use your clean finger (well, all your fingers should be clean, but you only need one for this task!) to moisten the edges of each wonton wrapper with a little water. Fold into a triangle and press the edges together firmly to seal.
Arrange all your completed wontons on a nonstick foil-lined baking sheet. This will keep them from sticking.
Brush the wontons with oil using a pastry brush. They only need the oil on top.
Then, bake them for about 15 minutes, turning once, until they are golden. Give them a few minutes to cool and you have delicious Teriyaki Chicken Wontons ready to serve.
Looking for an easy, delicious, homemade appetizer for your next party or game day watching shindig? These Chicken Teriyaki Wontons are quick and easy – without sacrificing on flavor.
Chicken Teriyaki Wontons
Makes 8 servings
INGREDIENTS
1/2 lb chicken breast
Salt and pepper, to taste
1/2 cup teriyaki marinade
1 scallion, roughly chopped
1/2 package square wonton wrappers (about 24-30)
2 tablespoon canola oil
DIRECTIONS
Start by cooking your chicken. Preheat the oven to 375 degrees. Line a baking sheet with nonstick aluminum foil and place the chicken breast on it. Season the chicken well with salt and pepper (top side only). Bake for 18-20 minutes, until cooked through. Let the breast sit for 15 minutes, then cut it into four pieces. Turn off the oven.
Now, it's time to start the wontons. Line another baking sheet with nonstick aluminum foil. Heat the oven to 350 degrees.
In the bowl of your KitchenAid® Food Processor, combine the chicken pieces with the teriyaki sauce and chopped scallion. Pulse until you reach a uniform consistency. I typically go for a smooth one, but chunkier is okay too.
Ready to fill the wontons? Working with one wonton wrapper at a time, place about a teaspoon of filling in the center of the wrapper. Then, using a little water on your clean fingers, moisten the edges of the wonton wrapper. Fold diagonally to seal, pressing the edges together. Place the wonton on the baking sheet and continue until all the filling has been used. The wontons can be placed very close together but shouldn't actually touch.
Use a pastry brush to brush the tops of all the wontons with oil.
Now it's time to bake these wontons to crispy perfection. Slide the baking sheet into the hot oven and bake for 10 minutes. Use tongs to gently flip all the wontons. Bake them for an additional 4-6 minutes, until golden. Let them cool for a few minutes before serving.
These don't need dipping sauce, since they are so flavorful. But if you want one, combine soy sauce with a little honey, grated fresh ginger and chopped scallions for a tasty compliment to the wontons.

Print