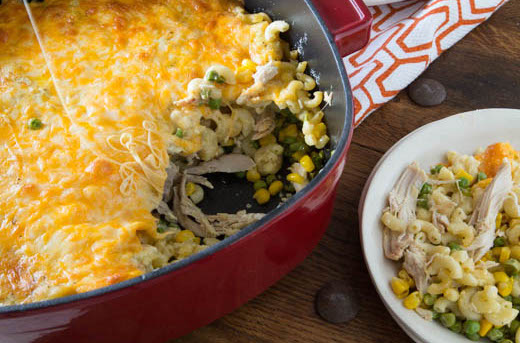 Did you grow up with that one dinner dish that you would freak out over? For example if you got home from soccer practice and walked through the door and immediately asked what's for dinner and your mom replied with that dish, you'd totally freak out! Well, that was basically me when my mom would make Chicken Divan.
It was a staple in our house, and my sister and I insisted on having it for dinner at least once a week. My poor parents must have been so sick of it – but they indulged us and it made a regular appearance in the Dalkin household.
Today it's coming into my kitchen courtesy of this KitchenAid® Streamline Cast Iron 6-Quart Casserole, which really makes life quite easy. And last week, I whipped up a double batch and felt EXTRA generous so I popped the lid on one of the casserole dishes and brought it over to my neighbors for dinner. They did just have a brand new baby, so bringing my favorite childhood dish seemed like the right thing to do.
Okay, let's get into it!
It all starts with some frozen corn and frozen peas. Those get piled into the bottom of the KitchenAid® Streamline Cast Iron 6-Quart Casserole.
Then I rip apart a rotisserie chicken and shred the chicken. That gets layered on top of the frozen vegetables. (You can use either a store bought rotisserie chicken if you're in a pinch for time, or whip one up on your own!)
On top of the chicken there's a layer of your favorite shape of pasta. I stick to the elbow noodles, as that's what my mom used.
After the pasta comes a layer of sauce, a combination of low fat mayo and a can of cream of chicken. Total 80's throwback, I'm fully aware. And then I use a cup or two of shredded colby jack cheese. This is essential as I think it makes it much prettier than just cheddar cheese. Then into the oven it goes!
Serve it up straight out of the KitchenAid® Streamline Cast Iron 6-Quart Casserole and you're ready for dinner!
Chicken Divan
INGREDIENTS
1 cup frozen peas
1 cup frozen corn
1 rotisserie chicken, shredded
1 pound elbow pasta, cooked
1 cup low fat mayonnaise
1 can (10 ounces) Condensed Cream of Chicken
2 cups shredded Colby Jack cheese
Kosher salt and freshly cracked black pepper to taste
DIRECTIONS
Preheat oven to 375 degrees F.
In the bottom of a KitchenAid® Streamline Cast Iron 6-Quart Casserole, toss together the frozen peas and frozen corn and mix to combine.
Top the frozen vegetables with a layer of shredded chicken.
Top the layer of chicken with a layer of the cooked pasta.
In a medium bowl, whisk together the mayo and the condensed cream of chicken. Season with salt and pepper. Slated the sauce on top of the pasta, followed by the shredded cheese.
Transfer the entire KitchenAid® Streamline Cast Iron 6-Quart Casserole dish into the oven, uncovered, and bake for 45-50 minutes until the cheese is bubbly and golden. Remove and serve as needed.
Print
*The Contributor of this post has been compensated by KitchenAid for this post, but this post represents the Contributor's own opinion.*