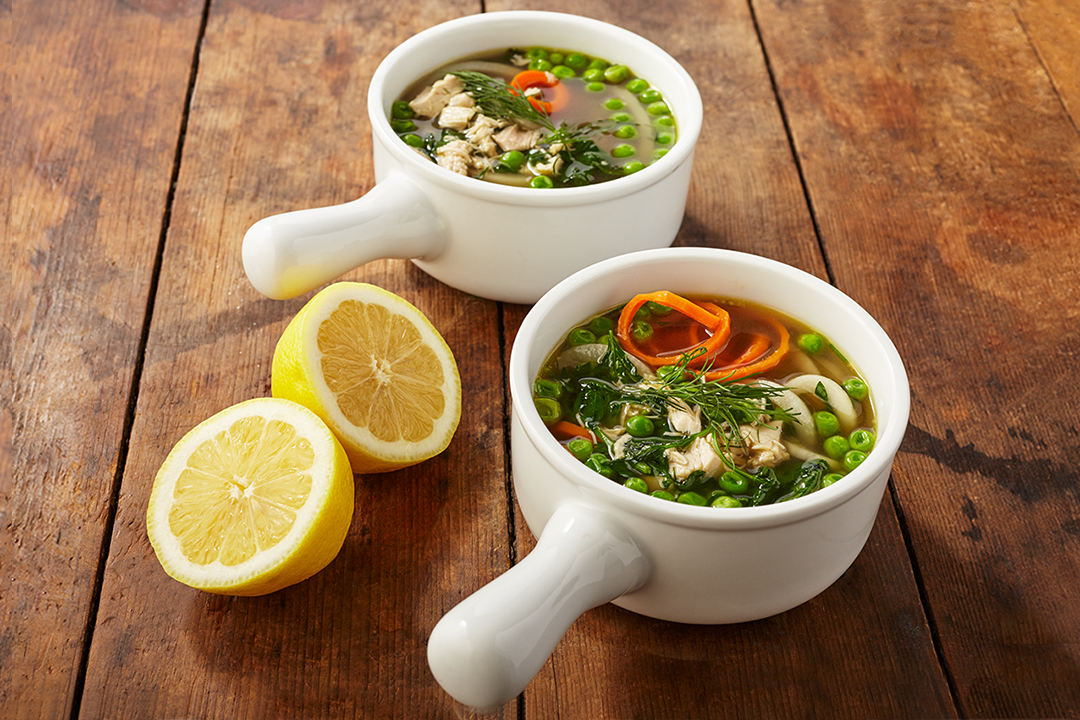 Chicken Bone Broth Spiralized Noodle Soup
Makes 10 servings
SCRAPS
Chicken bones
INGREDIENTS
2 large carrots
2 medium turnips
Bones from one 3-4 pound chicken
1 large yellow onion, unpeeled and roughly chopped
4 celery stalks, roughly chopped
1 head garlic, cut in half
1/2 bunch Italian parsley, stems reserved and leaves chopped divided
5 sprigs dill, stems reserved and leaves chopped divided
1 tablespoon black peppercorns
2 cups chicken meat
1 cup frozen peas
1 cup baby spinach
Sea salt
Black pepper, freshly ground
1 lemon, juiced
DIRECTIONS
Peel the carrots and turnips, trim ends. Place peels and ends in a large stockpot.
Using the Medium Blade, attach the KitchenAid® Spiralizer Attachment to the power hub of the KitchenAid® Artisan® Mini Stand Mixer. Spiralize the carrots and turnips. Place the vegetable cores and ends in a pot. Set aside the vegetable noodles.
Add the chicken bones, onion, celery, garlic, parsley stems, dill stems, and peppercorns to the pot. Add enough cold water to cover (about 3 quarts). Bring to a boil, reduce heat and simmer for at least 30 minutes and up to 3 hours.
Strain through a fine-mesh sieve into a clean pot and bring to a low simmer.
Place spiralized vegetables and chicken into the simmering broth. Cook for about 5-10 minutes until the vegetables are tender. Turn off the heat, stir in peas, spinach, reserved parsley, and dill. Season with salt and pepper.
Serve each bowl with a squeeze of lemon.
Print