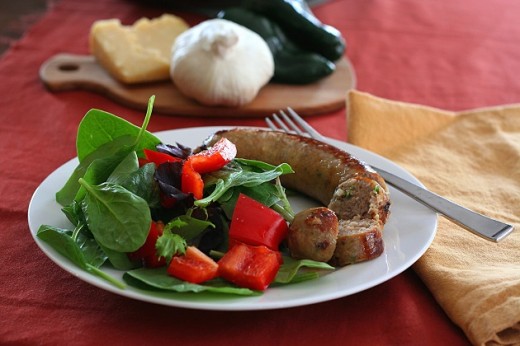 It took a long time for my husband to believe I was serious when I said I wanted the KitchenAid® food grinder and sausage stuffer attachments for my KitchenAid® Stand Mixer.  I guess he thought it would be another kitchen gadget that would get used once or twice and then put away and forgotten about.  But I knew otherwise and clearly I managed to convince him somewhere along the way, because lo and behold, both items were under the Christmas tree for me last year.  Along with some all natural hog casings and a book on home sausage making.  And they most certainly haven't been gathering any dust.
Sausage-making isn't hard, but it is a fair bit of work.  It works best with two people, so grab a partner.  It also happens to be a lot of very messy fun, so grab plenty of rags while you're at it.  Once you master the basics, you can play around with different flavors and recipes and even develop some of your own.  These Cheddar Jalapeno Sausages are one of our favorite creations.
First you want to cube the meat and fat and then re-freeze it.  1 inch cubes work well and we've found that freezing the meat for at least an hour after cubing helps it grind more easily.
Meanwhile, soak the casings in cool tap water and add about 1 tablespoon of white vinegar per cup of water. They need to soak for at least 30 minutes, so you can start this while your meat is in the freezer.  The vinegar helps soften the casings and make them much more pliable.
Once the meat is frozen, set up your KitchenAid® food grinder attachment with the coarse grinding blade and start feeding the meat through the grinder.
Chop the jalapenos and garlic into a fine mince (I like to use the chopper attachment on my KitchenAid® 5-speed Hand Blender) and add them to the ground meat, along with the shredded cheese, salt and pepper.  Mix well.
Rinse your casings inside and out.  Flushing the casings with water also lets you see if there are any tears or breaks (if there are any, you can just cut that section out).  Let casings continue to sit in the vinegar water until you are ready for them.
Attach the larger sausage funnel to the food grinder attachment (the smaller funnel is best for breakfast sausages). Wet the funnel all over and carefully slide the first casing onto the funnel completely.
Turn on the stand mixer and start pushing the sausage mixture down through the food grinder.  Just when you see it start to protrude from the end of the funnel, stop your stand mixer and tie off the end of the casing. If you tie it earlier, you may end up with large air bubbles which are hard to remove.
Turn on the stand mixer again.  Have one person working on feeding the sausage mixture into the hopper using the pusher while the other person slowly guides the casing off the funnel, allowing it to fill up with sausage.  Keeping up a constant pressure when feeding the mixture through the attachment will help you fill your casings consistently.
You will probably need to use more than one casing, depending on how long they are and how much sausage mixture you have.  Just turn off the stand mixer and reload the sausage funnel with another pre-soaked casing.
When you are getting to the end of your casing, stop the machine and tie off the end.  Then gently twist into links (it helps to first create a little space in the casing that doesn't have a lot of sausage mixture in it; otherwise, the casing could burst when you attempt to twist it).  You can cut them apart now, but we find that they hold together better when cut apart later.
Voila.  You have some delicious homemade sausages.  Let the sausage chill in the refrigerator for a few hours before cooking, to allow the flavors to meld.  Once you get the hang of it, sausage –making is fun and the results are delicious.  And the KitchenAid® food grinder and sausage stuffer attachments streamline the whole process.
Cheddar Jalapeno Sausages
Makes 3 pounds
INGREDIENTS
2 1/2 to 3 pounds pork butt
1/2 pound pork fat
*tip: if pork fat is not available use salt pork and cut the amount of salt in half in the recipe
1/2 cup white vinegar
6 feet medium hog casings
2 cups shredded cheddar cheese
3 medium jalapenos, finely minced
5 cloves garlic, finely minced
1 tablespoon kosher salt (reduce this to 1 1/2 tsp if using salt pork)
2 teaspoons black pepper
1/2 teaspoon red pepper flakes (optional, for additional heat)
DIRECTIONS
Cube the pork and pork fat into 1 inch cubes and spread out on a parchment-lined baking sheet.  Freeze 1 hour.
Fill a large bowl with 2 quarts cold tap water and add white vinegar.  Add casings and let soak at least 30 minutes.
Grind meat and fat together through the coarse disk of your KitchenAid® food grinder attachment.  In a large bowl, combine meat, cheese, jalapenos, garlic, salt, pepper and red pepper flakes.  Mix well.
Attach KitchenAid® sausage stuffer to food grinder, load with pre-soaked casings and stuff sausages.  Twist sausages into links of desired length.
Refrigerate links for a few hours to allow flavors to meld.  Freeze any sausages that you don't plan to cook within 2 days.
To cook, add a little oil to a large skillet over medium heat.  Cook until browned all over and internal temperature  reaches 160F.

Print
*The Contributor of this post has been compensated by KitchenAid for this post, but this post represents the Contributor's own opinion.*