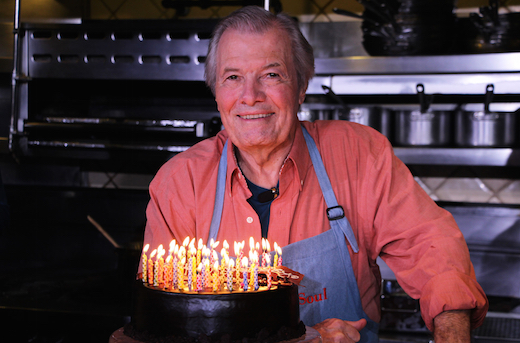 Image courtesy of KQED.
Jacques Pépin is one of the most highly respected chefs and cooking teachers in the world. Simply stated, he is a living legend. Today, December 18th, 2015, marks a milestone birthday for the culinary icon, who helped revolutionize the way Americans approach food.
Since beginning his career as an apprentice at age 13, the charismatic French chef has worked in esteemed kitchens throughout Paris and New York, written more than two dozen cookbooks, and hosted 14 popular television shows—most notably, the PBS series with Julia Child, Julia and Jacques Cooking at Home, which won an Emmy and a James Beard Foundation Award in 2001. Jacques was awarded France's highest civilian honor, the Legion of Honor medal, in 2004, and he continues to teach at prestigious culinary academies across the country.
Throughout the years, KitchenAid has partnered with Jacques on several initiatives and is honored to continually play a part in his longstanding career. KitchenAid sponsored two of Jacques's televisions series: Essential Pépin and the current season of Jacques Pépin Heart & Soul—his final cooking show, which lets viewers experience a special and deeply personal look into the beloved chef's life.
Recipe prep behind the scenes of Jacques Pépin's latest television series, Heart & Soul.
After 60 years in the kitchen and nearly three decades on television, Jacques has already taught generations of people how to cook. On Heart & Soul, he continues to inspire the masses with timeless techniques and his favorite classic recipes—often using KitchenAid® appliances such as the Torrent™ Blender and 11-Cup Food Processor.
In this episode of Heart & Soul, Jacques creates a savory soup using the KitchenAid® Torrent™ Blender
KitchenAid first became acquainted with Jacques at the Food & Wine Classic in Aspen more than two decades ago. He has since wowed many crowds with his informative, and always entertaining, cooking demonstrations on the KitchenAid stage—bringing his "'appy cooking!" experience to life.
Jacques Pépin and his daughter, Claudine, share the KitchenAid stage at the Food & Wine Classic in Aspen.
At the most recent Classic in June, the KitchenAid team threw the legendary chef an intimate 80th birthday celebration in their Grand Tasting booth—complete with a delicious themed cake from the St. Regis resort's pastry team and bottles of bubbly, which Jacques sabered (like a boss!) before toasting with the lucky guests.
Jacques and Claudine cut into the special cake that KitchenAid presented him with for his 80th birthday.
To kick off the celebration, Jacques shows team KitchenAid how to saber a bottle of bubbly like a champ.
Jacques was also an early supporter of the KitchenAid brand's Cook for the Cure initiative, which has raised more than $10 million to date for Susan G. Komen for the Cure® to support the fight against breast cancer. Together with KitchenAid, he has contributed countless auction items, from personally signed stand mixers and "Pass the Plate" serving platters decorated with his original designs (fun fact: Jacques is a very gifted artist) to cookbooks and a private dinner for six at his home—one of the highest paid auctions to date. To this day, Jacques remains a strong supporter of the program and endorser of the KitchenAid brand.
Jacques Pépin signs a pink KitchenAid® Stand Mixer to be auctioned off for charity.
With a personal motto of "cook because you love it," Jacques has shown the world how truly joyful cooking can be. He demonstrates a passion for life and love of food, family, and friends in each and every thing he does. And he has certainly made his mark as one of the most awe-inspiring personalities that has ever graced the culinary industry.
From everyone in the KitchenAid family, we wish Jacques the most wonderful 80th birthday—with many more happy, healthy, and delicious years to come. Cheers to you, Jacques Pépin!
*The Contributor of this post has been compensated by KitchenAid for this post, but this post represents the Contributor's own opinion.*