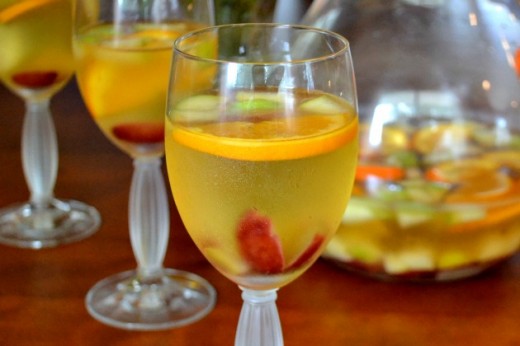 Fall is one of my favorite seasons and it reminds me of so many good things. The cool night air brings me back to high school bon fires the night before football games. In college it was the start of the new school year and being reunited with old friends. There were football tailgates and Saturday night hayrides. I was also married in the fall, so brightly colored autumn flowers are always my favorite.
All of these events had one common denominator. I  was spending time with good friends and there was always good food and drink involved.  Recently, I had my kitchen renovated with all new KitchenAid® major appliances.  I can't think of a better way to spend a fall night than in my kitchen with friends, cocktails and appetizers. So let's have a party.
First we are going to talk about cocktails. I always have wine and beer at my parties but I also like to make a few fun cocktails. Sangria is a good choice and I love that you can make it your own according to the season or theme of your party. Since October is in full swing, this white sangria is loaded with crisp sweet apples and pears. Our family goes apple picking in October every year.
There is nothing like picking an apple from a tree in the morning and putting it in your sangria that afternoon.  Forget about buying expensive wine. Sangria is the type of drink where you can purchase an inexpensive bottle of wine and make it delicious. I freeze the grapes I add and the drink stays cold without ice cubes.
Many of my friends have special signature cocktails that they like to make. When they ask if they can bring a pitcher to share, I never refuse. It is nice to have another choice next to the sangria. I never forget to have some non- alcoholic drinks too for the designated drivers and anyone that does not drink alcohol.
Here are some other fall beverages that are perfect for the season:
New Englantini by Three Many Cooks
Pear Puree Cocktails and Mocktails by Nutmeg Nanny
Pumpkin Milk Shakes by A Spicy Perspective
Pomegranate Mojitos by The Recipe Girl
Cranberry Citrus Martini by Sarah's Cucina Bella
Let me give you one last word of advice on cocktail preparation. Always make sure you have more than enough glasses set out before guests arrive.  There have been times when I have forgotten to do that and I was so stressed out. No one wants to be cleaning glasses right before a party. Wouldn't you rather be sipping on a cocktail? Thanks to my KitchenAid® dishwasher, my glasses are always spotting free and sparkling clean.  I love my non- breakable martini glasses that can go right in the top drawer of the dishwasher and come out looking brand new.
Now that we have the drinks in order, let's take about the food.  Martini glasses are also perfect vessels to serve simple snacks such as olives, spiced nuts and grapes.  When I am throwing a party, I like simple but good food sitting right next to the cocktails. The hostess should be able to enjoy herself and easy snacks such as these can be put out without any hassle. To me, a cheese platter is mandatory so I like to pair up a few different cheeses with fall fruit such as apples and figs and some local honey.  No matter what size party you are having, a cheese platter always works.
Another favorite appetizer of mine is crostini. It is easy to slice up a loaf of French bread and brush on some olive oil. The crostini go in the KitchenAid® Double Oven Range for about 10 minutes at 350 degrees and out they come ready to top with your favorite cheeses, dips or olive tapenade. I can make the crostini in my top oven while I have hot artichoke dip or another warm appetizer in the bottom oven.  My KitchenAid® Double Oven Range is perfect for helping me get food ready for parties.
I always have some nibbles, one or two cold appetizers and two or three hot appetizers.  Most people like to have something sweet to end their evening so I serve just a few simple desserts. Some martini glasses filled with truffles or chocolate covered nuts are always popular. Another great idea is to serve some mini desserts such as these shot glass apple parfaits.
If you need some fall party appetizer and dessert ideas, here are some of my favorites:
Hot and Creamy Artichoke Dip by Just A Taste
Sun Dried Tomato Hummus by bell'alimento
Candied Pecans by Kevin and Amanda
Pesto Tortellini Skewers by Jersey Girl Cooks
Brussels Sprouts and Turkey Spring Rolls with Peanut Dip by White On Rice Couple
Sweet Potato Chips With Lime by Noble Pig
Jalapeno Jelly and Brie Mini Popovers by Doughmesstic
Roasted Grape, Blue Cheese and Honey Crostini by Two Peas and Their Pod
Pumpkin Pie Bites by Bakerella
Black and White Chocolate Dipped Pretzels by Joy The Baker
Now that we have the food covered, let's make the place look festive.   I am all about fresh, simple decorations. In the fall, I like to purchase some gourds and mini pumpkins at the local farmers market.  They can be arranged in a decorative bowl for a fabulous centerpiece.  A few arrangements of fall flowers or mini mum plants are things that I like to decorate my tables with. Natural fall colors are so bright and cheery. They bring me back to memories of my wedding flowers so I am partial to burnt orange, red and gold flowers any time of the year.
Create some memories with friends and family in the fall.  Make a pitcher of sangria, clean some glasses and set out some cheese, fruit and crostini. Add a few finishing flowers and you are ready to entertain.  I love entertaining in my new kitchen.
Fall Sangria
Makes 8 servings
INGREDIENTS
1 pear, cored, seeded and chopped
1 large apple, cored, seeded and chopped
1 orange, cut in half, seeded and sliced
1 cup red seedless grapes, halved and frozen
1 bottle of white wine
2 cups sparkling apple cider
1/2 cup apple brandy
2 cinnamon sticks
DIRECTIONS
Place the apples, pears, oranges and grapes in the bottom of a large pitcher.
Add the wine, cider, brandy and cinnamon sticks. Mix well.
Refrigerate for at least 4 hours before serving.
Print
*The Contributor of this post has been compensated by KitchenAid for this post, but this post represents the Contributor's own opinion.*