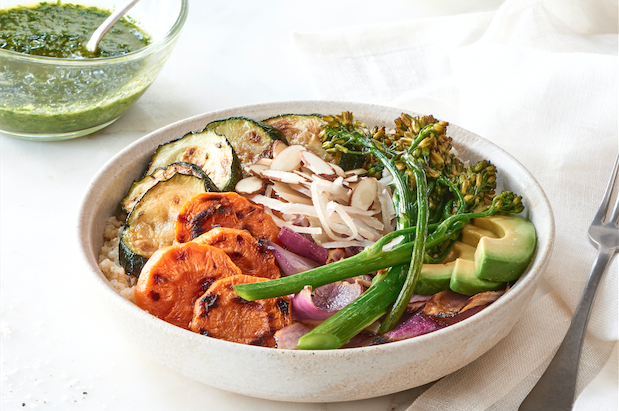 Cauliflower Rice Bowl with Chimichurri Dressing
Makes 4 servings
INGREDIENTS
For the cauliflower rice
1 large head cauliflower, cut into florets
2 tablespoons extra-virgin olive oil or liquid coconut oil
1 teaspoon natural salt
For the vegetables
1/2 medium red onion, peeled and cut into eighths
2 medium carrots, peeled and diagonally sliced into 1/2″ pieces
3 tablespoons extra-virgin olive oil, plus more to taste
3/4 teaspoon natural salt, plus more to taste
1/4 teaspoon red pepper flakes, plus more to taste
2 medium zucchinis, diagonally sliced into 1/2″ pieces
1 8-ounce bunch broccolini (about 12 stalks), trimmed
1/4 cup finely chopped flat-leaf parsley
1 cup sauerkraut (optional)
1 medium avocado, peeled, pitted, and sliced
1/4 cup sliced or slivered almonds
For the chimichurri sauce
3/4 cup extra-virgin olive oil
1 teaspoon finely grated lime zest, plus more to taste
2 tablespoons fresh lime juice
2 tablespoons fresh lemon juice
1 1/2 teaspoons red wine vinegar
4 teaspoons minced garlic (4 cloves)
1 teaspoon natural salt, plus more to taste
1/4 teaspoon red pepper flakes, plus more to taste
1 cup firmly packed basil leaves
1 cup firmly packed flat-leaf parsley leaves
1/2 cup firmly packed cilantro leaves
1/2 cup firmly packed finely chopped chives
1/2 medium avocado, peeled and pitted (optional)
DIRECTIONS
For the cauliflower rice and vegetables
Preheat oven to 400°F.
Line three large baking sheets with a silicone liner or parchment paper.
Place the cauliflower florets in a food processor and pulse until it has the consistency of couscous. Then, in a large bowl, stir the oil and salt into the cauliflower until well combined.
In a separate bowl, toss the onion and carrots with 1 tablespoon olive oil and 1/4 teaspoon salt and 1/8 teaspoon of red pepper flakes.
Spread the cauliflower rice onto one of the baking sheets and your onion and carrots onto another and roast both baking sheets for 15 minutes on separate shelves.
Meanwhile, toss the zucchini and broccolini in a bowl with the remaining 2 tablespoons of olive oil, the remaining 1/2 teaspoon of the salt, and remaining 1/8 teaspoon of the red pepper flakes. Arrange the broccolini and zucchini in a single layer on your third baking sheet.
After 15 minutes have past, remove the cauliflower rice and your onion and carrots, stir and flip, and return to the oven, along with the third baking sheet to cook all your vegetables and cauliflower rice for another 15 to 20 minutes.
Remove all your baking sheets from the oven when the cauliflower begins to brown. Set your vegetables aside. Stir chopped parsley through the cauliflower, and then set aside along with the other vegetables, until ready to serve.
For the chimichurri sauce
While the vegetables and cauliflower rice are cooking, place the olive oil, lime zest, lime juice, lemon juice, red wine vinegar, garlic, salt, and red pepper flakes into the blender jar of the KitchenAid® Pro Line® Series Blender. Secure the lid and blend on speed 10 for 10-20 seconds, until the sauce is emulsified and the zest, garlic, and pepper flakes have been completely pulverized.
Add the basil, parsley, cilantro, and chives, and pulse on speed 4 or 5 for 5-10 seconds. Do this until the herbs are just broken down, but be sure to keep the dressing very loose and not completely blended. For a creamy blended dressing, add the avocado and blast on high for 5-10 seconds until smooth and creamy.
For assembly
Divide the cauliflower rice equally among four bowls. Arrange equal portions of the onion, carrot, zucchini, and broccolini around the circumference of each bowl over the rice. Place 1/4 cup sauerkraut (if desired) on the side of each bowl, then top with 1/4 of the sliced avocado. Sprinkle 1 tablespoon of sliced almonds on top of each bowl.
Drizzle 1/4 cup of the chimichurri over each bowl. Serve immediately, allowing your family and friends to add additional chimichurri sauce as desired.