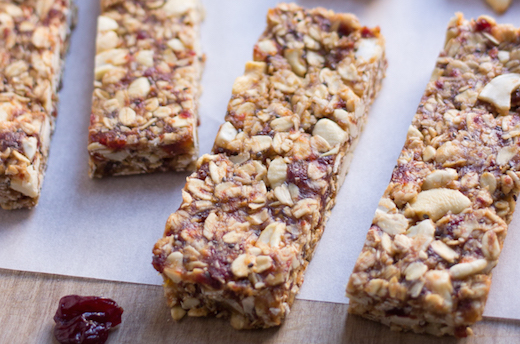 Granola bars have always been a staple in my snack drawer. I love that you can grab one and toss it in your purse for later when you realize the only things around you are vending machines. Granola bars are also great because they've got just the right amount of sweetness to serve as the perfect pick-me-up when your energy is feeling low.
While it may be easier to swipe a box of Chewy bars off the shelf next time you're at the grocery store, homemade granola bars are better in so many ways. Not only do they taste better, they likely have far less sugar, no additives or preservatives, and are packed with nutritious, whole-food ingredients. Plus, if you or your kids have food allergies, making your own bars at home is certainly safer and friendlier on the wallet.
These cashew cherry granola bars could not be easier to make. I'm guessing you might even have all the ingredients you need on hand already. They use fewer than 10 ingredients and require less than 10 minutes of hands on time.
Yes, it really is that easy!
To start, you'll soak your dates and dried cherries in some warm water for 5 minutes. This softens them up so they blend a little easier. Next, add your dried fruit to the bowl of your KitchenAid® 13-Cup Food Processor with 1 tablespoon of the soaking liquid.
What makes the KitchenAid® Food Processor so perfect for these granola bars is the dual speed feature. You'll want to start with the food processor on low and process until the fruit is finely chopped. Then, turn the processor up to high and process until the fruit becomes more like a very thick paste.
Then you'll want to pour this paste over the dry ingredients, followed by the cashew butter, honey and coconut oil (which you simply melt together on the stove or in the microwave). Mix together until all the ingredients are combined – I found it much easier to do this with my hands.
Line a KicthenAid® Professional-Grade Nonstick Square Pan with parchment paper and transfer the granola mixture inside.
Press the mixture firmly into the pan with your hands until it's evenly spread out. Then use a flat-bottomed glass to press the bars once more into the pan.
Place the pan in the refrigerator and let sit for at least 4 hours until the bars are firm.
Then simply remove them from the pan, slice and enjoy!
Cashew Cherry Granola Bars
Makes 10-12 bars
INGREDIENTS
1 cup Medjool dates, pits removed
1/2 cup cherries, sweet or tart
2 tablespoons creamy cashew butter
2 tablespoons honey or brown rice syrup
2 tablespoons coconut oil
1 1/2 cups oats (gluten-free optional)
1/2 cup quinoa flakes (or replace with more oats)
1 cup cashew pieces
1 tablespoon chia seeds
DIRECTIONS
Soak the dates and cherries in boiling water for 10 minutes.
Transfer the dried fruit to the bowl of a KitchenAid® 13-Cup Food Processor fit with the steel S-blade. Process the fruit on low speed until it is finely chopped, then turn the food processor up to high and process until a thick paste forms.
In a small saucepan or in a microwave safe bowl, melt together the cashew butter, honey and coconut oil until smooth and creamy. Set this mixture aside.
In a large mixing bowl, whisk together the dry ingredients. Pour the melted cashew butter mixture, along with the fruit paste, over the oat mixture and stir together until they are evenly coated. This might be easier to do with your hands.
Line a KitchenAid® Professional-Grade Nonstick Square Pan with parchment paper. Transfer the granola bar mixture to the pan and press the "dough" firmly into the pan. Optional – you can use a flat-bottomed glass to press down the bars even more.
Refrigerate the bars for at least four hours until completely firm. Remove from the fridge and transfer them to a cutting board by lifting the sides of the parchment paper. Slice the square into 10 bars or squares and enjoy.
Store the bars in an airtight container in the refrigerator for best results.
Print
For more Food Processor recipes, click here for our eRecipe book.
*The Contributor of this post has been compensated by KitchenAid for this post, but this post represents the Contributor's own opinion.*