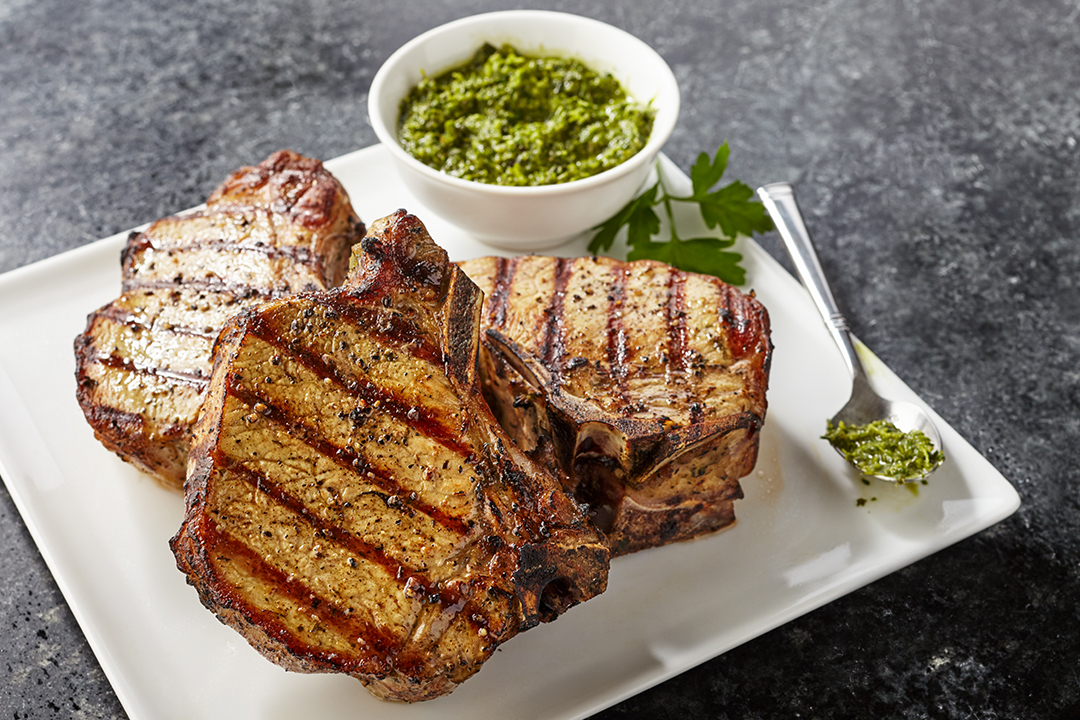 Carrot Top Chimichurri Grilled Pork Chops
Makes 6-8 servings
SCRAPS
Carrot tops
INGREDIENTS
1/4 cup red wine vinegar, plus more to taste
1/4 cup olive oil, plus more to taste
3-4 garlic cloves, thinly sliced or minced
1 shallot, finely chopped
1 Fresno chili or red or green jalapeño, finely chopped
1 bunch carrot tops
1/2 cup fresh cilantro, minced
1/4 cup fresh flat-leaf parsley, minced
2 tablespoons finely chopped fresh oregano
Sea salt
Black pepper, freshly ground
Four 1 1/2-inch-thick bone-in pork chops (about 1 pound each)
DIRECTIONS
In the jar of the KitchenAid® Pro Line® Series Blender, combine the red wine vinegar, olive oil, garlic, shallot, chili, carrot tops, and herbs. Blend until smooth. Season with salt, pepper, and additional vinegar or olive oil, to taste.
In a shallow dish or resealable plastic bag, combine half the chimichurri with the pork, turning to coat completely. Allow the pork chops to marinate at room temperature for 30 minutes or refrigerated for up to 24 hours.
Heat a gas or charcoal grill to medium-high (alternately, heat an oven-safe grill pan or cast iron skillet).
Remove the pork chops from the chimichurri sauce (discard), scraping off excess dressing. Season with salt and pepper.
Grill on each side for about 5 minutes, then transfer to indirect heat and cook, covered, until internal temperature away from the bone reaches 145° F. If cooking indoors, transfer the grill pan or skillet to a 400° F oven.
Transfer pork chops to a platter and allow them to rest for about 10 minutes before serving with the remaining chimichurri sauce.
Print