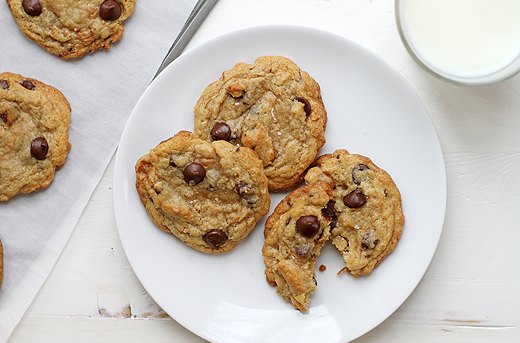 Most everyone loves cookies, but not everyone knows how to bake them well. When it comes to these delicious caramel-coconut chocolate chip cookies with sea salt, the last thing you want is for them to turn out less than perfect. Whenever I use KitchenAid® Stand Mixer and Professional-Grade Nonstick Cookie Sheet, plus a few easy tips and tricks for best cookie baking I've learned over years of trial and error (and lots and lots of cookie-eating), I get great results every time.
There is nothing like a perfectly baked fresh-from-the-oven chocolate chip cookie – except one with caramel, toasted coconut and sea salt, that is. This recipe has quickly become my new favorite go-to cookie for potlucks, baking parties, edible gifts to family and friends or when I just really want a cookie. No matter the occasion, I want my cookies to turn out great every time – so I've compiled a list of tips and tricks to share that, for me, always yield a winning recipe.
It all starts with the ingredients. High-quality ingredients equal high-quality cookies; it's that simple. So even before you make the dough, you can impact the quality of your cookies. I'm not saying you need to go out and buy the most expensive stuff out there, but using the correct ingredients for your recipe will take you one giant step closer to best-ever cookies.
Be sure to use unsalted butter so you can control how much salt goes into the recipe. Also, pay attention to what chocolate chips you're using: semisweet, or any chips with at least 60% cacao content work best, and will yield a slight earthiness and bitterness in the chocolate that is enhanced when baked into a sweet cookie dough. Finally, make sure your baking soda is fresh – old baking soda loses its potency and can result in flatter cookies.
Once you have your ingredients prepared and measured, cream the room-temperature butter and sugars in your Stand Mixer on medium speed until the mixture is light and fluffy. A quick note about the butter – make sure it's the correct consistency. By "room temperature," I mean the stick should have the same softness as the soft part of your shoulder. Strange, I know, but it's the best indicator to know whether it's soft enough!
Once the butter and sugars are creamed, add in the eggs and vanilla. Stir to combine.
In a separate bowl, whisk the flour, baking soda (make sure it's fresh!) and salt. Add the flour mixture to the butter mixture and stir until just combined. Be sure not to overmix the dough, as overmixing can cause the cookies to be too cakey and airy – we're going for chewy with a crispy edge here. Once the ingredients are just combined (even a little undermixed is OK), you're done. Carefully stir in the chocolate chips, caramel bits and toasted coconut, or 1 1/2 to 2 cups of whatever mix-ins you desire, from white chocolate or butterscotch chips to dried cranberries, chopped nuts or crushed pretzels. Get creative!
I know it's hard to wait to eat those cookies, but one of my best tips for cookie baking is this: Refrigerate the dough. Even a good 8 hours (overnight) can allow the flavors to meld, but I like to chill mine a good 24 hours for best results. The cookies will end up with a deeper, more caramelized flavor than ones baked immediately; plus, the chilled dough will bake a little taller and rounder in the oven.
Once the dough is fully refrigerated, preheat the oven. I bake my cookies at a slightly higher temperature than normal – 375°F vs. 350°F. It seems to bake the cookies just right for me so they're golden brown and crispy on the outside but soft and chewy in the center.
Use two spoons, your hands or a cookie scoop to mound the dough onto parchment paper-lined baking sheets. Space the cookies about 2 inches apart so they don't bake together in the oven.
I also like to lightly press a few extra chocolate chips on top of each cookie so they look a little nicer once baked. Don't forget to sprinkle a pinch of sea salt on top, too. That little bit of saltiness really brings out the flavor profile of these cookies.
Bake the cookies 10 to 12 minutes until the edges of the cookies are golden brown and the centers are just set – even slightly underbaked. The cookies will continue to bake once they're out of the oven, so don't worry if they seem a little too doughy to eat. Once they're fully cooled, they'll be the perfect chewiness.
The cookies should look like this on the bottom – dark golden and evenly browned. That's the mark of using high-quality cookie sheets. Be sure to use a plastic or rubber spatula on your cookie sheets, too, to transfer the cookies to a cooling rack so you don't scratch the surface of the cookie sheets.
Finally, it's time to eat those cookies. Don't forget the glass of milk!
To store extra cookies in the freezer for long-term storage, let them cool completely, then layer them between sheets of parchment paper in airtight storage containers or resealable plastic bags. They should keep up to 3 months (or longer, if you're using a deep freezer).
With these simple tips and tricks, you'll be able to produce perfectly baked cookies every time.
Caramel-Coconut Chocolate Chip Cookies with Sea Salt
Makes 2 dozen
INGREDIENTS
1 cup (2 sticks) unsalted butter, room temperature
1 cup packed light brown sugar
1/2 cup granulated sugar
2 eggs
1 teaspoon vanilla
2 1/2 cups all-purpose flour
1 teaspoon baking soda
1/2 teaspoon salt
1 cup semisweet or dark chocolate chips, plus more for topping
1/2 cup caramel bits
1/2 cup unsweetened coconut flakes, toasted
Coarse sea salt, for sprinkling
DIRECTIONS
In a bowl of a KitchenAid® Stand Mixer with the flat beater attachment or a large bowl using an electric hand mixer, cream together butter and sugars on medium speed 2 to 3 minutes until light and fluffy. Add eggs and vanilla. Stir to combine.
In a separate large bowl, combine flour, baking soda and salt. Add flour mixture to butter mixture. Stir until just combined. Stir in chocolate chips, caramel bits and toasted coconut flakes.
Refrigerate dough overnight or up to 24 hours.
When ready to bake, heat oven to 375°F. Line 2 KitchenAid® Professional-Grade Nonstick Cookie Sheets with parchment paper.
Scoop dough into 1/4-cup mounds and place 2 inches apart on baking sheets. Place a few extra chocolate chips on top of each mound. Sprinkle lightly with sea salt.
Bake cookies 10 to 12 minutes until golden brown on the edges and just lightly golden in the center. Let cookies cool 2 minutes on baking sheets, then transfer with a spatula to cooling racks.
Print
*The Contributor of this post has been compensated by KitchenAid for this post, but this post represents the Contributor's own opinion.*