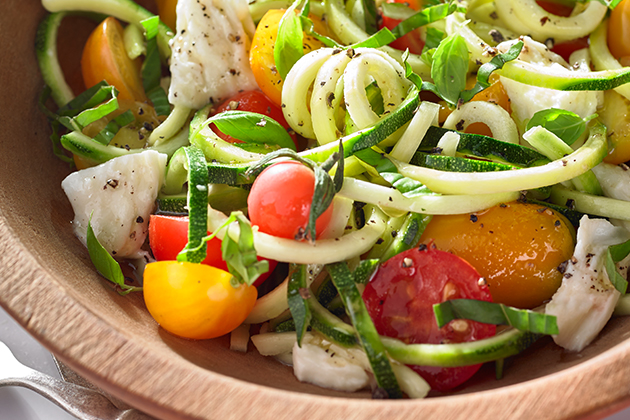 Caprese Zucchini Noodle Salad
Makes 4 servings
INGREDIENTS
1 large zucchini, cut into 4 1/2-inch sections
1 pint grape tomatoes, halved
4 ounces fresh mozzarella, cut into 1/2-inch cubes
2 tablespoons thinly sliced fresh basil
2 teaspoons red wine vinegar
1/2 teaspoon kosher salt
1/4 teaspoon pepper
2 tablespoons olive oil
DIRECTIONS
Bring 3 to 4 quarts water to a boil in a large pot over high heat. Add 2 to 3 tablespoons salt. Fill a separate large bowl with ice water. Set aside.
Attach Spiralizer Attachment to the KitchenAid® Stand Mixer. Trim ends off zucchini. Center zucchini on fruit and vegetable skewer; attach to Spiralizer. Attach fine spiralizing blade and position at end of zucchini. Turn stand mixer to speed 4 and process until blade reaches end of zucchini. Cut noodles to desired length.
Cook the zucchini noodles in salted water for 45 seconds. Drain and place in ice water to stop cooking. When chilled, drain zucchini noodles. Combine zucchini, tomatoes, mozzarella and basil in a large bowl. Combine vinegar, salt and pepper in a small bowl, then whisk in olive oil. Add dressing to salad and toss to coat.

Print
*The Contributor of this post has been compensated by KitchenAid for this post, but this post represents the Contributor's own opinion.*