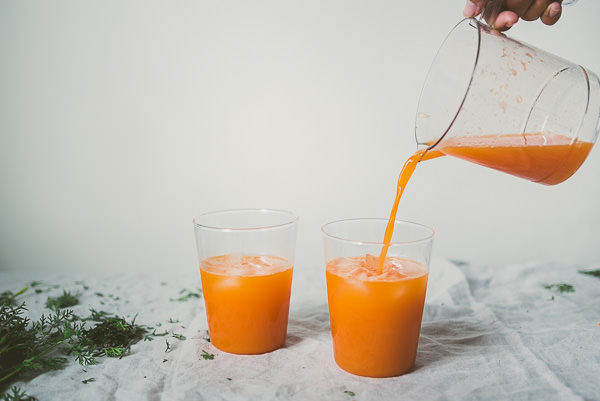 Melons, cantaloupe especially, are one of my favorite fruits to consume in the summer. I usually have chopped melon in the refrigerator at all times so when I come home after spending time in the humid weather, I can immediately have a delicious, cooling melon. I normally don't drink too much juice, but I make an exception for carrot juice varieties.
By itself, carrot juice is simply delicious. However, I love adding a bit of something else to this juice for an extra pop of flavor, like ginger, pineapple, or, in the case of this recipe, melon! Cantaloupe and carrot is a dream combination. Not only does it yield a vividly orange color, it also needs no extra sweetening at all.
With the KitchenAid® Maximum Extraction Juicer, this juice is even easier to make. It features a two-stage blade, auger system and wide chute, all of which make juicing a simple task. For this recipe, I used the low pulp screen.
After the rind and seeds are removed, you'll simply feed diced cantaloupe and chopped carrots through the wide chute of the Maximum Extraction Juicer, and that's it!
Just make sure that the pulp spout is pushed in, so that the pulp can escape. I sprinkle the pulp over salads, but you can also use it in muffins or breads.
Just like that, you'll have a delicious cantaloupe carrot juice. This juice needs no additional sweeteners or any modifications.
Simply chill your freshly squeezed juice or serve immediately over ice.
I find that freshly pressed juice is always as tasty as the ingredients themselves. The freshest fruits and vegetables always make the best tasting juices. The minute I opened the cantaloupe, I knew I would be getting a great juice. It was perfectly ripe, sweet and aromatic, and the flesh had the perfect texture.
When I make juice, I usually don't have a specific combination in mind. I head to the market and see what's fresh and in season. So have fun, experiment with different fruit combinations, and have yourself a refreshing glass of freshly-squeezed juice.
Share your take on this Cantaloupe Carrot Juice recipe on Instagram using #MadeWithKitchenAid for a chance to be featured.
Cantaloupe Carrot Juice
Makes 2 servings
INGREDIENTS
1 cantaloupe
2 cups chopped carrots
DIRECTIONS
Remove seeds and rind of cantaloupe. Dice the cantaloupe. Feed cantaloupe and carrot into the KitchenAid® Maximum Extraction Juicer using the low pulp screen. Juice the fruits, making sure pulp spout is pushed in, so that the pulp can escape and be reserved for sprinkling over salads or for use in other recipes.
Serve the freshly squeezed juice over ice or chill until ready to drink.

Print
*The Contributor of this post has been compensated by KitchenAid for this post, but this post represents the Contributor's own opinion.*