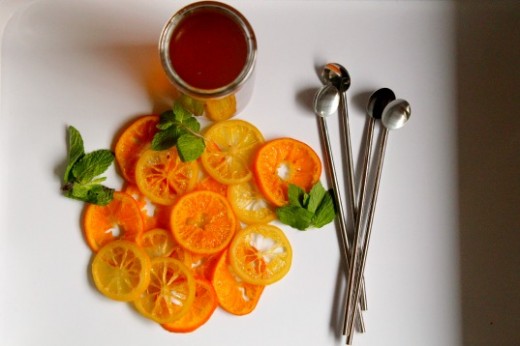 Have you noticed all of the beautiful citrus that's pouring into stores lately? I just love it! The colors are so vibrant and you just know that Spring is right around the corner. The very cold corner.
Well, along with all of that citrus, I've also noticed a ton of beautiful baked citrus treats in magazines, all garnished with … candied citrus slices!
Have you noticed this too? Lemon pound cake, orange shaker pie, blood orange parfaits, kumquat crème brulee… all topped with beautiful, glistening, colorful candied citrus slices.
They're just beautiful! And I don't know about you, but when I see something that pretty, I hate to just make the cake and leave off the stunning garnish. So, let's make it, ok?
First of all, this couldn't be simpler! It really is very easy, which is a relief. And, if you're a fan of those candy citrus slices from old fashioned candy stores, these taste exactly like them (you can toss them in fine sugar when they're done and they'll look exactly like them too!).
You'll simply run your citrus through your KitchenAid® 13-Cup Food Processor, with the slicing attachment blade in and the slicing gauge set to a thin-to-medium thickness. It's so fast! Suddenly you have tons of equal-size citrus slices! Hooray!
Then you boil them up in a simple 2:1, water to sugar mixture. After about 50 minutes, with you only gently flipping and stirring them a couple times, they're done! You fish them out with a slotted spoon or tongs, and place them on a wire rack to dry. After they sit out (I let mine sit out overnight), press them between paper towels to remove any remaining moisture and they're ready.
Here's the fun secret trick! KEEP THE BOILING LIQUID! I can't stress this enough. Why? Because you've inadvertently made Citrus Simple Syrup! Yes, you just made two recipes at once. You're so fancy. And amazing. You're amazing.
You can bottle up your Citrus Simple Syrup and keep it in the fridge for up to 2 weeks. Just pour your syrup in a cup, shake it up with some gin or vodka and then top with some fizzy seltzer water! To make it a mocktail (or Italian Soda to be precise), just combine the syrup and seltzer! And, of course, garnish with a Candied Citrus Slice and a sprig of mint!
There you have it!
Candied Citrus
INGREDIENTS
3-4 citrus fruits (lemons, limes, oranges, etc)
2 cups sugar (raw or granulated)
4 cups water
DIRECTIONS
Set your KitchenAid® 13-Cup Food Processor to medium-slim slices with the slicing blade attached. Run your citrus fruits through the KitchenAid® 13-Cup Food Processor, resulting in even slices of fruit!
In a large pot on the stovetop (I prefer to use a pot with measurements marked on the inside, so when I am boiling down the water+sugar, I can see how far it has boiled down), bring the sugar and water to a boil. As soon as it boils, turn the heat to a simmer and stir with a silicone spatula until the sugar is dissolved. Add the fruit slices to the simmering sugar-water.
Let the fruit simmer for 45-60 minutes, until it appears translucent, using your spatula to carefully push the fruit under the water and flipping it 2-3 times during the simmering time.
Note: be very careful when pressing the fruit under the simmering water and flipping it, so the fruit doesn't separate too much from the rind
After the fruit is translucent, use a slotted spoon or some tongs to carefully remove the fruit slices from the simmering sugar-water. Place the slices, spaced and in a single layer on a wire rack to dry. Let dry overnight or at least 4 hours. Then, use paper towels to press any excess liquid out of the fruit slices. (Note: if you want sugar-covered fruit slices, now is the time to toss them in fine sugar)
After you have removed the fruit slices from the simmering water, bring it to a slightly higher boil (but not a rolling boil, just slightly higher than simmering) and let the sugar mixture reduce until it is half of what it was when you started (resulting in approximately 2 cups). Let it cool, then pour it through a fine mesh strainer, into a jar to store. You now have Citrus Simple Syrup! 
Note: Citrus Simple Syrup can be stored for up to 2 weeks in a tightly-sealed jar in the refrigerator
Note: Candied Citrus Slices should be kept in a sealed zip-top bag. They will keep for at least 2 weeks at room temperature. Use Candied Citrus Slices to garnish cakes, pies, yogurt bowls, Citrus Fizz cocktails and mocktails, or simply eat them as they are!
Print
Citrus Fizz 
Makes 1 serving
INGREDIENTS
1 ounce Citrus Simple Syrup
2 ounces Gin (or Vodka if you prefer)
Seltzer water (as much as preferred)
Garnish: Candied Citrus Slices and fresh mint
DIRECTIONS
In a shaker, or in the bottom of your glass, combine the Citrus Simple Syrup and Gin. Shake to combine (or stir vigorously if you've poured them directly in the glass).
Add ice to your glass (along with the Citrus Simple Syrup + Gin). Pour in seltzer water to desired strength. Garnish with a Candied Citrus Slice and a sprig of mint! Enjoy!
Note: to make a mocktail, omit the alcohol. Try variations by using flavored seltzer waters! 
Print
*The Contributor of this post has been compensated by KitchenAid for this post, but this post represents the Contributor's own opinion.*