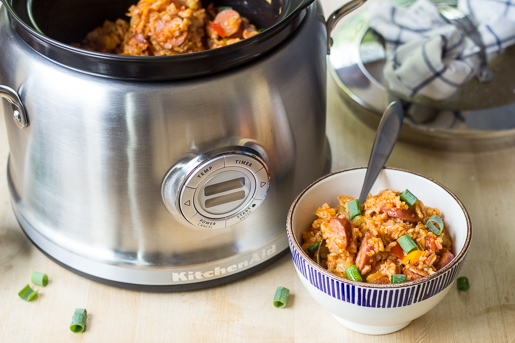 In my family, camp cooking is an art. We take every chance we get to pack our bags, head out into the great outdoors, and enjoy our home state and the company of our loved ones.
Over the years, we've perfected lots of recipes to make our trips even more enjoyable. Some of the recipes are made ahead of time and are simply warmed up when it is time for dinner. Others are cooked in a small camper kitchen, or prepared over an open fire.
One of my favorite tools for preparing camp-friendly meals is my KitchenAid® 4-Quart Multi-Cooker. This year, I created a delectable sausage and rice dinner which can be made ahead of time and warmed up at camp, or can even be prepared in the great outdoors at a site with full hook-ups, or through using a power inverter plugged into a vehicle.
If you're planning to cook this on-site, make it easy on yourself by doing all of the prep work before you leave your home. Utilize zipper-close baggies and a pint-sized mason jar to keep the ingredients separated before cooking.
Bag 1: Chopped Bacon
Bag 2: Sliced Kielbasa
Bag 3: Chopped Bell Peppers, Onions, and Celery.
Bag 4: Diced Tomatoes, Garlic, and Spice Mixture
Bag 5: Rice
Bag 6: Sliced Scallions
Pint Jar: Chicken Broth
This recipe utilizes the Sear, Sauté, and Rice settings on your Multi-Cooker.
To get started, preheat your Multi-Cooker on the Sear setting, then add the chopped bacon and allow the fat to render.
Next, add some sliced kielbasa to the pot and allow it to develop a golden brown sear.
Change the Multi-Cooker setting to Sauté, then add chopped bell peppers, onions, and celery to the cooker.
Let your KitchenAid® Stir Tower Multi-Cooker Accessory do the work while the vegetables continue to sauté for 10 minutes.
Stir in diced tomatoes, minced garlic, chicken broth, rice, and Cajun spices.
Now, switch the Multi-Cooker onto the setting for white rice, cover the pot, and let the cooker do the work.
Camp cooking really doesn't get much easier than this!
One last tip: Depending on the size of your vegetables, the rice may need a bit more time to cook to your liking. If you like, you can switch the cooker to the boil/steam setting for another five minutes.
Whether you're preparing meals to bring along or cooking a feast right at your campsite, everyone will appreciate this hearty meal. Once you experience the versatility of the Multi-Cooker (and see how easy it makes clean-up!), you'll never camp without it again!
Camp Cooking Sausage and Rice
Makes 6 servings
INGREDIENTS
For sausage and rice
1/2 pound bacon, roughly chopped
1 (1.13-ounce) Kielbasa, sliced into coins
1 large red bell pepper, chopped
1 large yellow bell pepper, chopped
1/2 cup chopped yellow onion
1 cup diced celery
1 (14-ounce) can diced tomatoes with juices
3 tablespoons minced garlic
2 cups low-sodium chicken broth
1 cup long grain white rice
1 cup sliced scallion, dark green parts only
For Cajun spice mixture
2 1/2 teaspoons paprika
1 teaspoon dried oregano
1 teaspoon onion powder
1 teaspoon cayenne pepper
1 teaspoon freshly ground black pepper
1 teaspoon dried thyme
1/2 teaspoon red pepper flakes
1/2 teaspoon salt
DIRECTIONS
Preheat the KitchenAid® Multi-Cooker to the Sear setting. Once hot, add the chopped bacon and cook for 6-8 minutes, stirring occasionally, until about half the fat has rendered. Add the sliced kielbasa and sear for another 5 minutes, until the bacon fat has rendered and the kielbasa is golden brown.
Change the Multi-Cooker setting to Sauté. Add the bell peppers, onion, and celery to the cooker. Sauté for 10 minutes, or until vegetables are tender-crisp.
Stir in the diced tomatoes with their juices, the garlic, broth, rice, and spice mixture. Put the Multi-Cooker on the rice setting, cover the pot, and allow to cook.
Top with chopped scallions. Serve warm.
Print
*The Contributor of this post has been compensated by KitchenAid for this post, but this post represents the Contributor's own opinion.*