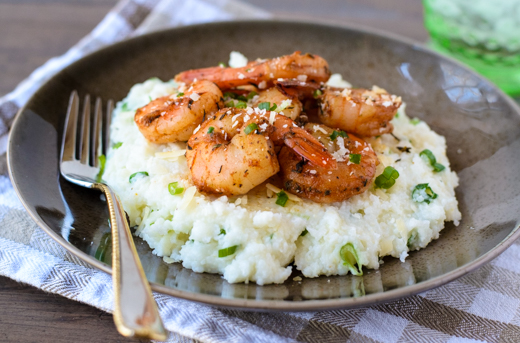 Although I am a Midwest girl at heart, a piece of me longs to be a southern belle. I'd wear fancy hats, sip sweet tea, and make shrimp and grits at every possible opportunity.
My first encounter with grits did not leave a positive impression. I vaguely remember my mom slopping a white, grainy substance onto my plate, which quickly hardened into a gelatinous lump. I can't remember actually finishing the grits (some serious dessert bribery would have been necessary), but from that moment, in my mind, "grits" equated to "yuck."
Grits would not grace my plate again until college, when I traveled to Mobile, Alabama to spend spring break with a friend's family. We went out for a classic southern brunch, and my southern belle of a friend insisted that I, kicking and screaming, order the cheesy grits. After much cajoling and most likely another bribe (this time, of the Bloody Mary variety), I agreed. Oh grits, I'm only sorry that I wasted so many years despising you!
As it turns out, the rough, gelatinous blob I experienced in childhood is grits at their very worst. Honestly, they probably should not even have been called "grits." Real, respectable grits are delectably creamy, and when paired with spicy shrimp, make a hearty and satisfying meal.
Today's recipe for Cajun Shrimp and Grits is a lightened up twist on the classic that has become a weeknight dinner favorite in our house. The grits are ready in less than 10 minutes, and the spicy shrimp is done in five. It's true—at this very moment, we are 15 minutes away from a southern delight!
For speed and ease, I used quick-cooking grits, prepared in my KitchenAid® 3.0-Quart Saucepan from the Stainless Steel 10-Piece Set. The key to creamy grits is to pour them in slowly and stir often. Then, once the grits are made, it's all about the add-ins. For big-time flavor, I tossed in sharp cheddar cheese, nutty Parmesan, green onions, and a pat of butter for extra decadence. Traditional grits often call for half and half or heavy cream too, but the grits were already so creamy, I didn't miss the extra fat one bit.
The second star of this dish is the Cajun-spiced shrimp. I tossed peeled, deveined shrimp in a blend of classic Cajun spices like cayenne, garlic, and oregano. It's quick work for big flavor.
The second key component for tasty shrimp is oven roasting, which gives the shrimp a deep flavor and wonderful texture. I used (and adore) my KitchenAid® 12″ Convection Digital Countertop Oven, which works every bit as well as a traditional, full-sized oven, but requires far less energy and space. I once dreamed cooking in a double oven kitchen, but now that I have this handy appliance, I have all the roasting power and versatility I need.
After five minutes roasting, the Cajun shrimp are pretty, pink, and ready to eat!
To serve, place a generous portion of grits on a plate, then heap the roasted shrimp on top. Extra cheese is optional, but encouraged.
I might not be a true southern bell, but when Cajun Shrimp and Grits can be on my table in 15 minutes, I'll sip sweet tea and pretend to be one any night of the week.
Cajun Shrimp and Grits
Makes 4 servings
INGREDIENTS
For the grits
3 cups water
1 teaspoon kosher salt
3/4 cup uncooked quick-cooking grits (not instant)
1 tablespoon unsalted butter
1/2 teaspoon black pepper
1/2 cup freshly grated sharp cheddar cheese (about 2 ounces)
1/4 cup freshly grated Parmesan cheese (about 1 ounce), plus additional for serving
1/4 cup chopped green onions (white and green parts), plus additional for serving
For the shrimp
2 teaspoons extra virgin olive oil
1 teaspoon paprika
1/2 teaspoon garlic powder
1/2 teaspoon dried thyme
1/2 teaspoon dried oregano
1/4 teaspoon cayenne pepper
1/4 teaspoon kosher salt
1/8 teaspoon black pepper
1 pound medium shrimp (25 count), peeled and deveined
DIRECTIONS
In a KitchenAid® 3.0-Quart Saucepan, bring the water to a boil. Add the salt, then slowly add the grits in a thin stream, stirring constantly. Reduce the heat to low and simmer, stirring occasionally, until the grits thicken, about 5 minutes. Remove from heat, then stir in the butter, black pepper, and green onions.
Meanwhile, preheat the KitchenAid® Convection Digital Countertop Oven to 400 degrees F. In a large bowl, stir together the olive oil, garlic, paprika, thyme, oregano, cayenne, salt, and pepper. Add the shrimp and toss gently to coat. Spread the shrimp in a single layer on a baking sheet lined with aluminum foil. Roast the shrimp for 5 to 6 minutes, until just pink and cooked through. Serve a top the grits, sprinkled with additional Parmesan cheese and green onions.
Print
*The Contributor of this post has been compensated by KitchenAid for this post, but this post represents the Contributor's own opinion.*