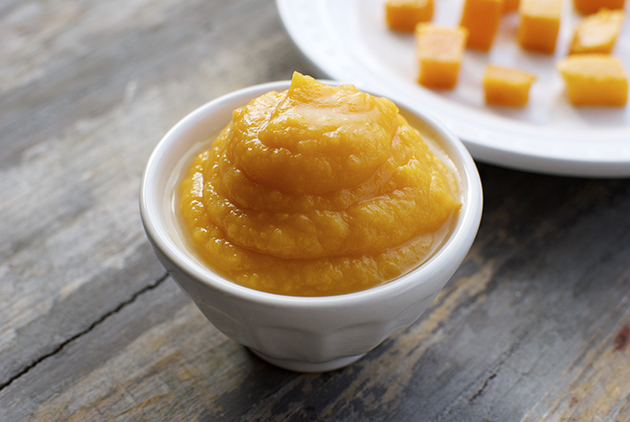 When I first saw butternut squash puree on the menu at a restaurant in my neighborhood several years ago, I thought it was an odd side dish offering. (Wouldn't it look and taste like baby food?) So I ordered it. And thus began my love affair with squash puree and all a person can do with this simple, delicious ingredient.
Since this momentous night, butternut squash puree has been finding its way into nearly everything I cook, bake, or blend throughout the fall and winter months. Of course it's delicious on its own, prepared with just a little salt and butter, but the true magic lies in all the dishes you can add squash to.
Sauces, soups, pasta, gratin, fondue, muffins, and smoothies are just a few of the recipes that become smoother, softer and more flavorful with the addition of silky butternut squash puree.
And it's incredibly easy to make.
Simply steam butternut squash slices or cubes (you can even buy pre-cut cubes if you're short on time) until they're as tender as a cooked sweet potato would be.
Next, puree the cubes in your KitchenAid® Diamond Blender along with several tablespoons of water, milk or cream – just enough to aid in the blending – until you reach a smooth consistency.
From here, the options are endless!
Below are three of my favorite ways to use butternut squash puree, along with the recipe for my creamy Butternut Squash Smoothie.
For a subtle, slightly dressed up flavor, add a cup of butternut squash puree to your favorite macaroni and cheese recipe. Simply stir the squash into your cheese sauce before adding the pasta.
Just a few spoonfuls of squash puree inside a vegetable quesadilla, taco or burrito will add a luscious, creamy texture. My favorite quesadilla combination right now is sweet bell peppers, onions, cilantro, cheese and butternut squash. I could eat it everyday!
Squash is probably not the first ingredient that comes to mind when you think of a smoothie – but trust me, this smoothie is worth making! It's my favorite breakfast right now: so creamy, comforting and also nutritious. Even when the weather outside is chilly, the warm flavors and spices in this smoothie make it the perfect breakfast or snack for fall.
Butternut Squash Smoothie
Makes 1-2 servings
INGREDIENTS
1 cup butternut squash puree (or 2 cups cooked squash cubes)
2/3 cup light coconut milk
2 pitted dates
1 frozen banana
1/2 teaspoon vanilla extract
1/2 teaspoon pumpkin pie spice
1/2 teaspoon cinnamon
1/8 teaspoon cloves
Pinch of salt
3-4 ice cubes, or more to taste
DIRECTIONS
Blend all ingredients in a KitchenAid® Diamond Blender until smooth. Add a few ice cubes and blend if you like a more frozen consistency.

Print
For more Diamond Blender recipes, click here for our eRecipe book.
*The Contributor of this post has been compensated by KitchenAid for this post, but this post represents the Contributor's own opinion.*