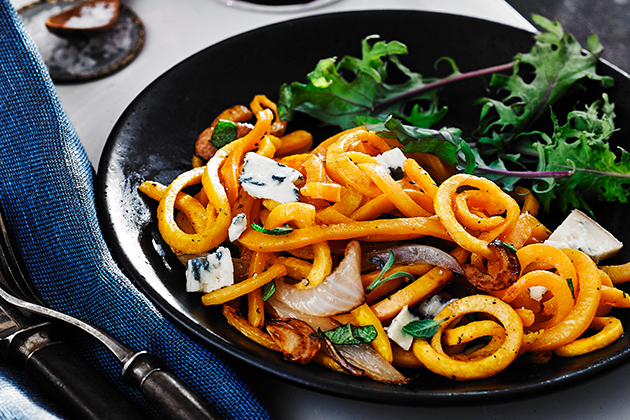 Butternut Squash Noodles with Blue Cheese and Sage
Makes 6 servings
INGREDIENTS
1 butternut squash, neck end only, cut into 4 inch sections
3 teaspoons olive oil, divided
1/2 cup red onion, chopped
1 clove garlic
1/4 cup chicken or vegetable stock
2 tablespoons fresh sage, chopped
2 teaspoon parsley, chopped
2 teaspoons vinegar
2 tablespoons blue cheese, crumbled
1/2 teaspoon salt
1/2 teaspoon freshly ground black pepper
DIRECTIONS
Preheat oven to 400°F
Attach Spiralizer Attachment to your KitchenAid® Stand Mixer. Center squash on fruit and vegetable skewer; attach to Spiralizer. Attach peeling blade and medium spiralizing blade, and position at end of squash. Place medium bowl below blades to catch spiralized squash. Turn stand
mixer to speed 6 and process until blade reaches end of squash.
Toss with 1 teaspoon olive oil and spread out onto baking sheet. Bake 8-10 minutes. Remove from oven.
Heat remaining 2 teaspoons olive oil in large skillet. Add red onion and garlic and sauté 1 minute. Add butternut squash to skillet and sauté 1 to 2 minutes. Deglaze pan with stock and simmer 1 to 2 minutes. Stir in sage, parsley and vinegar.
Divide between 6 plates. Sprinkle with blue cheese and season with salt and pepper and serve immediately.
Print
*The Contributor of this post has been compensated by KitchenAid for this post, but this post represents the Contributor's own opinion.*