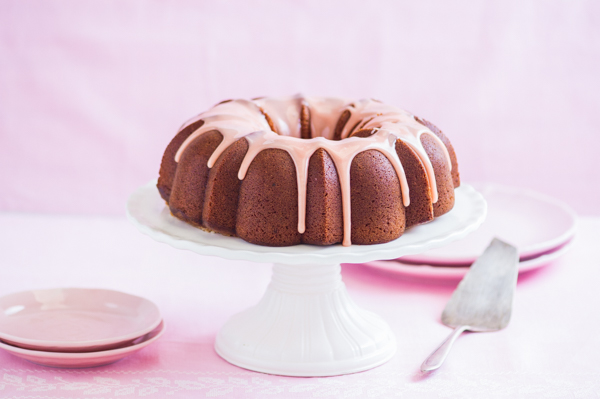 There is something magical about a bundt cake with dripping ganache. Bundt cakes take me back to my childhood with memories of baking with my mom and grandmother. I can still smell the good things that came out of their kitchens. Sure makes me want to drop what I'm doing and enjoy a piece of cake with my family and friends. Bundt cakes have been around for years and continually wow guests.
What an honor to celebrate Breast Cancer Awareness month with KitchenAid. I love seeing "pink" all over the internet and coming together as communities to raise awareness. Cook for the Cure does just that, it raises funds and awareness for the fight against breast cancer. Be sure to check the site to see how you can help the cause.
This week's challenge is "Make Ganache For Your Girlfriends." Pink is the star this month, so I chose to share my Buttermilk Strawberry Bundt Cake with a White Chocolate Strawberry Ganache. A delicious mouthful.
Round up your favorite girlfriends and get ready for the challenge. Let's take a look below.
To start the cake, cream your butter and sugars. I had the help of my Raspberry Ice KitchenAid® 5-quart Artisan® Series Stand Mixer.
Crack your eggs.
Add the eggs to the butter and sugar.
Add your strawberry jam and a couple of drops of red food coloring for that perfect pink shade.
Dry ingredients up next.
Just about ready for the oven.
Pour the batter into a bundt pan sprayed with non-stick cooking spray.
Are you ready for about the simplest ganache you've ever made?
You'll heat sweetened condensed milk into a medium saucepan over medium heat. Stir in white chips, strawberry jam and a couple drops of red food coloring. Stir until melted and your ganache is ready. Let sit for 10 minutes to thicken slightly then drizzle over your cooled bundt cake. Enjoy "Making Ganache For Your Girlfriends" and celebrating pink all month long.
Buttermilk Strawberry Bundt Cake with Sweet White Chocolate Strawberry Ganache
Makes 12 Servings
INGREDIENTS
For the cake
1 stick unsalted, softened butter
1/2 cup canola oil
1 3/4 cups granulated sugar
4 large eggs
3/4 cup sour cream
1/2 cup buttermilk
1 teaspoon vanilla
1/4 cup strawberry jam
3 cups all purpose flour
1/2 teaspoon baking soda
1/2 teaspoon baking powder
1/2 teaspoon kosher salt
2-3 drops red food coloring
For the ganache
14 ounce can sweetened condensed milk
2 tablespoons strawberry jam
1/2 cup white chocolate chips
1-2 drops red food coloring
DIRECTIONS
Preheat oven to 350 degrees F. and spray a bundt cake pan generously with cooking spray.
In a stand mixer, beat the butter, oil, sugar, eggs, sour cream, jam and vanilla until combined. Place flour, baking soda, baking powder and salt into a large bowl, mixing to combine. Alternate adding flour then buttermilk until well combined. Stir in red food coloring to enhance pink color. Transfer batter to prepared bunt pan spreading cake evenly. Bake for 50-55 minutes until baked through. Remove and let cool completely.
Just before serving prepare ganache. Heat sweetened condensed milk in a small saucepan over medium-low heat, stirring. Add jam and white chips stirring until melted. Once melted, stir in 1-2 drops of red food coloring to enhance color if desired then turn off heat. Let cool/thicken for about 5 minutes. With a spoon, drizzle icing over cake letting drip down sides as desired. Serve room temperature.
Print
*The Contributor of this post has been compensated by KitchenAid for this post, but this post represents the Contributor's own opinion.*