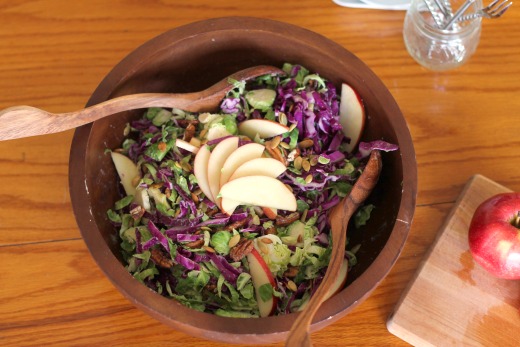 As the fall rolls around and heartier produce becomes available, I love to make quick, easy salads to take on picnics, enjoying every moment of the warm weather and cool breezes.
Fall flavors start finding their way into my food towards the end of August as I crave cooler weather and warming spices.  I love how pecans and maple just remind me of fall. And, because I have a personal attachment to fall, it's nothing but a good thing. Fall reminds me of tailgating at college football games, being with friends and having an excuse to make an evening fire, orange flowers, and of course, it reminds me of my wedding, which was last fall. Happy memories.
For a fun and easy salad that can feed a crew and makes an amazing side, I've started making a Brussels Slaw Salad with Creamy Maple Tahini Dressing. Seriously, this salad is SO good. It's savory, sweet, bitter yet subtle, and will have you dishing up seconds to everyone at your table.
I also love that this recipe is gluten free and vegan. It pleases everyone! And, if you're so inclined, you could add in some dollops of goat cheese or some chickpeas to make it a more complete meal. Because the dressing is vegan, it is perfect for picnicking, ensuring you don't have dairy going bad after a couple hours in the park.
Let's talk slaws for a quick second! Slaws often get a bad wrap because they're typically a bagged cabbage mix, dripping in mayonnaise, and usually the least healthy side you could dish up (disguised as a vegetable!). But, if you totally rethink it, you can make it healthy, tasty, interesting, and worth mounding onto your plate! That is exactly why I love making slaws with freshly shredded veggies (which makes a huge difference), and making dressing creamy with tahini. Tahini  (sesame seed paste) is a creamy, healthy fat, and now you can find it at almost all grocery stores!
I'll admit, before I really started using my KitchenAid® 13-Cup Food Processor, I had some mild anxiety about using it. I know, so silly. But, the directions booklet that comes with it is truly a calming lifesaver. It has easy to read pictures and charts, helping you find what you intend to do (slice, shred, grind) with any item (fruit, veggie, meat, cheese, nut, etc) and the corresponding blade and connecting pieces. Then, each blade is marked exactly as the picture shows, so you know which side to put "up" and which pieces connect together. So simple so putting it together and then taking it all apart is a breeze!
Here's how you're going to put together your Brussels Slaw Salad with Creamy Maple Tahini Dressing:
Use the slicing disc to slice your brussels sprouts. I like to turn it to a medium-sized slice.
Next, do the exact same thing with your purple cabbage.
You'll combine all of your lovely shredded veggies (fluff them up a bit) in a large salad bowl and add your nuts, seeds and apple slices too.
Dress your salad, toss it, and either serve it or store it in the fridge to let the flavors meld! If you put your salad in the fridge (tightly wrapped with cling wrap), I would highly recommend making another batch of the dressing and adding more dressing before you serve it!
Enjoy!
Brussels Slaw Salad with Creamy Maple Tahini Dressing
Makes 10-12 servings
INGREDIENTS
For the salad
4 cups shredded brussels sprouts
4 cups shredded purple cabbage
1/2 cup toasted pecan halves
1/4 cup toasted pepitas (pumpkin seeds)
1 red or fuji apple
For the dressing
2 tablespoons tahini
1 tablespoon pure maple syrup
1 tablespoon extra virgin olive oil
2 tablespoons apple cider vinegar
Pinch of sea salt
DIRECTIONS
For the salad
With your KitchenAid® 13-Cup Food Processor, slicing blade inserted, shred the brussels sprouts to medium thickness (or whatever thickness is most appealing to you).
Next shred your purple cabbage to the same thickness.
Cut the "cheeks" of your apple off of the core. Use your KitchenAid® 13-Cup Food Processor, set to a medium-thin setting, to slice the apple in even slices. (Tip: dip your apple slices in lemon juice as soon as they're sliced so they don't oxidize and become brown)
In a large salad bowl, combine the shredded brussels and cabbage, along with the toasted pecan halves and pepitas. Add in the apple slices and reserve a few to garnish with.
For the dressing
In a jar with a tight-sealing lid, combine all of the dressing ingredients except for the sea salt. With the lid on, shake the dressing vigorously until well combined. Season the dressing with sea salt to taste.
Dress your salad and toss it until well combined. Garnish with extra apple slices.
Notes
I would highly recommend doubling the dressing recipe. This slaw salad, like most slaws, tastes better after sitting in the fridge (tightly covered with cling-wrap) overnight. The dressing soaks in pretty well and it's nice to toss the slaw in extra dressing before serving.
Store this slaw salad in a tightly-sealed container in the fridge for up to 5 days.
Print
*The Contributor of this post has been compensated by KitchenAid for this post, but this post represents the Contributor's own opinion.*