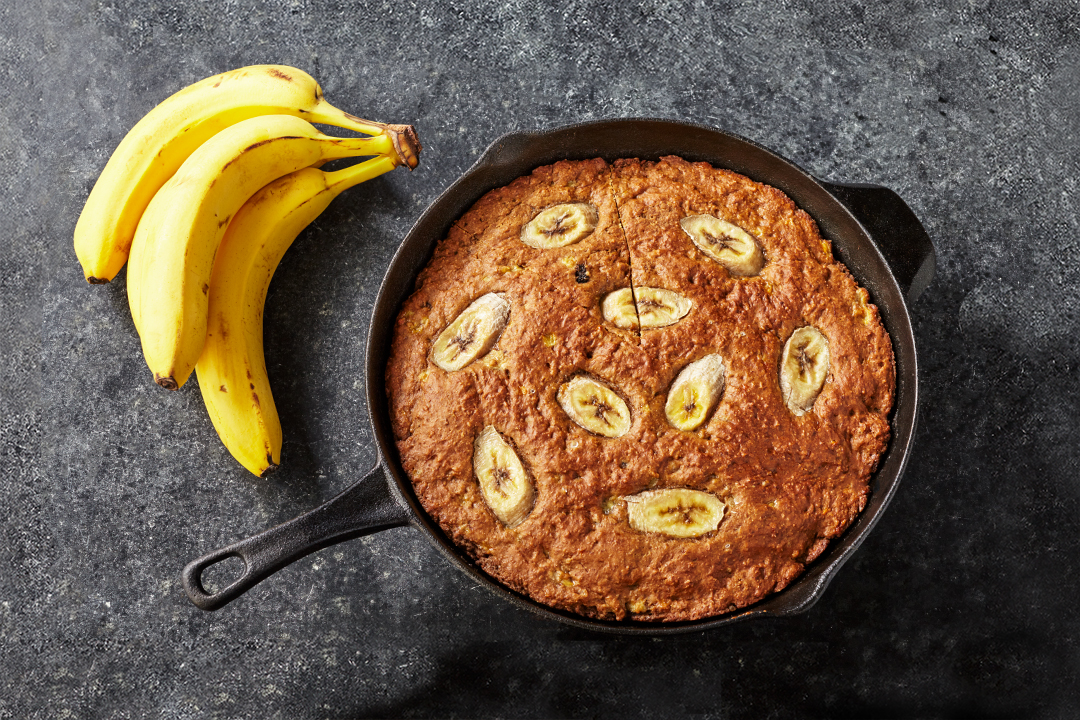 Brown Banana Skillet Bread
Makes 8-12 servings
SCRAPS
Over-ripe bananas
INGREDIENTS
5 tablespoons unsalted butter
2 cups whole wheat pastry flour
3/4 teaspoon baking soda
1/2 teaspoons sea salt
1/2 teaspoons ground cinnamon
4 over-ripe bananas, peeled
3/4 cup lightly packed dark brown sugar
2 large eggs
1/4 cup plain Greek yogurt
1 teaspoon vanilla extract
1 cup walnuts, chopped (optional)
DIRECTIONS
Preheat oven to 350° F.
In an 11-12" skillet (preferably cast iron), melt butter over medium heat. Cook, swirling occasionally until foaming subsides and butter turns golden brown. Pour the brown butter into a small bowl and set aside to cool slightly. Do not clean the skillet.
In a medium bowl, whisk flour, baking soda, salt, and cinnamon, set aside. Slice one banana for topping, place remaining bananas into the bowl of the KitchenAid® Artisan® Mini Stand Mixer fitted with the flat beater.
Beat bananas on medium-low speed (there will still be some lumps). Add the sugar, eggs, Greek yogurt, and vanilla extract. Beat until smooth.
On low speed, slowly stream in the brown butter. Add the dry mixture in, mix on low until just combined (do not overmix). Add walnuts (if using). Stir by hand until no streaks of flour remain.
Transfer the batter into the skillet, smoothing the top. Arrange the reserved banana slices on top. Bake for 35-45 minutes until a toothpick comes out clean (do not overbake). Allow to cool slightly before serving.
Print