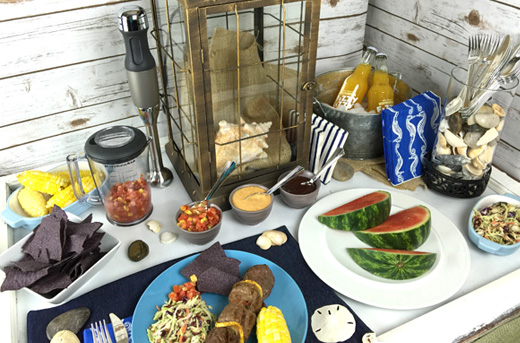 Is there anything better than spending time with good friends and family while grilling beachside? Well if you don't live near the beach or you just don't want to deal with all of the sand, bring the beach to your home with a summer grilling party! I used the KitchenAid® 5-Speed Hand Blender to create sauces that complement grilled meats, which is perfect for this time of year. I also used the Azure Blue KitchenAid® Ceramic 4-Piece Nesting Casserole Set to bring out gorgeous blues to remind us of the cool water. Take a look at how you can use the blender to make 3 savory sauces and bring the sights and feeling of the coast to your summer get-together.
Give your guests lots of options
The best part about throwing a summer grilling party is all of the options you can give your guests. The KitchenAid® 5-Speed Hand Blender comes with a variety of attachments for blending, whisking and even chopping! I decided to offer 3 different types of sauces to give my guests some variety. First, I made a tomato and mango salsa with the chopping attachment and garnished it with fresh cilantro. I loved using the measuring pitcher along with the Hand Blender attachment as it enabled me to make more mango salsa than I needed for the party so I can refrigerate the extra and use it for snacking with chips tomorrow. Next I whipped up a creamy horseradish remoulade sauce that had just enough kick for grilled seafood. Lastly, I blended up a tangy honey mesquite barbecue sauce and let it simmer for an hour or so after blending. Once my sauces were done it was time to set the beach table.
Decorate with coastal decor
Depending on your color preferences, you can use bright and playful colors for a more upbeat vibe, or choose coastal blues, tans, and whites for a more casual and laid back affair. I started off with a focal point for the table, and what better piece than a lantern filled with burlap and seashells to represent the sand? The lantern adds height to the table, but if you're planning a party at dusk or into the evening, you could remove the burlap material and use candles or a string of white lights instead. I used a galvanized pail filled with ice for bottled drinks and a hurricane glass filled with seashells, sand dollars, and beach glass for flatware.
Add touches of blue and white throughout your table
When planning your coastal table think through the colors of the napkins, plates, and serving dishes to carry out your color theme. I used blue denim fabric against a white table to bring more color to the white-washed wood in the background. The Azure Blue Nesting Ceramic Bakeware housed my cranberry coleslaw and corn on the cob beautifully. Set out a bowl of blue corn tortilla chips and a plate full of watermelon for guests to munch on while waiting for their beef shish kabobs on the grill. These items will also complement your blue dinner plates and seahorse and nautical striped napkins.
And there you have it. A beach grilling party complete with coastal decor and delicious food for a memorable summer "at the beach."
*The Contributor of this post has been compensated by KitchenAid for this post, but this post represents the Contributor's own opinion.*