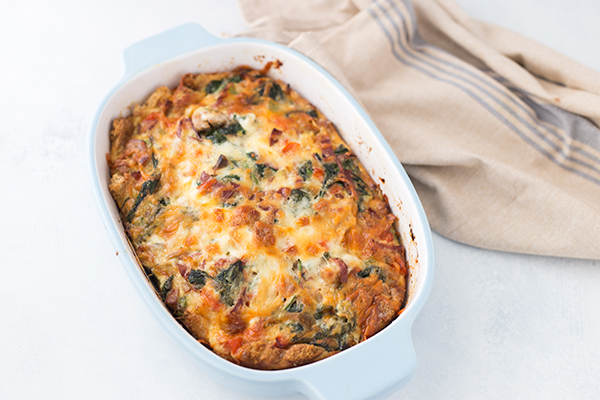 The end of the year brings with it many gatherings. I love having family stay with us during the holiday season, but I'm always out of ideas of what to make for breakfast as waffles and pancakes can get boring after a few days. That's why this breakfast casserole is amazing. It's easy to whip up in my KitchenAid® Convection Microwave and feeds a crowd. The recipe is also easy to adjust for your family needs.
I love using my Microwave for simple bakes. It expands the versatility of a traditional microwave by combining microwave energy with convection cooking that heats around the oven and allows baking at temperatures up to 425° F. I LOVE that I can bake a pizza, chicken or this breakfast casserole in it without taking up any oven space. I made this casserole easily in one dish and was ready to serve my house guests a delicious, cheesy breakfast in no time.
The best part about casseroles is that they are easily adaptable to fit your needs—this breakfast casserole is no different. You can use any kind of breakfast meat (I picked turkey bacon and chicken sausage) or keep it vegetables only. Feel free to choose whatever vegetables you want for the filling. Like omelets, you can customize the vegetables. I love using this as a clean-out-your-fridge breakfast.
For this Breakfast Casserole, start by sautéing your bacon and chicken sausage in a KitchenAid® Skillet on a KitchenAid® Electric Convection Slide-In Range. Cook until tender. Add in the vegetables and cook until tender. Remove from heat.
Using the KitchenAid® Pro Line® Series Food Processor, shred the cheddar cheese. The cheese shredder attachment from the Food Processor makes it easy to finely grate cheese quickly.
In a mixing bowl, whisk the shredded cheese, eggs and milk together. Add in the cooked vegetables into the bowl and mix.
Pour the egg mixture into a greased medium casserole dish lined with stale bread.
Top with the remaining shredded cheese.
Bake the casserole in the Microwave using the Vegetable Casserole bake setting.
The Microwave has several preset settings, including settings for crisping, grilling, roasting, baking, steaming, and simmering.
This Vegetable Casserole setting was perfect for this dish, but you can also use your own manual settings. Bake the casserole for about 40-45 minutes.
The casserole comes out so cheesy good! Just serve with toast and your guests will be thrilled for a busy family morning activity. What ingredients would you choose?
Share your take on this Breakfast Casserole on Instagram using #MadeWithKitchenAid for a chance to be featured.
Breakfast Casserole
Makes 4-6 servings
INGREDIENTS
1/2 pound turkey bacon, cooked and crumbled (or regular bacon)
1/2 pound chicken sausage
2 tablespoons olive oil
1/4 cup red bell pepper, diced
1/4 cup green bell pepper, diced
1/2 cup sliced mushrooms, chopped
1/4 cup onions, diced
1 cup fresh spinach
Salt and pepper to taste
2 slices of stale bread (any bread will do here)
7 large eggs
1/4 cup milk (any kind of milk)
1 1/2 cups cheddar cheese
DIRECTIONS
In a KitchenAid® Skillet, sauté the bacon and sausage in olive oil over medium heat, about 2-3 minutes, on a KitchenAid® Electric Convection Slide-In Range. Add in the peppers, mushrooms, and onions and cook over medium heat, stirring occasionally, until tender. Toss in the spinach and cook until wilted. Season with salt and pepper to taste. Remove from heat.
Lightly spray a medium casserole dish with cooking spray. Line the bottom of the dish with the slices of bread. Preheat your KitchenAid® Convection Microwave oven using the Vegetable Casserole Bake option at 1.5 quart.
In a large bowl, whisk together the eggs, milk, and 1 cup cheddar cheese that was shredded in the KitchenAid® Pro Line® Series Food Processor. Add the cooked vegetables to the bowl and mix to combine. Pour the mixture over the bread in the casserole dish. Top with the remaining shredded cheese.
Place the dish in the heated Microwave and bake for 40-45 minutes, or until the egg is cooked and a skewer inserted comes out almost clean.
Serve immediately.
Print
*The Contributor of this post has been compensated by KitchenAid for this post, but this post represents the Contributor's own opinion.*