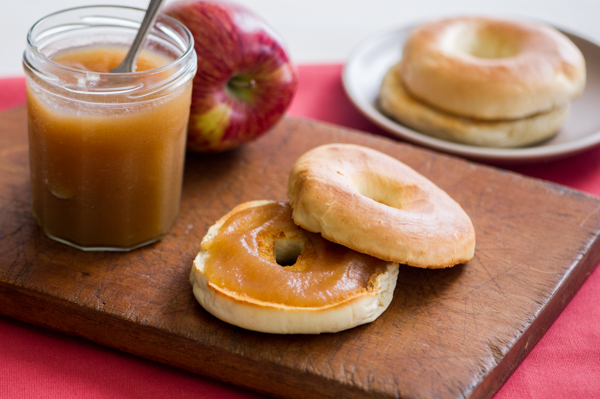 Apple butter isn't butter at all. It is a highly concentrated form of apple sauce, that is produced by low and slow cooking of apples with liquid (either apple cider vinegar or water) until the apples caramelize and turn a deep brown. It has a buttery consistency, hence its name, apple butter.
It's not complicated to make at all. You start by choosing your apples. We've chosen Braeburn apples. They are firm to the touch with red and orange vertical streaks and are a combination of sweet and tart flavors.
Slice the apples and discard the cores. No need to peel the apples as you're going to puree them once they've cooked and softened.
Place the apples into a French oven along with the liquid. We're using apple cider vinegar. Cook them low and slow until softened.
Transfer to your KitchenAid® Blender and puree until you have apple sauce.
Return sauce to pan and add spices. Mix to combine.
Continue cooking low and slow until mixture thickens and turns a deep brown color.
Toast your favorite bread, bagels in our case, in your KitchenAid® Pro Line® Series 4-Slice Automatic Toaster and spread apple butter liberally on while bread is warm.
Braeburn Apple Butter
INGREDIENTS
2 1/2 pounds Braeburn apples – cored, sliced
3/4 cups apple cider vinegar
3/4 cups granulated sugar
1/4 teaspoon kosher salt
1 tablespoon lemon juice
1/2 teaspoon ground Saigon cinnamon
1/4 teaspoon ground cloves
1/4 teaspoon ground allspice
DIRECTIONS
Place sliced apples and vinegar into a French oven, cover and heat over low heat until apples have softened. Approximately 20 minutes.
Transfer apples to KitchenAid® Blender and puree.
Return applesauce to French oven. Add sugar, salt, lemon juice, cinnamon, cloves and allspice. Mix to combine. Continue cooking over low heat until mixture thickens and changes to a dark brown color.
Allow apple butter to cool to room temperature. Transfer to a canning type jar and store in refrigerator if not using immediately.
To assemble: Toast bagel in KitchenAid® Pro Line® Series 4-Slice Automatic Toaster. Top bagel with desired amount of apple butter
Print
*The Contributor of this post has been compensated by KitchenAid for this post, but this post represents the Contributor's own opinion.*