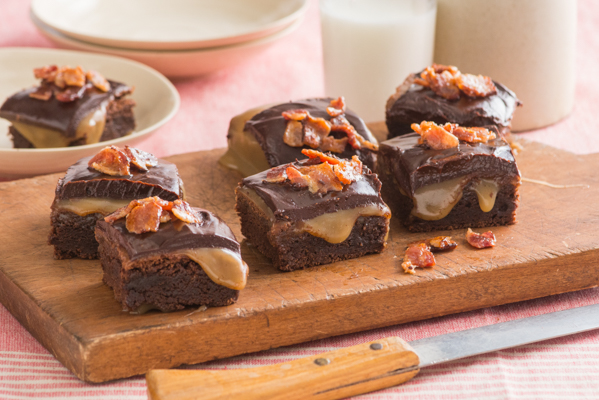 Bacon.
What else is there to say, really?  The food world has seen bacon popping up in places both expected and unexpected, in the finest of restaurants to the most hidden diners, from breakfast to dinner, from brunch to dessert.  It's been wrapping asparagus, topping burgers, and as of late, been smothered in chocolate and served as candy.
Ahh, yes…Bacon.
I've thoroughly enjoyed each and every KitchenAid Challenge I've been thrown since the KitchenAid Blog began, but when I was approached with the task of Baking with Bacon, I couldn't have been more thrilled!  I had just incorporated bacon grease into an incredible Bacon Chocolate Chip Cookie on my own blog, but I knew the bacon could be transformed into something even richer, more decadent, and dare I say it…more indulgent.
I was right.
I paired a warming elixir – Kentucky Bourbon – with deep, dark fudgy brownies.  The bourbon makes its debut in the salted caramel that enrobes chocolaty squares, and the bacon?  Well, it's the show stopper.  The brownies themselves contain bacon grease, and the chocolate ganache that graces the caramel is topped with bits of candied bacon that provide an amazing salted crunch that cannot be overlooked.
Divine!
While the recipe does contain several steps, fear not.  The steps are easy and require very little hands on time, so that you can be making them at the same time, or, if you prefer, in stages spread out over a day or two.  There is no need to fret – this challenge isn't as daunting as it seems! In fact, you'll find the biggest challenge being NOT eating all of the components before you complete the brownies!
I began my brownies with my go-to recipe, a version I have been working on for year and absolutely adore.  It never fails, no matter what I do to tweak it, in this case, adding bacon grease in for much of the butter that I typically use.  It's a simple recipe, and within five minutes of beginning, you'll have the pan of brownies baking away in your oven.
My KitchenAid® 48-Inch Commercial-Style Range is a wonderful kitchen companion, from the convection oven to the griddle to the 6 individually heated burners.  While the brownies were baking in the smaller 18 inch oven (I love this oven as it heats quickly thanks to the smaller size), I started the bourbon caramel on the range.  With 6 burners, I can have a lot of things going at once, and I can't tell you how much this has changed the way I cook!  We had two pots of stew simmering away on two of the back burners while I made the caramel, and grilled cheese sandwiches were sizzling away on the griddle…all at the same time!
The caramel is simple, and there is no reason to let it frighten you.  Yes, some caramel recipes bubble and spew, but this one is a tame beast, and as long as you cook it to the desired 230 degrees, it will be perfect for the brownies. Just keep an eye on it and whisk away!
If you start the caramel at the same time you place the brownies in the oven, the caramel will be slightly cooled around the time the brownies are ready.  This is ideal!  Simply pull the brownies from the oven, pat the sides of the pan to loosen them, then pour the caramel over the top.  Now you wait!
Allow the caramel and brownies to cool – I know, I know – you just want a bite!  But wait, it will be worth it!  Once the caramel is cooled, it's time to top it with ganache and sugary bacon.
While the brownies cool, this is a fine time to make your candied bacon.  I find it easiest to line a pan with aluminum foil for easy clean up (despite having a great KitchenAid® dishwasher, I'd much rather not have any dishes at all, wouldn't you?!).  Spread your bacon atop the aluminum foil, then sprinkle with brown sugar.  Allow it to bake until crispy, and then DO NOT EAT IT until it's time to top the brownies!  This part is crucial.  I have to hide my candied bacon or 5 fingered vultures swoop in and eat it all.  Once it's cooled, chop it into little bits, and stow it away in a covered container in the fridge until it's time to use it.
Now on the ganache, our final ingredient!
Ganache, if you haven't made it, is about the easiest fancifully named concoction there is.  Start with heavy whipping cream, and, over low heat, bring it to a simmer.  I use the Simmer setting on my KitchenAid® 48-Inch Commercial-Style Range , and within a minute, my cream is bubbling softly away.  As soon as you see this happen, off with the heat!  Add your chocolate chips to the hot cream, allow it to melt, and then whisk it until the ganache is uniform and smooth.
Pour the slightly cooled ganache over the caramel topped brownies, then sprinkle with the candied bacon bits.  Now you can indulge, and indulge you should!  Warm, rich, salty, sweet, chewy and gooey and incredibly fudgy – these are the brownies you've been dreaming about.  Enjoy!
Bourbon Caramel Topped Bacon Brownies
Makes 16 servings
INGREDIENTS
For the brownies
6 tablespoons butter
1/4 cup bacon grease, cooled
3 ounces dark or semisweet chocolate, chopped
1 1/4 cup sugar
2 large eggs
2 teaspoons vanilla
3/4 cup all purpose flour
1/4 teaspoon salt
2 tablespoons unsweetened cocoa powder
1 recipe bourbon caramel (see below)
1 recipe chocolate ganache (see below)
Candied bacon, to garnish, if desired
For the bourbon caramel
7 tablespoons butter
2/3 cup light brown sugar
1/4 cup sugar
1/3 cup  light corn syrup
1 teaspoon sea salt
1/4 cup heavy cream
1 tablespoon bourbon
For the chocolate ganache
1/2 cup heavy cream
1/2 cup dark chocolate chips
DIRECTIONS
For the brownies
Preheat KitchenAid® 48-Inch Commercial-Style Range  to 325. Prepare 8×8 baking pan with parchment paper long enough to hang over on two sides, making it easier to remove from pan once baked. Spray pan and paper.
In small saucepot over medium heat, or in the microwave, melt chocolate and butter with bacon grease until smooth. Allow to cool slightly.
In a separate bowl, beat eggs and vanilla with the sugar. Slowly add in chocolate mixture until well combined.
In small bowl, sift together cocoa, salt and flour. Add mixture to rest of batter. Do not overmix.
Pour batter into prepared baking pan.
Bake at 325 for 40-45 minutes, or until brownies are set and a toothpick inserted comes out clean.  Top with caramel.
Once caramel is cooled, top with ganache and candied bacon, as desired.
For the bourbon caramel
In a heavy bottomed pot, such as enameled cast iron, combine all caramel topping ingredients save for the bourbon. Bring to a boil and stir until sugars are dissolved and the mixture is well combined. Using a candy thermometer, watch for the goal of about 230 degrees. Remove from heat and stir in the bourbon.
For the chocolate ganache
Heat cream over low heat until just a simmer.  Remove from heat.  Immediately add chocolate chips and allow to rest for 30 seconds.  Stir until smooth.  Allow to cool for 5 minutes.  Use as needed.

Print
*The Contributor of this post has been compensated by KitchenAid for this post, but this post represents the Contributor's own opinion.*