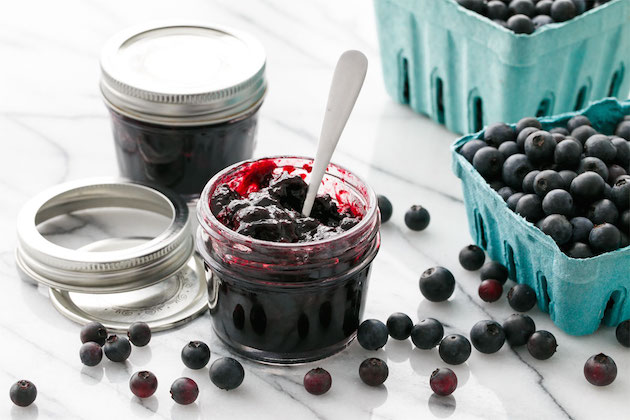 For someone who doesn't eat much jam, I sure make a lot of it. It's safe to say I am addicted to canning, and I know once you get started you will be too. It's the best way to preserve a little bit of summer sunshine for year-round enjoyment. I love making unique flavors of jams and jellies, adorning them with pretty labels and packaging, and then giving them as gifts.
The canning process is actually quite easy, although I've found that many people are scared to get started. If that describes you, I'm here to hold your hand and walk you through your first time. Armed with a bit of knowledge and safe canning practices, you'll be whipping up delicious (and safe) jams in no time.
The key to safe canning is twofold: acid and heat. The acid in jam comes from the fruit itself, as well as added acid like lemon juice. Some foods are not recommended for water-bath canning, including vegetables and some starchy fruits like bananas and melons. To check for yourself, the FDA has a chart of average pH values of fruits and vegetables. Botulism simply can't thrive in a high-acid environment. Anything with a pH lower than 4.6 is considered high acid and safe for water-bath canning on its own; anything higher than 4.6 and you'd need to add acid or a pressure canner (which reaches the magic botulism-killing temperature of 240ºF) to process it safely.
When canning, additions of any kind will change the overall pH of a jam and could affect its long-term safety, and so it is best to stick with tested recipes that you know are sufficiently acidic to prevent spoilage. I usually stick to fruit jams and jellies, since most fruits are plenty acidic on their own, which makes this blueberry vanilla jam (with a confidence-inspiring 3.7 pH) a great place to start for beginners.
The second part of canning safety is heat. By holding the jam at 212ºF in a hot water bath, any yeast or mold spores are killed and the jam is essentially sanitized from the inside out. Note that for anyone living at higher altitudes, the processing time needs to be increased accordingly by adding 1 minute for every 1,000 feet, since water boils at a lower temperature in these areas. The boil is also what creates the seal on the jar, forcing out any remaining air and creating a vacuum that sucks down the lid. This process creates the telltale 'pop' that lets you know your jars have properly sealed.
With proper practices and tested recipes, you can be confident in your canned goods being a safe and delicious way to save the best of seasonal produce to enjoy year round.
Today I'll be going through step-by-step instructions for how to make a basic blueberry jam, lightly scented with a bit of vanilla. I like blueberries because they're easy to work with: the prep work is almost non-existent, requiring only a simple rinse and pick-through to make sure there aren't any stray stems. No peeling, pitting, hulling, or chopping required. And yes, you can also use frozen berries in this recipe as well! Thaw them out mostly beforehand, reserving all juices, and then proceed as instructed.
To start, you'll want to prepare your canning station with all your tools and equipment, and start heating up your water bath. Place a canning rack in the bottom of the KitchenAid® 8.0-Quart Stockpot with Lid to keep your jars elevated off the bottom of the Stockpot during the water bath process. Wash and rinse your jars and lids with hot soapy water, then place the clean jars into the Stockpot and add water.
The general rule is the Stockpot should be filled about 2/3 full with water and have it cover your jars by 1-2″. Start heating the water over medium-high heat on the glass cooktop of your KitchenAid® Electric Double Oven Convection Range. You want the water to be just boiling or almost boiling by the time your jam is ready to can, though there is no harm in having it boil longer than that.
You will also want to prepare a landing pad for when you are ready to remove the jars from the water bath: a heat-safe surface on which you can place your jars. A wire cooling rack or non-plastic cutting board works well, or you can also use a folded up dish towel (just know it will probably get permanently stained with jam).
While your jars are being prepped, it's time to start making the jam. Add your fruit to your KitchenAid® 3.5-Quart Sauté Pan and lightly mash the blueberries using a wire potato masher. You're looking to produce an even mash, with some chunks of fruit left but no piece too large, and plenty of juicy pulp. You can continue to mash your fruit as it cooks as well for a smoother texture.
Once your fruit is mashed, add the lemon juice, calcium water, vanilla bean pod and seeds, and heat your ingredients to a boil in your Sauté Pan on the glass cooktop of your Electric Double Oven Convection Range, stirring occasionally to prevent scalding.
I love the Electric Double Oven Convection Range for its even cooking and large surface area, which will help the jam boil and cook more quickly.
In a bowl, whisk together the sugar and pectin until evenly incorporated. The pectin needs to be whisked with sweetener in order for it to properly dissolve into the jam mixture. Add the sugar/pectin mixture and stir vigorously until completely dissolved and the jam returns to a full boil (this shouldn't take more than 1-2 minutes).
At this point your jam should be ready to go, but if you want to check the set, drop a dollop of jam onto a chilled plate and place in the freezer for 1 to 2 minutes, then push your finger through it. If it mounds up into small folds, it's good to go. If it still seems runny, then it probably needs more time or more pectin (which you can add mixed with a bit more sweetener and then return to a boil again).
Remove the Sauté Pan from the heat when ready, and remove vanilla bean pod from the mixture.
At this point your water bath should be happily boiling away. Using silicone tongs or a jar lifter, remove your jars from the boiling water, pouring out the water back into the Stockpot. Place the jars on your prepared landing pad.
Using a ladle with a nice pour spout, transfer the jam into jars. If you have a jar funnel, this will make the process cleaner. You can also transfer your jam to a heat-proof measuring cup with a pour spout and pour the jam into the warm jars. Just be careful, as the jam is very hot and will splatter.
Fill each jar to within 1/4″ of the top. This 1/4″ is what is called headspace, and is what will allow the vacuum to properly form and seal the jar.
Dip the top of a paper towel or clean cloth into the hot water in your Stockpot to dampen slightly, then use it to wipe the rims of the jars clean. You want to be sure there are no residual spots of jam on the rims (and also that there are no chips or imperfections in the rims as well) as that could prevent your jars from sealing properly.
Once you are sure the rims are perfectly clean, top the jars with lids and secure with the rings, turning until just finger tight. All this means is that you should twist until you just start to meet resistance, but do not crank the rings as tight as they'll go, as the air still needs a little room to escape for the jars to properly seal.
Using your tongs or jar lifter, carefully lower jars into the boiling or almost boiling water in your Stockpot. Arrange the jars on the rack so they are not touching each other or the sides of the pot.
Cover and return the water to a full rolling boil. You want to reach a full, vigorous boil before you start your timer for 10 minutes (adding 1 minute for every 1,000 feet altitude for my friends in high altitude places). The water needs to hold a full boil for the entire duration. If at any point it stops boiling, bring it back to a boil and set your timer for 10 minutes again.
After 10 minutes, turn off the heat, uncover and move the Stockpot to a cool burner. Let sit, undisturbed, for 5 minutes to allow the pressure to equalize. After 5 minutes, carefully lift jars out of water, keeping them as level as possible, and place on your prepared landing pad. Don't worry about any residual water pooling on the lids, it will evaporate on its own time.
Let the jars cool, undisturbed, for 12 to 24 hours. After a few minutes you should start hearing the telltale "pop" of the seals. After 24 hours, remove rings and check that the jars have properly sealed (the buttons should be depressed and the lids should be stuck firmly to the jars). Any jars that did not seal or that have been opened for consumption should be refrigerated and consumed within 1 month. Otherwise, you can store the sealed jam jars in a cool, dark place for up to 1 year.
This blueberry jam is just the beginning. Once you get familiar with the canning process there is no end to the creative concoctions you can make. Trust me, once you start it won't take long before your pantry is piled high with a rainbow of glass jars filled with delicious jams, jellies, and preserves.
If you are looking for more inspiration or information to further your canning addiction, please check out my new seasonal ebook series: That's My Jam, featuring seasonal jam recipes and matching printable labels to make your jams gift-ready. The summer edition is out now, with the fall, winter, and spring editions soon to come!
Happy canning!
Be sure to share your take on this Blueberry Vanilla Jam recipe with us on Instagram using #MadeWithKitchenAid for a chance to be featured.
Blueberry Vanilla Jam
Makes 20-22 servings
INGREDIENTS
1 1/4 pounds (about 3 1/2 cups) fresh or frozen blueberries, rinsed and stems removed
3/4 cup granulated sugar
1 teaspoon pectin
1 teaspoon calcium water
2 tablespoons lemon juice
1/2 vanilla bean pod, seeds scraped
DIRECTIONS
Place a canning rack at the bottom of your KitchenAid® 8.0-Quart Stockpot with Lid and fill 2/3 of the way up with water. Begin to boil the water by placing over medium-high heat on the cooktop of your KitchenAid® Electric Double Oven Convection Range. Wash and sterilize five 4 ounce mason jars and submerge in the water bath as it heats. The Stockpot should be just about boiling by the time the jam is ready to be added to the jars.
In a bowl, whisk together sugar and pectin until evenly incorporated.
Add your fruit to your KitchenAid® 3.5-Quart Sauté Pan and lightly mash the blueberries using a wire potato masher. You should have approximately 2 cups of mashed fruit. Once your fruit is mashed, add the lemon juice, calcium water, vanilla bean pod and seeds, and heat your ingredients to a boil in your Sauté Pan, stirring occasionally to avoid scalding.
Whisk in the sugar/pectin mixture, stirring vigorously until completely dissolved. Continue to stir until mixture comes to a full rolling boil, which shouldn't take longer than 1-2 minutes. Remove the Stockpot from the heat and remove the vanilla pod from the mixture.
Ladle your jam into the mason jars, leaving 1/4″ of headspace. Wipe the jar rims with a wet paper towel. Screw on the lids and rings until just tight, then process in a boiling water bath for 10 minutes. Remove the mason jars from the water and let cool completely, about 12 to 24 hours. Check the seals. Any unsealed jars should be refrigerated and used within 1 month.
Print
*The Contributor of this post has been compensated by KitchenAid for this post, but this post represents the Contributor's own opinion.*